This past weekend I took my three-year-old-son to Toronto's Pride Parade. It was his second year, because kids love parades, rainbows and fairness.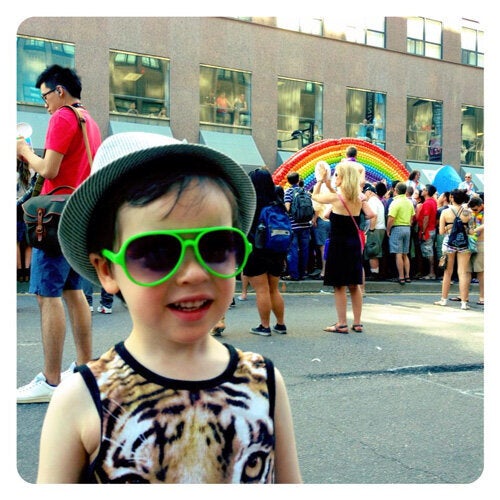 Back in 2012, the big news around Pride was the casual coming out of R&B crooner Frank Ocean and CNN anchor Anderson Cooper, two celebrities from vastly different spheres whose openness was considered a big step toward further normalizing same-sex love. As was the slightly earlier outing of Obama as a same-sex marriage supporter.
What a difference a year makes. This time Pride got to celebrate the landmark overturning of DOMA by the U.S Supreme Court and when my son, perched on my shoulders, waved at the nice lady in the parade, she happened to be Kathleen Wynne, Ontario's first out premier (not to mention the first Ontario premier ever to march in the Pride parade).
"Most people have the common sense to recognize the blatant propaganda of that parade."
"So it's NOT JUST a PARADE you're bringing your kid to. It's a delusional, crotch-centric worldview which perfectly illustrates the banality of evil. NO civilization can accept these falsehoods and survive beyond a generation or two."
"Homosexuality only contributes to a loss of resources which could have been provided to a heterosexual which in turn would have contributed to human progress and growth, as opposed contributing to its demise."
"Although it's a free choice and theirs alone to make, in my mind, they make the wrong choice."
"I think I speak for most readers when I say: Homo nomo"
"Who said you (homosexuals) could take the rainbow anyways? I want it back. i can't use it 'cause I'm not gay. it's gone. You stole it. Bullies."
"Just curious Joshua, How did your 2-year-old like the dozen naked and sickly looking BSDM fans with their gags and dog masks getting whipped by that nazi-esque leash holder? What analogies did you use to present those violent sexual fetishists as equally to a men and women marrying and raising a family?"
"Pride in what? Homophobic and Proud!"
Now there were a lot of comments opposing these awful ones, but I'm including them to make a point about the hate that remains. I'm going out on a limb and assuming most of these were written by older people, and the reason the arc of history takes so long to bend toward justice is because it's hard to change ingrained prejudices. It's how they were raised.
And so the way we move forward is raising our own children to not have those prejudices at all, and in a manner that makes them strong enough to withstand peer pressure from kids whose parents have taught them to be less open-minded.
Emile and I had an amazing time at the parade. He loved the house music, the pretty costumes, the giant balloon rainbows and, especially, the girls who were dressed up as batman and green lantern. (OK, and he especially especially liked the ice cream cone I bought him.)
E loves superheroes and princesses in equal measure, and we encourage his interests to be honest rather than succumb to societal gender divides. And we will continue to teach him to trust in himself and, when he grows up, to love whomever he wants because what matters is that you love a person, not a gender
When I was in school, homophobia was not even a term because it was just how kids acted toward each other by default. I personally felt its sting on many occasions, despite being straight. But as more and more children are raised to be accepting of everyone in all their hues, homophobia will increasingly seem like but a passing storm before the resplendent rainbow.