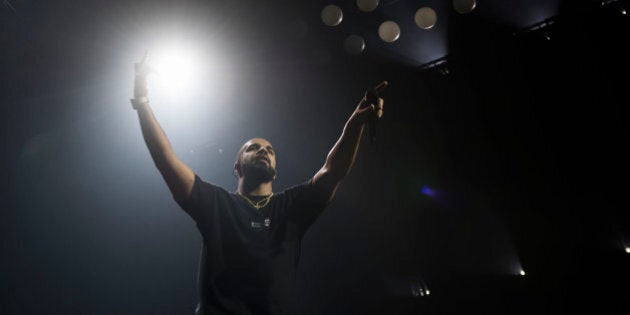 "And this is what I'ma do 'til it's over / 'Til it's over / But it's far from over."
Drake first made this boast on his major label debut's lead single "Over" back in the spring of 2010 and he wasn't kidding. The song resurfaced during a dominance-asserting medley of hits (the 6ix God has so many singles some had to settle for snippet status) early on the spectacular second night of Drake's seventh annual OVO Festival.
This year he expanded the event to four nights, including the tangentially connected Snoop and Wiz Kalifah show and Caribana-inspired night featuring soca star Machel Montanos. The bigger change was that Drake relocated from the outdoor Molson Amphitheater to hold court for two sold-out nights at the larger Air Canada Centre arena, home to his beloved Toronto Raptors, while welcoming the likes of Rihanna, Kanye West and tourmate Future.
OVO Fest launched in 2010, a few months after "Over," as an attempt by the then up-and-coming rapper to cement his credibility with a festival in his own honour.
It's hard to remember now that we are firmly enmeshed in Summer 16, but Drake really did start from hip hop's bottom -- being a mixed-race, half-Jewish Canadian teen soap star best known as Wheelchair Jimmy is a far cry from the origin stories of Jay Z coming up as a crack dealer in Brooklyn's Marcy Projects or Eminem's 8-Mile battle-rap upbringing.
So being the marketing genius that he is, Drake launched OVO Festival, named it after his blog-slash-label October's Very Own -- as he would later brag on "Pop Style," the October 24-born rapper "turned [his] birthday into a lifestyle" -- and brought out both Jay Z and Eminem as surprise guests.
It was a trademark "dress for success" self-help strategy. By demonstrating that he had the pull to bring in hip hop's biggest stars, it made it look like he was on their level.
That worked for a half-decade of Drake flying superstars to what he would later re-christen The 6. He'd sell out the festival on the strength of his own name but with the knowledge that we'd actually be getting a line-up worthy of the BET Awards.
Then everything changed in 2014, the festival's fifth outing.
This was how I described it at the time: "Over the course of a few hours at OVO Fest, Drake slowly brought out one of the greatest line-ups in hip-hop history. Kanye West. Lil Wayne. Diddy and Ma$e. J Cole. A$AP Rocky. Big Sean. Wale. French Montana. Miguel and The Weeknd. Oh, and TLC's first reunion appearance. Drake knows you don't have to be the brightest star to become a sun, you just have to get the rest of the stars to revolve around you."
After that, a line-up that "only" brought in Lauryn Hill, Usher, J. Cole, 50 Cent and DJ Khaled felt like a letdown the following year. The Toronto Sun review read: "Drake's big night at Ovo Fest short on big names" and that was definitely the vibe in the amphitheatre.
It wasn't that Drake couldn't pull in big names, it was that he was now the biggest name in the room.
The crux was that OVO Fest was "an event that was initially created to cement Drake's rising stardom and now exists to expand his empire. But the problem this year was that the shows didn't expand it enough."
It wasn't that Drake couldn't pull in big names, it was that he was now the biggest name in the room -- it was hard for us to wrap our heads around the fact that this might have been because he had become the biggest name in hip hop, not just that he could no longer call in superstar co-signs.
That wasn't a problem last year because we were all distracted by Drake's victory lap in his Meek Mill beef, opening OVO with a PowerPoint of Meek-humiliating memes and his double-shot of "Charged Up" and "Back to Back."
In the intervening year, "Hotline Bling," which he played live at OVO 2015 for the first time, became by far his biggest hit. At least until "One Dance" became not just his first number one, but remained there for months, breaking records on both side of the pond. Meanwhile, "VIEWS" became his biggest album ever, also topping the charts for months, and followed his Future collab "What a Time to Be Alive" as his second number one album in the year between the two festivals.
So this time when Drake strutted into the ACC arena on August 1, dressed all in black with an OVO shirt and a beard, he wasn't just the biggest star onstage or even the biggest rapper in hip hop. Drake can legitimately claim to be the biggest star in music and so he invited the only others operating at his level this year.
Kanye, who arrived at OVO for a threepeat, still garnered an enduring and enthusiastic cheer from the capacity crowd as he dropped in for his own Drake collab, "Pop Style," as well as new songs "Father Stretch My Hands Pt. 1," the infamously Taylor Swift-bashing "Famous" and his classic toast to the douchebags, "Runaway."
Kanye also hinted at an upcoming collab album with Drake, setting off the night's biggest buzz, to which his host responded by saying "This man is also why I'm on this stage right here, my biggest inspiration."
Rihanna, whose "Anti" is actually a much better album than "VIEWS," played OVO for the first time this year -- a coup that's becoming harder and harder for Drake to pull off as his festival ages -- and mischievously opened with "Needed Me," a tribute to her own badassery that targets the men in her life with a simple, dismissive hook: "you needed me."
Then she dropped "Bitch Better Have My Money" before bringing Drake out for their two latest collabs, "Work" and, for the first time, "Too Good." On the latter, Drake and Rihanna crooned "I got high as your expectations" and the Toronto crowd's own sky-high expectations had, just a couple years ago, threatened the viability of OVO Fest.
But unlike 2013, Drake doesn't need Kanye anymore, or Rihanna, or even OVO Fest.
After seven OVOs, Toronto's 6ix God keeps ascending while adding to a back catalogue of hit songs ("Hold One We're Going Home," "Started from the Bottom," "The Motto") and crowd favourites ("Trophies," "Know Yourself," "Energy") that blow away almost everyone else in the game.
Ultimately, this wasn't so much an OVO Fest as it was an amped-up two-night stand of his and Future's current co-headlining Summer Sixteen tour with a few extra guests, also including Popcaan, French Montana and area locals, dvsn and Roy Wood$.
Not that there's anything wrong with that. The stage set-up was innovative -- those hundreds of coloured balls descending from the ceiling to dance in patterns, first appearing during "Hotline Bling" and later forming the numeral 6, was mind-blowing -- and the crowd was no longer there to see who Drake would bring.
While promising an 8th event, Drake told the crowd to "make some noise for all the performers because that's what OVO Fest is all about." But it's not, not anymore. The crowd was there to see Drake and rap along to every song, be they singles or deep cuts, new songs like "9" and "Controlla" or old hits like "Headlines" and "Worst Behaviour."
"Yeah, this is a crowd that's going to be able to keep up," he stage-bantered early on with a wide grin. To wit, the OVO setlist had far more Drake songs than usual -- in past years he acted primarily as master of ceremonies, awkwardly dancing on stage to his favourite songs from his favourite artists.
So let's drink to Drake's accomplishments and acknowledge that even if he still calls next year's show OVO, it's really just Drake featuring Drake.
Or as Drizzy rapped last night, backed by 16,000 fans, "Came up, that's all me / Stay true, that's all me / No help, that's all me / All me for real."
Follow HuffPost Canada Blogs on Facebook