No child today has ever lived in a world without Muggles. But nobody alive has known a world without munchkins, not after L. Frank Baum went from entertaining neighbourhood children with his flights of fancy to landing those flights on paper in the best-selling children's book of 1900, The Wonderful Wizard of Oz.
As much as Harry Potter may define modern kid-lit, Baum set the yellow-brick standard and Oz remains as ubiquitous as ever. The 1939 film adaptation is estimated to have been watched by more people than any other motion-picture in history and has now inspired a James Franco-starring prequel Oz: The Great and Powerful that aims to explain how the wizard first came to lord over this wonderful land. (The computer-animated film Dorothy of Oz, starring Glee's Lea Michele as the titular Kansan, is due later this year.)
Oz has also been turned into an Andrew Lloyd Webber musical which opened in London's West End and is currently enjoying a popular run at Toronto's Ed Mirvish theatre helmed by a Dorothy picked by a CBC reality-TV show.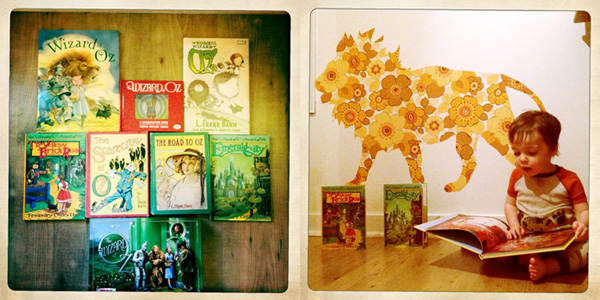 Though an adaptation of the 1939 film with a few new songs, Webber was no doubt inspired by the success of revisionist Oz musical Wicked -- itself adapted from Gregory Maguire's book series, which saw the fourth entry Out of Oz released in 2011. But Baum had staged his own Broadway smash in 1902, which was the Cats of its day.
I'm an avowed Ozophile, with Baum stories peppering my toddler Emile's bookshelf, including thrift store pop-up books, a gorgeously illustrated edition by Charles Santore and an Eisner Award-winning Marvel Comics graphic novel, still in plastic-wrap, that I bought the week E was born to be his first comic book.
The prize of the pack is the 1909 and 1916 editions of sequels The Road to Oz and Scarecrow of Oz given to me by my father upon becoming a father myself. They were pulled from his own collection, which includes all 14 of Baum's Oz books, along with most of the posthumous entries by other authors making up the 40 canonical stories.
Article continues after the slideshow
I have the soundtrack on CD, a wind-up music box that plays "Over the Rainbow," a vintage wallpaper lion decorating the nursery and, yes, I shelled out for the 70th anniversary ultimate edition Blu-ray boxset which not only includes the best-ever restoration of the 1939 musical but also the half-dozen silent Oz movies which preceded it and hours of documentaries on the film and phenom. And a couple weeks ago I brought my three-year-old son to see the musical, his first theatrical experience.
But this isn't just another geeky obsession. Or at least, not only. The Oz books were my dad's favourite growing up. My sister was born while he, then a high-school acting teacher, was directing the play. My mom went into labour with me while watching it on TV a few years later. And three years after that, again during the Oz's annual television screening, we got a call that my cousin had been born. In grade seven, I even played the wizard in our school play.
So Oz has been a part of my life forever, and is a tradition I'm proudly passing on. But while the movie has been a part of our entire society's shared experience since it became a TV staple in the mid-1950s -- its unforgettable songs, unparalleled art direction, heart-warming scarecrow and bloodcurdling witch are now parts of modern folklore -- there is so much more to Baum's world.
The book Wizard, for one, doesn't pretend that it was all a dream and certainly doesn't argue there's no place like home -- not when grey, economically depressed Kansas is home and a fairytale land like Oz awaits. A subsequent book even sees Aunt 'Em and Uncle Henry moving to Oz after their farm is foreclosed.
The series has been banned repeatedly throughout the years, for reasons ranging from its suffrage-era feminist bent -- not just in reference to Dorothy and the various witches, but also the series' monarch, Ozma -- to promoting paganism and witchcraft. The latter charge was leveled by Jerry Fallwell and Pat Robertson as recently as 2004 to get the movie off TV. The books were also blacklisted as Communist for a time because there was a strident lack of money in Oz.
According to the Tin-Man in The Road to Oz, "We have no rich, and no poor; for what one wishes the others all try to give him, in order to make him happy, and no one in all Oz cares to have more than he can use." (Others claim the book is an allegory for the turn-of-the-century Populist crusade to add silver to the gold standard, a theory based largely on the yellow brick road and Dorothy's silver slippers, which only became ruby in the film because red looked better in Technicolor.)
Despite being over a century old, Baum's writing remains perfectly pitched to young kids, alternating elaborate descriptions with economical prose. The storytelling remains buoyant throughout, even in Baum's final, posthumous book Glinda of Oz -- a darker tale written near the end of WWI while Baum's health was failing -- about Dorothy and Ozma being taken hostage while trying to stop a tribal war in a remote corner of the country.
Baum wanted to modernize the Grimm Brothers' fairy tales by maintaining the magic and wonder but eliminating the "heartaches and nightmares" intended to frighten children into moral behaviour. There's certainly a place for darkness in children's literature -- and the Oz books have their share of tension and conflict, not to mention a stirringly moral centre -- but mostly Baum's wildly imaginative books invoke the same in their young readers.
"So I believe that dreams -- day dreams, you know, with your eyes wide open and your brain machinery whizzing -- are likely to lead to the betterment of the world," Baum wrote in the intro to The Lost Princess of Oz, explaining his motivation. "The imaginative child will become the imaginative man or woman most apt to create, to invent, and therefore to foster civilization."
In other words, what we really need to give our kids is not at the end of the rainbow, but over it.
A version of this blog was originally published by The Grid.