Toronto police chief Mark Saunders just put out a "you can't fire me because I quit" press release announcing "I have decided the Toronto Police Service will not participate, this year, in the Pride Parade."
This "decision" comes in the wake of Pride Toronto's Annual General Meeting in January during which the majority voted to adopt all of the demands made by Black Lives Matter -- Toronto during their brief sit-down protest last year, including banning police floats but, despite claims to the contrary, not individual LGBTQ police officers.
Even more frustrating, however, was that the rest of the police chief's letter was similarly oblivious to the reason why they were uninvited.
"We have made great strides with the LGBTQ communities. It's an inclusive relationship I'm proud of and I know the men and women of the Service feel the same way," Saunders wrote, blaming the fact that "LGBTQ communities are divided" without accepting any responsibility for that division.
Then there's Toronto Mayor John Tory's latest statement expressing his disappointment and frustration while pretending that Pride hadn't already made this decision for the police. Notably, he thanked the police for "how far they have come in their relationship with the LGBTQ2S communities" and referred to them like a marginalized minority while completely leaving out the word "black" or acknowledging why they've been asked to not participate.
This was a missed opportunity to address the lack of great strides with the black members of the LGBTQ community, and black Torontonians as a whole.
Black Lives Matter spokesperson Syrus Marcus Ware noted the absurdity of the police trying to "make it seem as if they are choosing to pull out of Pride when in fact they were uninvited" and the absence of any mentions of "anti-blackness and policing, around issues of carding.''
Saunders did say "we will continue to develop respectful relationships and build new ones, focusing on those who feel marginalized, with the trans and racialized communities. I will sit down with any group who feels marginalized, who comes to the table with ideas on how to make things better."
Thing is, that's not true.
Black Lives Matter even made it easy for Saunders last year when they set up a camp outside police headquarters to protest the police killing of Andrew Loku after the officer who shot him to death was cleared by the province's Special Investigation Unit.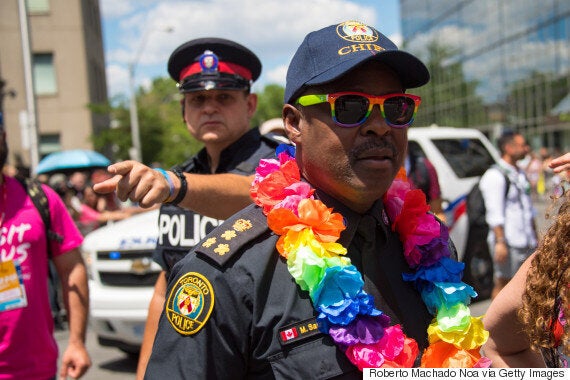 Saunders later subtweeted BLM in a letter to Pride officials about the proposed police ban, citing "attempts by some to undermine the relationship between my Service and the LGBTQ communities" as if somehow black people aren't also a part of the LGBTQ communities.
This idea that black and LGBTQ communities are mutually exclusive was reiterated again in the wake of Saunders "decision" by Toronto Police Association president Mike McCormack.
"Our members feel like this is political pandering and a continuation of the knee-jerk reaction that has happened since Black Lives Matter shut pride down last year," the police union boss railed to CP24. "We don't this is a step in the right direction. We think it will seriously have an impact on the relationship between institutional police and the LGBTQ communities."
Naturally, the man who thinks any support of a movement to reduce police violence against black people is "political pandering" went on to make it even worse.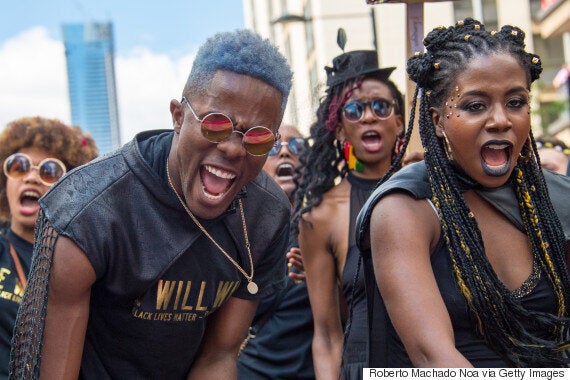 "If the goal throughout this whole process was to erode the relationship between police and our communities then I think that Black Lives Matter and other special interest groups are clearly achieving that," he said, as if not wanting to be racially profiled and possibly beaten or even killed is a "special interest."
Speaking of which, he proudly supports racially biased "carding" even though the Ontario ombudsman suggested that alone proves police racism is true. The province ruled carding is "wrong and illegal" for violating the Canadian Charter of Rights and Freedoms because, as City TV reported, "statistics show it disproportionately targeted minorities, especially black men."
That's the police union's starting point.
Now let's not forget that just two weeks ago, we all watched a video of Toronto police not only tasering a black man lying on the ground but also threatening a bystander for filming the incident and made an ignorant comment about AIDS:
The police did apologize but, as CBC reports, the Twitter apology "appeared to refer only to a male officer saying 'he's going to spit in your face and you're going to get AIDS' -- apparently referring to the suspect -- and said nothing about the use of a Taser on the suspect while he appears to be restrained on the ground in the footage."
Or the fact that the suspect, who allegedly punched and spit on a female police officer and kicked out the window of a police cruiser, appeared to be motionless on the ground as the police stomped and tased him while shouting "stop resisting."
Then the cop yelled "Get that guy out of my face, please" toward the civilian cameraman at which point his fellow officers went over to intimidate the witness, threatening to seize his cellphone if he didn't stop filming and then making that AIDS comment.
Siding with black members of the community over the police is actually being inclusive.
Do those rotten cops represent all police? They do not. But neither do the smiling cops with Super Soakers in the Pride Parade people are tweeting out or that amazing dancing cop who went viral this week.
But until the police admit that they have a systemic racism problem in their ranks and make actual reform efforts to fix that problem rather than deny its existence, they should not be allowed to use the Pride Parade as a PR effort. Despite what Twitter might say, police are not a marginalized minority and siding with black members of the community over the police is actually being inclusive.
Let's not forget that Pride literally began as a protest against police violence and profiling in response to the police raids at the Stonewall in in New York and the bathhouse raids right here in Toronto. Pride is, and has always been, political.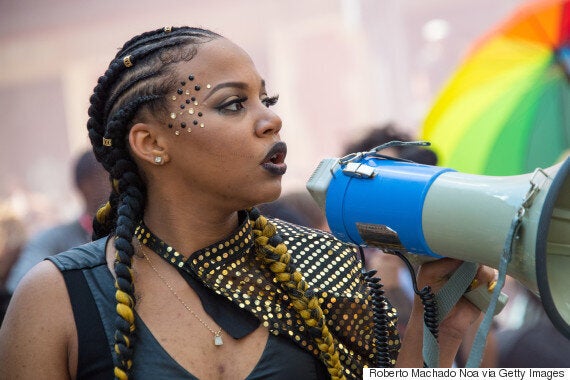 BLM-Toronto's protest worked, not only in Toronto but across the country. Earlier this week, Halifax police proactively withdrew from their Pride "in consideration of a national debate about police participation in Pride parades."
Unlike Toronto's police chief, Halifax chief Jean-Michel Blais actually accepted some responsibility: "We recognized that our participation in the parade may contribute to divisions in the LGBT2Q+ community which is contrary to our intent of building a strong and sustainable relationship."
Meanwhile, Saunders ended his Pride letter with "We have come a long way. We have much to do." The former may be true when it comes to white members of the LGBTQ community, but that progress has not made it across racial lines. Hence all the backlash from empathy-free white LGBTQ folks.
Once police make some progress on the"much to do" promise, which means actually working to reduce systemic racism in a real and meaningful way, then they can "decide" to rejoin the Pride Parade.
Follow HuffPost Canada Blogs on Facebook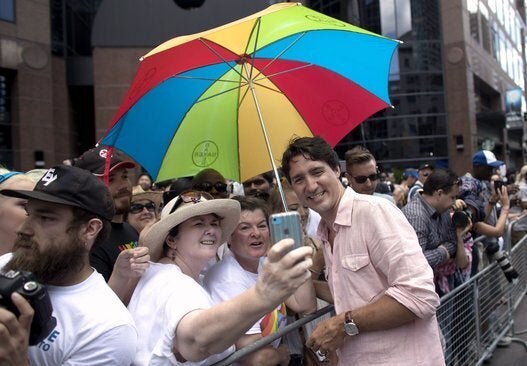 Toronto Pride Parade 2016