Justin Trudeau was elected prime minister with a campaign fuelled by "sunny ways," but a few months back he ran out of solar power.
Now, as human tornado Donald Trump begins his apocalyptic presidency and Conservative leadership candidates Kellie Leitch and Kevin O'Leary try to emulate him here at home, it's time for Trudeau to get back to his old ways before the southern storm front crosses our border.
Trudeau's honeymoon had to end sometime. That's why it was so appropriate when protesters at a youth labour forum turned their backs on him, a prime minister so focused on symbolism and imagery.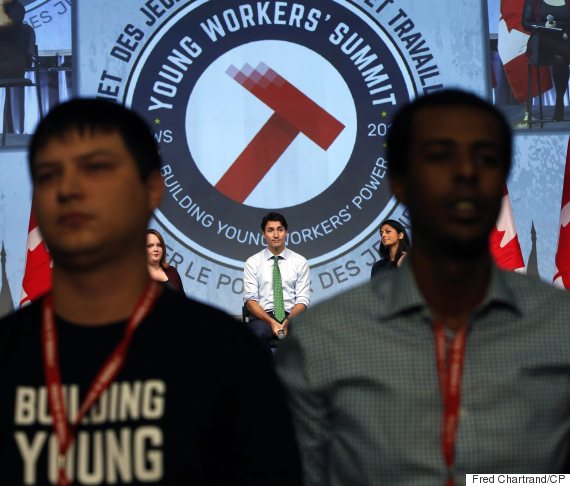 Protesters turn their backs on Prime Minister Justin Trudeau as he addresses the Canadian Labour Congress National Young Workers' Summit in Ottawa on Oct. 25, 2016. (Photos: Fred Chartrand/CP)
"It is a little bit frustrating for me to come in, sit down, look forward to hearing from you, talking with you, and seeing a room full of people who are standing in a way that shows they're not listening," he griped.
No doubt they felt similarly frustrated given that they were shouting out "hypocrite" and holding "Keep the Promise" signs, angered over the Liberals' support for Trans Pacific Partnership trade deal and other rightward moves.
Over the course of his first year, Trudeau's much-vaunted electoral reform efforts went off the rails. Canadians continue to be jailed and dispensaries continue to be raided even as the country awaits marijuana legalization, all because Trudeau ordered the police to "enforce the law."
Trudeau's honeymoon had to end sometime.
On energy policy, the man who proclaimed "Canada is back, my good friends. We're here to help to build an agreement that will do our children and our grandchildren proud" at the Paris climate change summit went on to approve the Pacific NorthWest LNG terminal, as well as the Trans Mountain and Line 3 pipelines, infuriating environmentalists and First Nations.
Indigenous people have even more reason to be disappointed with Trudeau as remote reserves continue to be gripped by an ongoing suicide crisis while nothing has been done to address deficits in education funding, clean water or housing.
Just consider these recent HuffPost Canada headlines: "Trudeau Government Failing First Nation Kids: Advocate," "Families Of Missing, Murdered Indigenous Women Frustrated," and "Students Ask Trudeau For Selfie, Then Press Him On Indigenous Rights."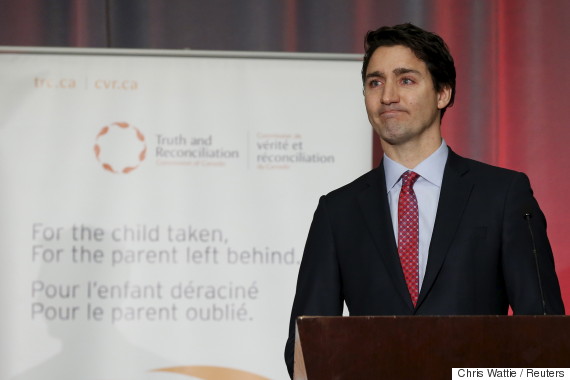 Prime Minister Justin Trudeau pauses while speaking during the release of the Truth and Reconciliation Commission's final report in Ottawa, Canada, Dec. 15, 2015. (Photo: Chris Wattie/Reuters)
I'm not one to say that there's no difference between the Liberals and Conservatives -- a decade under Harper made that abundantly clear -- but the similarly untrue notion that there was no difference between the Democrats and Republicans was what allowed Trump to win.
Now it is admittedly typical for the Liberals to run left and govern centre-right, but the prime minister would do well to realize that these are unusual times.
Canada's 2015 election began with the NDP out in the lead until Tom Mulcair began campaigning right and progressive voters increasingly felt they couldn't trust him because of his unclear position. So they moved to Trudeau and won him the election. Hillary Clinton, however, failed to convince the Bernie voters that she could be trusted to represent their values and lost as a result.
The difference here in Canada is that our three-party system means that even though a plurality of Canadians are progressive, when the NDP and Liberals split the vote the Conservatives win by default.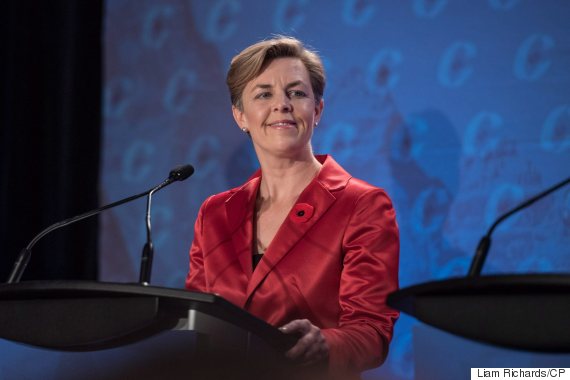 Conservative leadership candidate Kellie Leitch speaks during the Tory leadership debate in Saskatoon on Nov. 9, 2016. (Photo: Liam Richards/CP)
That was one thing when Obama was president, but with Trump we need a strong progressive leader who not only says the right things about issues like climate change and indigenous rights, but does the right things, too.
I do believe that Trudeau means well. His diverse and gender-balanced cabinet and Pride parade presence sent important messages to Canadians, and his Syrian refugee plan came through as promised, saving tens of thousands of lives.
But he must do more, because making progressive voters feel used and abandoned is a recipe for Trumpism to come to Canada.
There's still time for Trudeau to learn from his mistakes.
Last September, Trudeau addressed the world at the United Nations and asked: "When leaders are faced with citizens' anxiety, we have a choice to make. Do we exploit that anxiety or do we allay it?"
He warned about turning anxiety into "fear and blame" and "rejecting others because they look, or speak, or pray differently than we do."
Yet that fear was how Trump won, and precisely why populists Leitch and O'Leary are exploiting it, too.
But Trudeau said something else that he needs to remember right now: "What matters is that we learn from our mistakes, and recommit ourselves to doing better."
There's still time for Trudeau to learn from his mistakes, to enact the progressive policies Canadians voted for and to recommit his government to doing better.
Follow HuffPost Canada Blogs on Facebook
Also on HuffPost:
Conservative Leadership Candidates