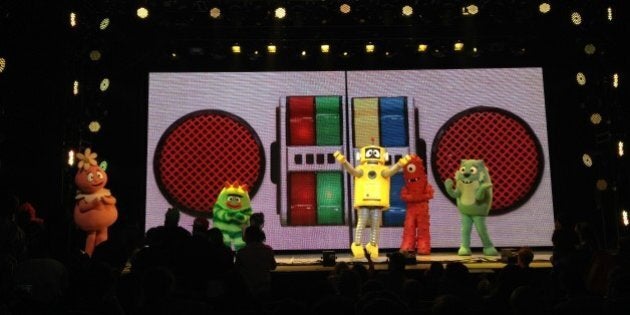 Kids may be young, but kid culture nowadays is old. It's all superheroes from the '40s and '60s, muppets from the '70s and ninja turtles and power rangers from the '80s.
Yo Gabba Gabba is one of the rare pop cultural icons for the knee-high set that actually debuted in the past decade, so it might seem too soon to declare it the best kids' show ever. But I'm declaring it nonetheless.
I'm biased, of course, because my five-year-old son Emile has loved "Yo Gabba Gabba" more than just about anything since we first allowed him to watch TV, continuing to gravitate to its gentle nature even as he starts to age out of its target demographic.
It's not only E who loves it, of course. This week I took him to see the "Yo Gabba Gabba! LIVE! Music is Awesome!" concert at Toronto's Sony Centre for the Performing Arts -- the tour currently winding its way through 29 North American cities -- and it was rather wonderful to watch the mass of toddlers, preschoolers and kindergartners lose their shit (literally, alas, in the case of some of the younger ones) over music.
Yes, Yo Gabba Gabba features five human-sized huggable monsters -- red cyclops Muno, pink flower-girl Foofa, green-striped monster Brobee, cat-dragon Toodee and yellow robot Plex -- that most any kid would want adorning their footie PJs. But their human-sized human is named DJ Lance Rock and the others live in his boombox, and what this motley collection spends most of their time doing is singing.
And so the live show is a proper concert, for many it'd probably their first. (Emile's was 'Weird' Al Yankovich at 18-months, but that's another story.) As co-creator Christian Jacobs, also a member of cult rockers The Aquabats, has said "we wanted to avoid it becoming a narrative or a Broadway play. We wanted it to be first and foremost about the music."
It began with a flurry of confetti as DJ Lance and the monsters sang their pro-vegetable classic "Party in my Tummy" followed by "Try It, You'll Like It" and "Don't Bite Your Friends." Eventually they got to "All My Friends Are Different" and "Hold Still," all memorized by the kids, thanks to endless repeats on Treehouse and four (!) soundtrack albums, and featuring edgy hip-hop and electronic beats.
The TV version became a cult hit with older audiences thanks to its incredible calibre of musical guests ranging from The Roots and the Flaming Lips to MGMT and Metric on a segment they call "The Super Music Friends Show." (For Father's Day one year, Emile gave me the double-album compilation on pink and blue vinyl, and the cast has made appearances at SXSW and Coachella music festivals.)
Toronto's super music friends were roots-rockers The Treasures, who were fun and provided an opportunity to explain the stand-up bass, though past U.S. gigs have seen folks like Jane's Addiction's Perry Farrell, Foo Fighters' Dave Grohl and Lauryn Hill performing for the kids.
They also brought the show's resident beatbox instructor, old-school rap legend Biz Markie, on the road to teach kids how to make music with their mouths and DJ an '80s-rap dance party. My son and I tag-team rap to "It Takes Two" all the time, so he was quite thrilled when Biz dropped the needle on that Rob Base and DJ EZ Rock classic.
Yes, Yo Gabba Gabba is made by and for hipster parents, 30-somethings who dig old-school hip-hop and postmillennial indie rock. But here's the thing, kids like that stuff, too, if you just introduce it to them.
The problem with most kid music is that it's terrible. Kids enjoy it well enough, but they also have nothing to compare it to. Yo Gabba Gabba's focus on quality music, whether sung by the characters or special guests, has helped my son develop a surprisingly sophisticated musical palette from a very young age. Like many a much-older snob, he prefers Jimmy Eat World to Weezer (albeit it's because he prefers the former's "Beautiful Day With My Best Friend" over the latter's "All My Friends Are Insects").
Even more importantly, it has given him a deep, abiding love of music across the board. He even makes up his own songs while bashing away at his keyboard cat or ukulele (my favourite is his punk rock jam "Hugs, No Hugs.")
For Halloween this year -- yes, that would be 2014 -- he's dressing up as Michael Jackson. He's become pretty much obsessed in recent months, singing MJ tunes almost as often as not, so while his classmates are putting on capes and strapping on swords, how could we not shell out for a red leather, zipper-covered "Thriller" jacket?
Yo Gabba Gabba may teach kids how to eat well, get over fear and not bite each other, but it also teaches them about how good music can be and that's something that will stay with them as they grow up. No wonder lesser shows like Barney have gone extinct.