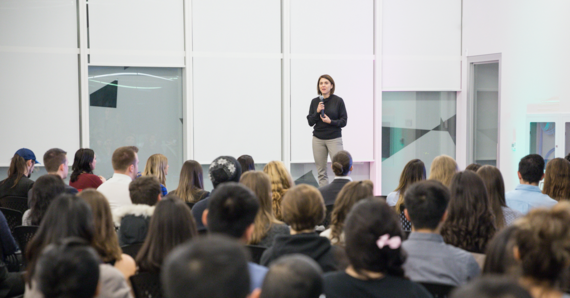 We've all read our fair share of inspirational quotes -- added various motivational accounts onto our social media timelines, when we've felt "off." Newsflash people -- we need to get up and get moving and we should change the rhetoric of 'getting out of our comfort zone' that's always associated with fear and keeps us paralyzed into the exhilarating rush of ''chasing the butterflies'' and I've met the person who could tell you exactly just that.
I met Phyllis Potamianos, Vice President of Retail Deposits, Investment and Transaction Servicing at Scotiabank after attending an Inspire North event. As a guest speaker at the event, Phyllis spoke about how she started out in banking as a part-time teller, and thought that after graduating and later on having a family she would not be able to juggle taking on higher management roles whilst managing being a mother.
However, what is extremely striking about her character is that she has a high sense of self-realization -- where after taking a full-time job and starting a family, it revitalized her drive for taking on more challenges which birthed the concept of "chasing the butterflies."
Throughout our conversation Phyllis explained, "When I had my full-time job I realized there were no more butterflies," where on one side, it was comfortable and secure, and on the other hand, it wasn't really testing her abilities and helping her grow.
Therefore, Phyllis took the matter into her own hands and decided to "chase" said butterflies. Especially knowing that the more she were to delay taking the leap of faith and risk asking for what she wanted, then fear would always win the fight.
After earning every position she had, to later become a leader in her field, Phyllis explained what leadership for her means today with advice on how you could become the next leader in yours too.
1. Break out of your cultural bias
Phyllis explains how cultural bias can be a barrier to achieving your full potential. She says she needed to balance her upbringing of respecting figures of authority with the understanding that she needed to step forward, make her voice heard and go after exciting career opportunities.
Phyllis advises that we need to break out of our mold, to do something different -- so whenever you can, understand that no one is a mind reader and you have to vocalize what you want in order to have the chance to get it.
2. Don't lose the twinkle in your eye
In my conversation with Phyllis she explains how an organization is the vehicle for you to prove yourself and to foster your leadership. She explains, "Imagine an organization is the Ferrari that was given to you, you can either keep it parked, or you can drive it" and that's what differentiates a leader from someone else. Phyllis says she sees that when you have a leadership role, your ability to encourage and realize the capabilities of others around you to chase their "own butterflies" coupled with your leadership are not mutually exclusive.
3. Be Authentic: You don't have to fit the mold
According to Phyllis, it's important for leaders to remember to be their authentic selves. Once you are in a position with a larger title and authority, you can put pressure on yourself to fit into a specific stereotype of what you think a leader should be, with you trying to emulate a character in order to please the people around you, which will eventually show. However, when you're being true to yourself, it automatically makes you different and people will gravitate towards your leadership style because it has your name written all over it. Especially in a corporate setting, Phyllis explains that an "executive persona'' does not exist. Instead, it is what you bring to the table.
Follow HuffPost Canada Blogs on Facebook