On June 23, 1985, somewhere around latitude 510'N and longitude 1250'W, just off the south coast of Ireland, 82 children and 247 adults were murdered on Air India Flight 182. The majority of the victims were Canadians of Indian ancestry.
Among the mystery, lies, cover-ups, court trials, conspiracy theories and missing tapes, the stories of these 82 children have remained lost, forgotten from public discourse. It's these hidden stories, messages and lives that poet Renée Sarojini Saklikar resurrects in her BC Book Prize-nominated book of poetry, Children of Air India: un/authorized exhibits and interjections.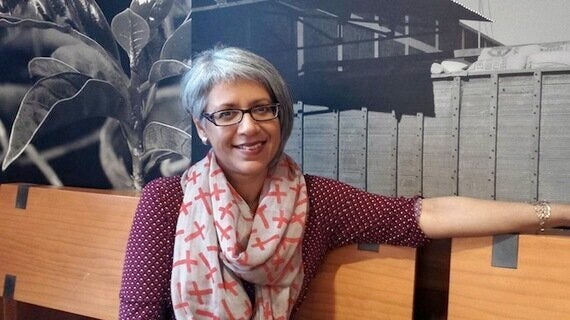 "THE LIVES OF ALL THESE PEOPLE WERE INTERRUPTED."
If you've ever felt that poetry was beyond you or hard to approach, Renée's book of elegies -- poems for the dead -- will change your mind. Readers will find themselves immersed in the exhibits and documents and ghosts who haunt the pages of what will likely become a seminal text in the ongoing narrative of the Air India 182 bombing, the largest act of terrorism in Canada.
The poems read like exhibits in a trial, but Renée is quick to say that it's a work of the imagination: "It's not reportage, it's not live testimony alone." That said, the book includes years of archival research, as well as glimpses into Renée's own tenuous and fraught relationship with the memory of the murders.
"It was terrifying, obsessive, overwhelming," Renée shared. "I literally spent years with all these documents. This is the first book of its kind in Canada, and so when you do something like that, there isn't a lot that you can build on. I think the inquiry into the investigation of the bombing itself ... there are over 17,000 documents, and I've only looked at a fraction. It became an obsession. It became overwhelming. It became this thing that would not let me go."
Renée was in her early 20s when Air India Flight 182 came down in 1985. Her aunt and uncle were on that plane, heading back to India after visiting Renée's family.
"I did start writing out just about my own family, my own loss. And it was very hard to talk about because, it sounds a bit elaborate, but the voices of these children, through the archival documents, just really seemed to claim me. And, I kind of resisted because it's hard to do it and it would be much easier, I think, just to ignore the fact that these 82 children lost their lives, who are just so innocent. I do think that's the job of a poet, you can't look away, even if you want to."
While other works of fiction that commemorate or investigate the Air India 182 murders have been personal and public mournings of the murders, Renée's focus on the 82 children lost in the plane crash is an interesting shift in the dialogue about the incident.
The focus on children offers a change from larger Air India 182 narratives about whether or not a bomber or government or separatist movement was responsible for the murders. The focus is on these silenced voices.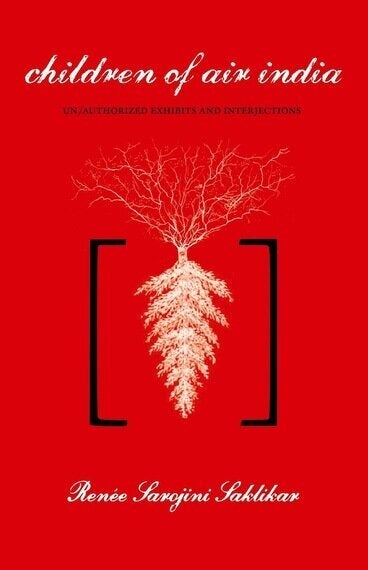 "I FELT I HAD NO CHOICE, AND I WANTED TO RUN AWAY BECAUSE IT'S SO PAINFUL AND HARD... THE INCIDENT HAPPENED IN 1985 AND IN SOME WAYS I'VE BEEN WRITING THIS STORY SINCE THEN."
Renée worked as a lawyer for many years and had her own communications business. She travelled often, had two cell phones, a laptop and led the the successful professional practice so many of us strive towards. It was the unexpected death of her father that shifted her focus.
"I think birth and death, they transform us, even when we don't want to be, it's inconvenient ... Some part of me just knew that I have to do something else as well. I didn't necessarily want to give up all of that [world] and its privileges, but poetry claimed me. The more I got into poetry and writing, the more it felt like this what I've got to do. I had to let go, and it's not easy. I couldn't even have this conversation if it wasn't for my husband (outgoing B.C. NDP leader and MLA Adrian Dix) who has been so supportive."
For 10 years, Renée carried around clippings and documents covering the bombing and subsequent bungled investigations and trials. "The actual process of research and writing was five years ... there were many false starts."
History is an unavoidable part of our collective and personal memories. "Whether it's 9/11 in Chile or it's 9/11 in New York, or it's June 23, 1985, you can't escape history," says Renée. "You can't act as if it didn't happen, because it did happen. I think in every culture, not just ours, we go through these elaborate mechanisms to not talk about things. We tried not to talk about Indian residential schools. Every culture carries with it that which it doesn't want to speak. I think it's up to poets and artists -- we have to be witnesses. A poet can't look away."
Children of Air India: un/authorized exhibits and interjections, is available at Chapters Indigo, Amazon.com and People's Co-op Bookstore.