Review by Rumnique Nannar for Jugni Style
"This is a film for us, not about us" says director Deepa Mehta about Beeba Boys, which looks at identity and style through the guise of a gangster film. Delivering a film that's actually for the South Asian community and diaspora is easier said than done with Beeba Boys, which could have been promising but fails on many levels.
Beeba Boys is one of the first mainstream films to feature Sikhs and Punjabis as the heroes and villains of their own narrative. South Asian men, let alone Sikhs, rarely see themselves on screen other than as kindly driving instructors (Learning to Drive) or jokey technicians (The Office), so it's refreshing to see Deepa Mehta focus on these young men. And what a bunch of badasses they are! With their flashy suits ranging from turquoise to bright neon pink, these gangsters are bold and meant to be seen as the kingpins they set out to be.
They're not in chains or track suits, or wise guy suits; the hipster gang is stylish to a tee, which makes many of their action set-pieces all the more dramatic and vibrant. The style element is Mehta's way of addressing their identity politics, since they refuse to fit into society's categorization of Sikh (and South Asian) men, and instead demand to be seen and visible on their own terms.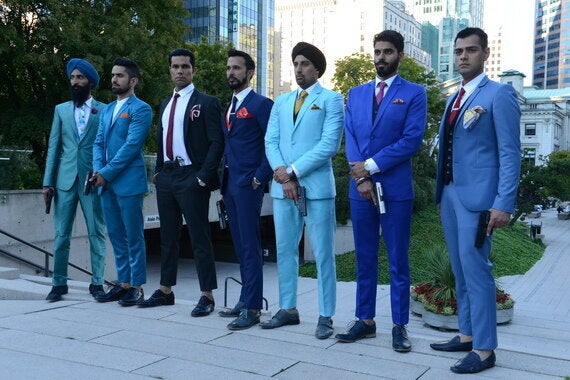 Photo by Doane Gregory, courtesy Mongrel Media
It's a shame then that Mehta decides not to live up to the adage of "show don't tell" by making her main character Jeet Johar (Randeep Hooda, excellently elevating the material here) say things like, "This is our fucking style statement," or "If the Chinese had their Bruce Lee, then the Punjabis will have us."
Where she does best in depicting these identity struggles is when she focuses on Jeet's mother (Vancouver-based actor Balinder Johal) who meets with other gangster moms to exercise and commiserate over where their sons have erred in the sauna room. It's a comic scene that speaks to the vastness of their generational clash, and the film could have used more of that.
Instead, we get Mehta succumbing to the narrative trappings of the gangster genre, which she gives her unique spin on but largely ends up paying homage to the Goodfellas or Donnie Brasco school of cinema.
The opening of the film is consummately stylish in introducing characters like Manny the Joker (a fabulous Waris Ahluwalia), Happy the Muscle (Steve Dhillon), or Guri the Gun (Ali Kazmi) as they dance at the supposed wedding of a fellow Beeba Boy. Turns out it's a Weekend At Bernie's situation and they're sending him off in style as police helicopters circle above the house. It's an audacious moment, but it's got the wicked energy that propels the first half of the film where the jokes and brazen shootings come fast and thick.
We get to know that Jeet is in conflict with Robbie Grewal (Gulshan Grover), a businessman involved in the drug trade, but hides behind his genteel veneer as a community leader. Then there's his romance with Katya (Sarah Allen), a Polish manicurist who's a juror at his trial. Their courtship is rather funny, as Jeet goes all out to pursue her with a visit to her parlour with Bhangra dancers.
If the stories seem familiar, they're liberal composites of the rise and fall of Bindy Johal, and the Peter Gill-Gillian Guess saga in the Vancouver-area from the 90s and early 2000s, which Mehta updates to the present. That's the extent to which the film remains based in some sort of reality, since Mehta meshes these stories with gangster tropes, which will not satisfy the section of the audience looking for some authenticity.
It feels as if Mehta has hijacked the bleak reality of Vancouver's gang culture to make a genre picture, which would be fine if she could balance the morality tale with the glamorizing. From being idolized by teens to his gang members dying in quick succession, Jeet ends up at the mercy of the script's diverting ideas.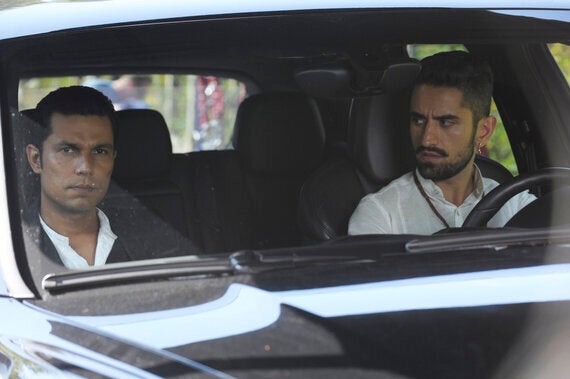 These morality lessons kick in during the uneven second half, where we're introduced to the new recruit Nep (Ali Momen). Momen does the best he can with his underwritten role, and doesn't quite sell us the infuriating twist that comes in the conclusion -- but he does have good chemistry with Gia Sandhu, who plays Grewal's tough daughter.
The film loses a bit of control in the finale. Jeet is presented as a dualistic gangster who is also a sensitive single father and a religious man who volunteers at the local gurudwara. It's a fascinating dichotomy that could have been explored much more, but instead I saw it as another allusion to real-life criminal Bindi Johal, who played up his culture when it suited him.
So when Jeet decides to terrorize a rival (Paul Gross with a hilariously bad topknot) with his kirpan (religious ceremonial knife) by mentioning what it stands for (kindness and honour), you can definitely see why audiences might get upset.
That's what comes up with any discussion of representation: if this is going to be the first major film of Sikh men onscreen, why use an article of the faith in that way? To show his posturing and disregard for religion, to critique the faith and culture, or to showcase a badass moment in Jeet's descent? It's a tricky moment that can be read multiple ways, but it'll definitely prompt a reaction.
Seen the movie? Tell us what you think. Beeba Boys opens in theatres across Canada on Oct. 16.