Lupita Nyong'o's moving speeches, the Dark is Beautiful campaign in India, and Anita Majumdar's play, Same Same But Different, have me in a different frame of mind as we approach International Women's Day.
I'm not just thinking about women's rights and battles. I'm thinking about what it means to be a woman of colour in Canada.
Beauty is often on our minds (we run a magazine about fashion and culture after all), but over the past few months, our conversations have been moving between racism and shadeism and how we, as brown-skinned women, think of beauty.
In January, Mindy Kaling's black and white cover of Elle magazine spurred online comments about Photoshop, body size and skin colour. Mindy went on Twitter to say that she loved her cover, but there were a lot of brown girls who wished that her cover had been done in colour, and challenged Elle's decision to publish three other covers in the February series that featured white actresses, in full colour.
More recently, Lupita Nyong'o's speech at Essence magazine's Black Women in Hollywood Luncheon in Beverly Hills connected deep within us. She talked about dark beauty and black beauty, and the pain and stigma of having darker skin and being told that she's not beautiful. It's something that Canadian actress Anita Majumdar has been tackling for years.
In her new play, Same Same But Different, Anita Majumdar explores shadeism, definitions of beauty, and the personal trauma of being a woman of colour, all within the backdrop of Bollywood song and dance. In the two-act play, Canadian-born Bollywood star Aisha confronts her own prejudices about nationality, skin colour and family. The second act explores the story of Aisha's mother, Kabira, and her own life-changing encounter with the world of Bollywood. Written and choreographed by Anita Majumdar, the play also stars Nicco Lorenzo Garcia.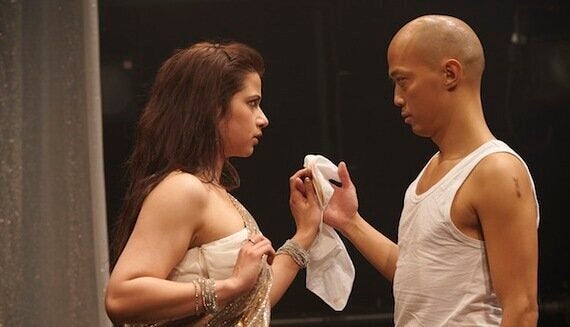 Anita shares her experiences in a passionate conversation that straddles between dark and light, colonialism and racism, and growing up as a brown girl in Canada.

As told to Jugni Style Editorial Director Manjot Bains, over a Skype conversation in February (condensed from the original interview):

I was interested in the politics of white privilege. About the concept of appropriation, and appropriation of South Asian culture, vis-a-vis Bollywood. The concept of [my play Aish N' Ben] that time was that it was a South Asian Canadian Bollywood starlet who made it big in Bombay and is shooting a film in Vancouver and meets a white background dancer who thinks he has a shot of making it in Bollywood. What transpires between them is a conversation about race. And this was a 15 - 20 minute piece that was performed with script in-hand.

It went really well... but I walked away feeling like it was so much on the nose that it didn't allow me to talk about the complexity of being a person of colour in Canada, what that actually entails. It made me kind of have to uncover my own issues with shadeism, and realizing like wow, I think shadeism is where the heart of this story is. It actually can't be a white background dancer, it actually needs to be a person of colour. It deals with fair skin and how we contextualize ourselves within that.

The reason why my mother loved fair skin so much and tried to uphold that in me, and was so thrilled that I was born light skinned and took after my dad, is because she understood the world in a very particular way. And maybe I saw the world the way she did because I'm her daughter and I saw it from her lens.

My mom saw how people reacted to me and other people with light skin colour and she put two-and-two together and said, right like, if you want a fighting chance in this world, stay this way. Don't go in the sun. And for me, that is something I fight every single day, in terms of, no Anita, it's okay. Going in the sun is fine. Get tanned. It's fine. But I'm constantly celebrated in really not so obvious ways, but ways that accumulate and tell me you should probably stay fair.

I've been told, Oh my god you don't even look South Asian. You don't even look Indian. You could be Spanish... Being told you look Indian is not a compliment.

My mother encouraged me to wear colour contact lenses because it might make me look like Aishwarya Rai, which like, I think, our faces don't look anything alike. [Laughs] It's not going to happen. But again, Aishwarya Rai is a world ambassador for India. But she's endorsed by looking very global. She looks mixed raced, she doesn't necessarily look Indian and she's congratulated for that.

It's funny, I just saw something on The Huffington Post. It was seven things that brown girls need to know about makeup. I didn't really learn anything new, but it was strange, especially because I got to point, I think, five or six, and it was like, pick the right foundation. Don't try to be lighter. I think that's easier said than done. I think that a beauty blog saying, hey guys, just love your skin, just love your colour, isn't good enough. Because us saying that, that message isn't as loud as the unspoken things that in nonverbal ways are spoken to us all the time.

My question in [Same Same But Different] is: What are the social cues that I've been fed, both in my family but also outside of my family that has led me to hold these kinds of truths about shadeism, about light skin versus dark skinned?

Both cultures tell me in different ways that I should actually be light skinned.

What I find frustrating about conversations with non-South Asian, mainstream media, you know, is like, [they say] what is with you guys and fair skin, what is that about? It suggests that there's no complicity from the mainstream in that happening in the first place.

Same Same But Different takes the position that so much of shadeism has occurred because of colonialism... Just because colonialism isn't in play in the traditional sense, doesn't mean that we're not still taking the ramifications of colonialism. And what's so hard about race politics compared to gender politics... or sexual politics, is there's a kind of permission to talk about that in the public discourse, no holds barred, but race politics for some reason is treated with this, we don't talk about that. "I'm not a racist. I'm not a racist so I actually can't discuss this with you. I'm sorry that's how you felt or that's how you feel, but that wasn't my intention, I'm not a racist so this is the end of the conversation." And so by ending the conversation, we're not actually able to verbalize what our experience is or what our experiences have been, so we're silenced.

Like, I hear that all the time. "Anita you're being so sensitive," or like, "lighten up, it's just a joke, or take a compliment. Everything doesn't have to be so serious." You know what, that's really easy for you to say because you've never experienced it. Because you have had the privilege of walking into a room and never really having to contend with, "oh my god! What are you? Tell me more about your culture!" Or, "don't tell me about your culture. We let you into this country so shut up."

I will never know in my lifetime what it feels like to be racially neutral. I continue to feel like the other. I think race politics is the reason why I was put on this earth. [laughs] It is the thing that bothers me the most. I absolutely call myself a feminist and I think my work is feminist.
Anita is the recipient of The Governor General's Performing Arts Awards (GGPAA) Mentorship Program in 2013, and is working on her first book, The Fish Eyes Trilogy, a compilation of her three plays, which will be published in Spring 2015.