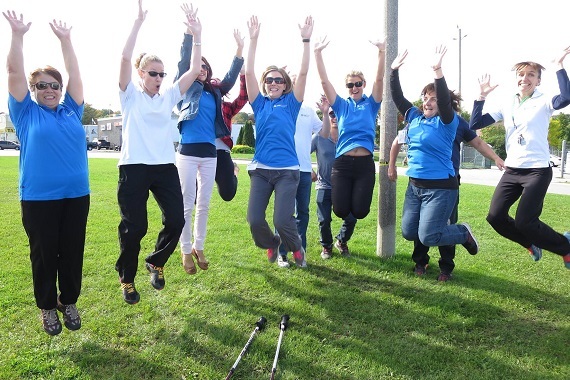 Health promotion comes in many forms -- from active living classes to advocacy groups -- but in all cases has the same goal: keeping people well. (Photo: Centre de santé communautaire CHIGAMIK Community Health Centre)
When the Canadian Index of Wellbeing (CIW), based at the University of Waterloo, released its national report in mid-November, it once again sounded the alarm that indicators of Canadians' quality of life continue to stagnate compared to pure economic indicators like Gross Domestic Product (GDP). The CIW's report calls on governments to invest more resources in upstream interventions, such as health promotion and community programs, to help close the gap. But the first question many of you may ask yourself is: "What is health promotion, and why does it matter?"
These are questions I get often, and I still find difficult to answer. I am a health promoter, but unless I'm talking to colleagues, most people aren't even aware the profession exists. "Sounds interesting," they say. "But what do you do exactly?" Here's what I do, and why health promotion is important for all of us and our health system.
It is ironic that we continue to call ours a health-care system, when in reality it only takes care of us when we are already sick.
When most of us feel sick, we go see a doctor. Then, we might fill a prescription, go for blood work or get a referral to a specialist. Sometimes, we are told to make changes to our lifestyles -- such as eating better, exercising more or lowering our stress levels.
What we may not realize is that many of our everyday habits and decisions are not defined by our choices alone. For instance, if we "choose" to eat unhealthy foods because those are the only available or affordable options for us, is that really a "choice?" If we "choose" sedentary habits because the options for physical activity are out of reach or our life revolves around a long commute, is that really a lifestyle choice?
As daily decisions made amid unhealthy environments pile up, our chances of becoming sick increase. Then we head to the doctor's office or hospital. It is ironic that we continue to call ours a health-care system, when in reality it only takes care of us when we are already sick.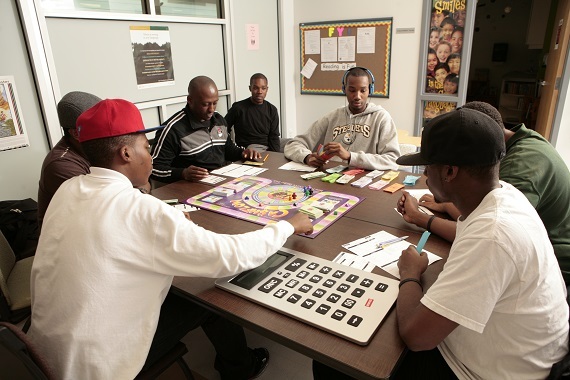 What health promotion looks like in real life: a financial literacy class for youth. (Photo: Association of Ontario Health Centres)
As a health promoter, I am part of a team of professionals who strive to put health back into health care. My work focuses not only on individuals as patients, but on communities and the factors that contribute to their overall health and well-being. Access to healthy foods, education and training, and opportunities to stay active and build social connections are all areas where health promoters take action. Advocating for healthier policies across governments and creating opportunities for people to become empowered to advocate for their communities is health promotion work, too.
Overall, everything we do aims to prevent you from becoming a patient in the first place. Examples of programs you might recognize include: nutrition and financial literacy classes for youth, accessible recreation, community kitchens and good food markets, social circles and physical activity programs for seniors, prenatal support groups and early childhood development education for parents, mental health and relaxation groups, to name only a few.
But what does health promotion look like in real life? Perhaps one of the reasons it's hard to pin down a single image is that health promotion can take so many forms.
Sure, it can be as simple and individual health-focused as a mindfulness and stress-reduction program like the Life in Balance workshops and groups at Klinic Community Health in Winnipeg. But health promotion can also focus on helping to empower people politically, for example by encouraging democratic agency among a group that is usually disenfranchised.
A mock election held in Calgary for people facing homelessness, to ease fears and give people a chance to ask questions in a comfortable environment, is an example of just that type of health promotion.
The Guys Can Cook! project (which I coordinate in Toronto) is on the surface a healthy eating initiative for youth, but when we dig deeper, the boys tell us they enjoy cooking and learning about foods from different countries, making friends, and feeling support and encouragement. Some boys return to the program as peer leaders, helping to build both a strong sense of belonging and meaningful involvement in their community.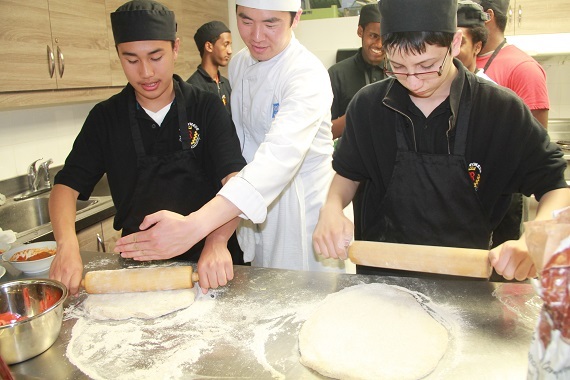 Even with rave reviews from its participants and parents alike, the Guys Can Cook program is without sustainable funding to continue. (Photo: Guys Can Cook! Project)
But despite the essential role that health promotion plays in keeping people well, many programs across the country have to scramble to find funding, which means that even the most successful programs can end up shuttered. In the case of Guys Can Cook, an Ontario Trillium Foundation grant made the program possible. But once that funding runs out this year, Community Health Centres are unlikely to be able to continue offering the program in its full scope.
The concept of health promotion is not new. The Ottawa Charter for Health Promotion, an international agreement that committed governments to reorient services towards illness prevention, marked its 30th anniversary in November. However, health promotion work continues to be underfunded, mostly invisible, and misunderstood by bureaucrats and the public alike.
It may be because health promotion work is not as easy to quantify as, say, the number of doctors or the length of wait times. How do you measure a boost in self-esteem and its impact on mental health over a decade of a young person's life? Or the quality of life improvement for a senior who joins an exercise program and makes five new friends? Or a person without a home who nonetheless feels empowered to make their voice heard?
The values may be incalculable, but we know the costs of not addressing mental health issues in youth, of not connecting seniors with supports, and of not connecting people on the margins of society is tremendously high once they get sick.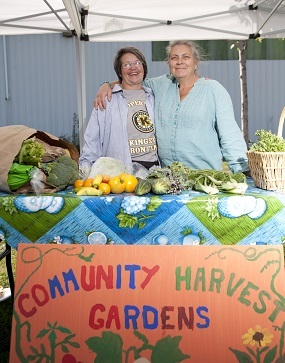 Where health promoters help build community, they are also keeping people well.

(Photo: Association of Ontario Health Centres)
We also know that despite ever-increasing expenditures on doctors and hospitals, the prevalence of chronic conditions, such as diabetes, obesity and mood disorders continues to rise. Numbers also tell us that only 1.5 per cent of Ontario's population utilize nearly two-thirds of all hospital and home care expenditures and of this 1.5 per cent, many tend to live in poverty, experience food insecurity and face social isolation.
When it comes to total dollars spent on health care overall, recent research shows that 40 per cent of those costs -- or a whopping $134-billion over 10 years -- are related to unhealthy behaviours and socioeconomic barriers. In other words, many of the pre-conditions for falling into poor health are preventable, and interventions aimed at improving those conditions have a higher impact on health outcomes and require very modest investments compared to never-ending budget increases for hospitals and doctors.
The CIW national report urges us to address the massive and continuously expanding gap between our country's economic growth and Canadians' sense of well-being. It's time to heed that call and redefine health care to include care that happens outside clinics and doctors' offices. Across Canada, everyone should demand that their local councillors and mayors, as well as provincial and national leaders support adequate resources for health care that keeps people well, not just a system that cares for us when we're sick.
Julia Fursova is a health promoter and the project coordinator of the Guys Can Cook! program. She is also a PhD candidate in Environmental Studies at York University in Toronto.
Follow HuffPost Canada Blogs on Facebook
Also on HuffPost: