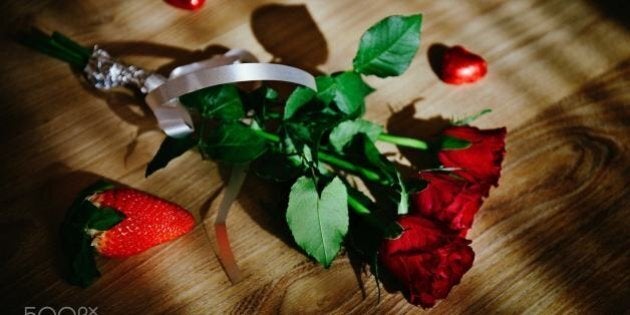 Valentine's Day is here. Whether you like it or not, "I love you day" is upon us. The whole planet, or almost all of it, will celebrate love.
Every 14th of February, lovers of all ages, will exchange cards and gifts, in the form of cupids and hearts.
Even though this day is celebrated all over the world, it is not a Statutory Holiday, anywhere, yet. You and your loved one will work, while your children go to daycare or school.
Here are twenty-three dos and don'ts to celebrate Valentine's Day harmoniously, alone, as a couple, when you have children and at work.
VALENTINE'S DAY AT THE OFFICE
1. Valentine's Day cards and gifts may present Sticky Situations. Like me, I am sure that you have stories to tell. Shhht... My lips are sealed... But because of these red and pink offerings gone wrong, my first recommendation is to not give anything to your work mates. Better safe than sorry.
2. If your company has an organizational "gift giving culture" or if you really really want to spoil your colleagues or subordinates, show your appreciation, by offering the same gift to all. Do not forget anyone. A simple "oops, I totally forgot about him/her" could quickly get the gossip going and damage a previously enjoyable work relationship. I am very serious. Hence my warning above. Make your list and check it not two but three times. Practical objects, such as traditional coffee cups or water bottles, with a "Super employee", as opposed to "I love you" will energize and delight. Avoid negative perceptions or puzzled glances, by simultaneously offering to all team members.
3. Organize a dessert pot-luck as a mid-afternoon boost. All team members bring in their favorite dessert and taste what others love to indulge in, when they have a craving for sweets.
4. Bring treats like a box of chocolates, cupcakes or popcakes, to share with your peers.
5. As a company, you may decide that Valentine's Day is the perfect day to recognize your customers and clients with a gift or card. You could also celebrate the day by organizing a lunch delivery or a basket of treats to a supplier whose service you love.
6. Use the following hashtags: #WELOVEOURCLIENTS, #WELOVEOUREMPLOYEES and the ever popular #LOVEMYJOB on social media. This is a positive way to shine within your company and in your business community. Don't exaggerate, be sincere and authentic.
7. Wish "Happy Valentine's Day!" to your colleagues. No need to add the crispy details of your celebration. A simple wish that recognizes the day is enough to cheer everyone.
8. Avoid sending gifts, such as flowers, to the office of your loved one. I know, it's common and could make him or her feel great, but it can also be embarrassing and bring unwanted attention to some, especially if it's early in your relationship. When in doubt, offer in person. If you receive a bouquet or a package at work, be discreet and sensitive to the love lives of others, who are not in your bubble of bliss. Discreetly call or text your loved one to thank him.
9. If you have an after-work romantic rendez-vous, don't wear your "stay up late" outfit to the office. (The expression came from my maternal grandmother Florina ;-)) A touch of pink, or a red rose à la Pierre Elliott Trudeau on the lapel of your jacket, are perfect choices to acknowledge the day. Remember, we dress for...? Our clients!
10. Stay professional. Do not use the pretext of the day to declare your love to a colleague on whom you've had a crush for some time. While we are on the subject of love at work, tender conversations, gestures or touches have no business in a professional work environment.
VALENTINE'S DAY WITH CHILDREN
11. Whether your child is in child care or school, be aware of the establishment's celebration policy and respect its practices.
12. Stop the Pinterest card inspirations! Let "your kids" use their imaginations to make, or choose, their own cards. They will radiate with pride.
13. Also, let their creativity emerge for the decoration of a container to collect their Valentines. Recycle a box of facial tissue or a can of coffee by adding a slot in the lid.
14. Make sure your son or daughter will have Valentines for all his classmates. The heart of a child, and even that of an adult, may be hurt by the mere forgetfulness of his name in the distribution of notes.
15. With the growing number of students with food allergies, avoid sweet and savory treats. An eco-friendly idea is to gather all your wax crayons to make heart shaped multi-colored mini-pencils. Turn the oven on to 150 degrees Celsius. Remove the paper from the ends of the crayons. Invite your children to mix colors and place them in silicone ice trays where the cubes are in the shape of hearts. Place them in the oven for about ten minutes. Let them rest for 15 minutes or accelerate the process by placing them in the freezer. Take them out and let your children pop them out of the molds! Ta daaaa!
16. Encourage your children to also write or draw "I love you" in notes to those who share their daily lives and with whom they make happy memories, like their grandparents.
17. And don't forget to offer a Valentine to your child. This is the perfect opportunity to once again show him how much you love him and how you appreciate him, for who he uniquely is. Ready? Pencil, paper and scissors, it's craft time!! Tinker with this precious valentine that will forever live in your child's memory of love.
VALENTINE'S DAY AS A COUPLE
18. Valentine's Day is always on February 14th and we all celebrate on that day. To decrease the pressure, one option is to plan an activity on another less coveted date, such as during the following weekend. As a bonus, you could benefit from better service and a little extra attention. You might also choose to ignore this celebration ... But be careful: this decision, like that of shifting the day, is a decision that must be made by the two of you! Make sure your loved one agrees.
20. No matter what gift or card you offer, it must be personalized to your sweetheart's likes and suit his or her personality. Tell, toast or write what you love and appreciate and why. Don't be afraid of being redundant and of repeating yourself. Everyone loves knowing that they are loved and for what reasons. It feels good, it reassures, it energizes and it is delights to know that we are loved.
21. Valentine's Day is a festival of love and love begins with oneself. Treat yourself. Celebrate you with a treat or an activity with friends.
22. Spread the love around you to young and old alike. Call, send postcards or text your love to family and friends.
23. "I love you" day can also be the ideal day to visit your parents. Order their favorite meal in advance and bring their favorite dessert.
#ILOVEHUFFPOSTREADERS! Thank you for reading me and for giving the opportunity to do what I love.
You have a sticky situation at work or at home? This is your forum. Write to Julie and she will reply. Want more solutions to sticky situations? Go to Facebook, Twitter, Pinterest, or order your autographed copy of Etiquette: Confidence & Credibility. Planning a conference? Julie happily travels coast to coast and beyond, to present customized activities. With Julie's help gone will be awkwardness, embarrassment and faux-pas.
Follow HuffPost Canada Blogs on Facebook