 Sticky situation:

Hello Julie,

Our across the street neighbour insists that we cannot park our car in front of his property. Are we wrong to continue to do so, especially when we arrive from his side of the crescent?

Please advise,

Mr. Theother Neighbour

P.S. The street does not bear his name
Good day Mr. Theother Neighbour,
Without knowing your motive(s) for parking in front of your neighbour's house, the obvious solution to this Sticky Situation is to simply restrict your parking to your driveway and the front of your house.
I agree with you that the street belongs to everyone and that your neighbour cannot tell you what to do. But, many homeowners feel that the front of their home, is the natural extension of their property.
I did a mini-survey of my friends and family and you should know that the majority agrees that even if your practice is quite correct and legal, it is a very annoying one. All would much prefer to look at the street activity, than at your car.
This Sticky Situation between neighbours, is not just a matter of right or wrong, but more importantly of civil neighbourly conduct.
Since we cannot ignore our neighbours or change them, except when we move, it is much better to seek mutual harmony. Polite exchanges will make street cohabitation more pleasant and bottom-line healthier.
Before doing anything, I recommend that you check with your municipality to inquire about by-laws or similar incidents involving other home dwellers. If there is nothing illegal against your practice, proceed with a discussion with your neighbour.
For this exchange, I recommend that all homeowners be present. This will prevent future misunderstandings and all will be aware of the possible agreement and its consequences.
Start your conversation by saying that you love your neighbourhood and that you hope to stay here for a long time. (I am guessing that this is your case.) Add that you want to maintain the spirit of good neighbourly conduct, and for that reason, you would like to discuss this situation. Speak calmly and tactfully, keep your language polite and courteous but more importantly be non-threatening and non-confrontational. And, don't make any accusations.
Instead of just making him understand the reason(s) why you want to continue to park in front of him, I encourage you to first empathize. Find out what motivates him to insist that you do not park in front of his house. Does he own several cars and needs that spot, does he regularly host guests or is he the type that likes to daydream looking out...? By understanding his point of view you will be able to decide whether or not you should continue to park in front of his house.
As a last resort, before you call your lawyer, I recommend mediation instead of the justice journey. It is the best and least expensive alternative, for all neighbour disputes. Many Canadian communities, like Ottawa, offer free community mediation. If you live in a city or town that does not offer this service for free, you may decide to hire a Canadian Institute for Conflict Resolution member.
Good luck and remember that no matter what you do, you will still have to face your neighbour, whether or not your car is parked in front of his house.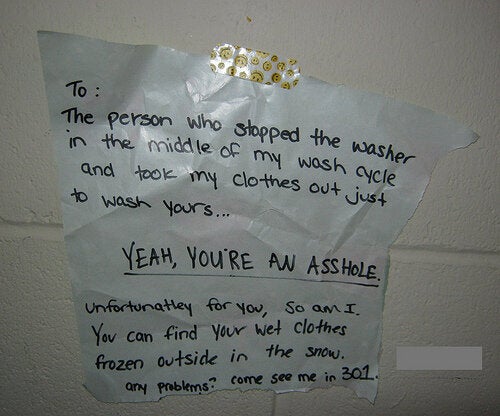 Won't You Be My Neighbor?