Getty
Sticky situation:
For many young Canadian witches, goblins and monsters, Halloween is not about a trick or a treat, it is a about a threat. One that could affect their entire livelihood.
According to Anaphylaxis Canada:
Over the past 10 years, food allergy incidents have doubled.
300,000 Canadian children have food allergies.
One out of two of us know someone with a food allergy.
The scary part is that there is no cure for allergic reactions. Avoidance of the allergen is the only safe method.
Solution(s):
As your "Sticky Situation" blogger, and food allergies are a serious sticky situation, there is a solution for a safe Halloween for all: a foil covered pumpkin adorned with a small heart. It can be made of felt, cardboard or drawn on with a black marker. It all depends on what is available in your home or in your recycling bin.
A foiled up pumpkin displaying a heart shows that your home will be offering non-edible treats to trick-or-treaters that have food allergies.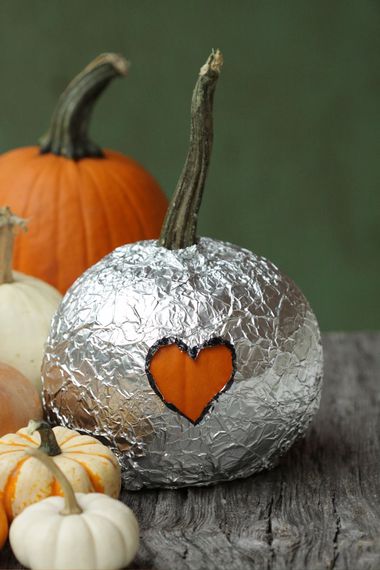 Photo credit: Louise Gagnon.
There are plenty of Halloween themed options that will delight door bell ringing youngsters on October 31: spider rings, vampire fangs, pumpkin puzzles, pencils, bubbles, etc.
Double the fun; place your new foil pumpkin next to the traditional orange one. Let each child choose their treat; customary candy or a spooky surprise.
Easy! Isn't it?
My suggestion is inspired by The Teal Pumpkin Project and "Sauvons les citrouilles (Save the pumpkins)."
F.A.R.E.'s initiative involves painting a pumpkin teal to signal the handing out of non-food items.
"Save the pumpkins" is the slogan for a movement that seeks to reduce pumpkin wastage by raising public awareness with delicious recipes. It was started by Louise Gagnon, a Chatelaine culinary contributor and the author Sous le charme des courges et des citrouilles (Falling for squashes and pumpkins).
I called the food expert. Yup, just like that. She happens to be my cousin's life partner. We brainstormed on how to make this idea eco-friendly, without paint, to keep the pumpkin comestible after Halloween. She got it! "Let's cover them up in foil. The pumpkins will be preserved and perfect for cooking." Along the lines of eco-responsibility the foil can do double duty by being placed under pumpkin seeds that are to be grilled in the oven. Add a little sea salt and yummy... I love that crunchy snack.
Think of the smiles on the faces of the moms and dads as they point to your shiny Jack-O-lantern, to guide their little princess or pirate, to pick up a safe surprise on your porch.
In our family, our allergy awareness was raised when my godson was diagnosed with a fatal peanut allergy. He was about two years old when he tasted a typical peanut butter sandwich and ended up in the hospital. He since carries an EpiPen. The threat is always present especially at celebrations; food abounds. Although we are all very vigilant, you never know.
For my godson, and all the children in your neighbourhood while being eco-responsible, foil up your pumpkin and shine; signal an allergy-free treat.
Please post, pin, tweet and share this blog for a safe Halloween for all.
You have a sticky situation at work or home? This is your forum. Write to Julie and she will reply promptly. Want more solutions to sticky situations? Go to Facebook, Twitter or order your autographed copy of Etiquette: Confidence & Credibility. Planning a conference? Julie happily travels coast to coast and beyond, to present customized activities. With Julie's help gone will be awkwardness, embarrassment and faux-pas.
ALSO ON HUFFPOST: