The holiday season is the most wonderful time of the year and could be the most stressful, if you're hosting.
But if you follow this 3, 2, 1 calendar, you, along with your guests, will be merry and bright.
Imagine a smooth celebration. What does it look like? Think of a theme; a colour scheme. Imagine the layout, the look and feel. Appeal to all senses. Make your ideal guest list. And now for the reality check, assign a budget. From there decide on the number of guests, menu and beverages.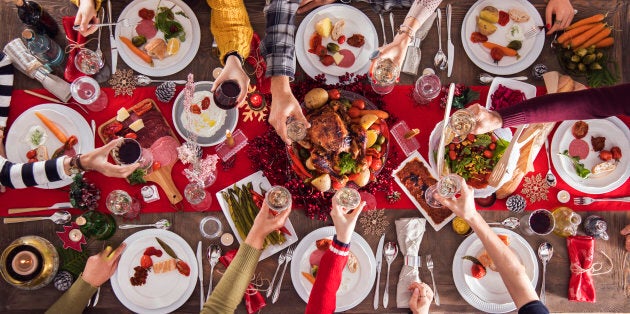 Three Weeks Before
The more important the gathering, the more time there should be between your affair and the invitation. From casual to formal, text messages, e-vites or paper, your invitation reflects the theme and level of formality.
Choose your favourites. Hosting is no time for experimenting. Make a list of items that you can make ahead. Aim for 75 per cent. Start your grocery list. Decide on a serving style: cocktail, buffet or formal sit down. Include a welcome drink and nibbles.
Make arrangements with the caterer and for decorations. Ask friends and family for extra seating, dishes and glasses. Arrange for activities like a sleigh ride.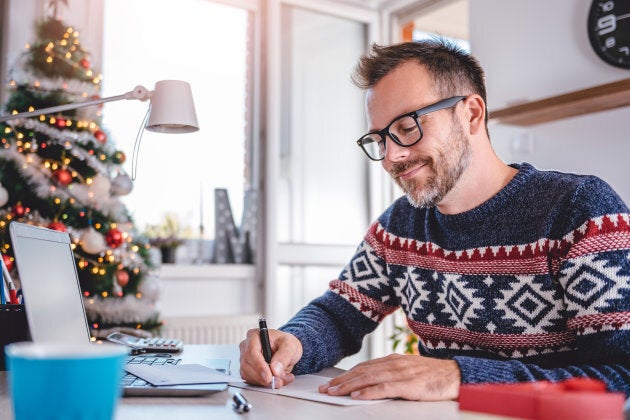 Two Weeks Before
Purchase dry ingredients and booze.
Plan your playlist. No time to put one together? Use a movie soundtrack.
Draw your seating plan. Remember, the places of honour are to the right of hosts.
Assign an agenda, but don't stress about it too much. Include food, drinks, activities such as caroling, charades or a walk around the block to reenergize, before or after dinner.
One Week Before
Call the non-received RSVPs and confirm potluck contributions.
Stock up.
Cook and freeze all that you can.
Make name and ingredient cards. Recycle the image side of last year's cards by writing on the blank side and set them on pinecones.
Take a break. Indulge in self-care.
Three Days Before
Inform non-invited neighbours.
Freshen serving dishes, trays and glasses.
Pick up, clean and configure the space. The laundry room can be a bar. Fill the sink with ice. Hang a few small disco balls. Light candles and voilà!
Buckets of snow on the porch serve as coolers.
Clear the driveway, stair case and alley. Place tea lights in jars to brighten the path.
Prepare for coats and boots. Newspaper can line the tub for boots, and its pole can hang coats.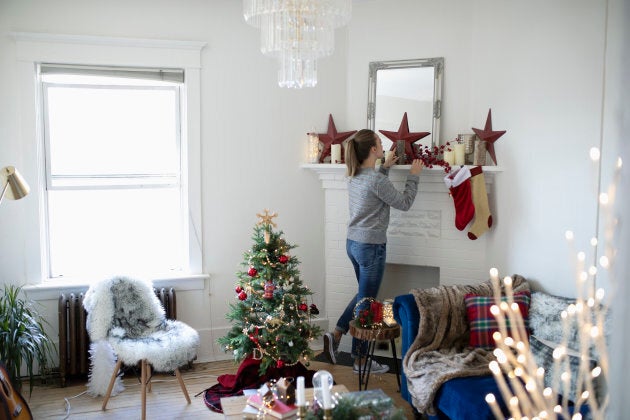 One To Two Days Before
Prepare drink and nibble stations without adding food and booze. Use shiny trays or side tables with napkins, plus tape and markers to identify drinks.
Set out indoor, outdoor, entry way and washroom decorations.
Iron linen and set the table. Need a reminder on how to set the table, download this infographic. Roll out butcher's paper to line the kids' table. Add washable markers and crayons so they may draw and play tic-tac-toe.
Make sauces and dressings, marinate and chop.
At Least Three Hours Before
Cook backwards, from dessert to appetizer.
Chill wine and drinks.
Take out cheeses.
Two Hours Before
Place your emergency kit, the fire extinguisher and cleaning products in an easy to access spot.
Get party ready.
One Hour Before
Cut bread and wrap in a dishcloth.
Close your eyes and open them as a guest. Go on a roundabout to straighten, put away and buff.
Simmer a potpourri.
Dim the lights, light candles and put out treats.
Start the music.
Rejoice! Now is the time to click that Instagram pic.
Spend time with your guests, accept or ask for help. All love being appreciated for their talents.
Breathe in, breathe out. Straighten your tie or put on your lipstick. Smile and shine. Ding, dong! "So glad you came to the party."
Have you been affected personally by this or another issue? Share your story on HuffPost Canada blogs. We feature the best of Canadian opinion and perspectives. Find out how to contribute here.