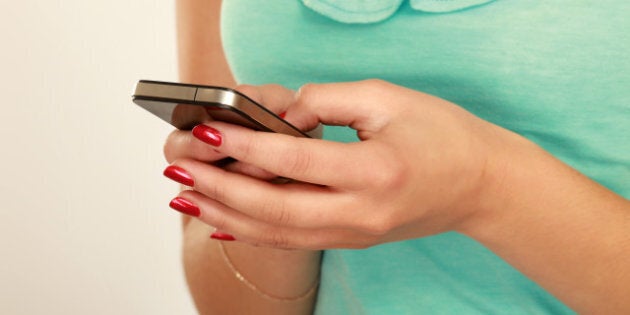 "Merry Christmas." These two words, made up the very first text, ever. It is on December 3, 1992, that British engineer Neil Papworth, sent his original seasonal wish to his colleague.
Although two decades old, texting is the new "it" thing, for keeping "in touch."
Touch the keys, touch send and instantly, through a vibration, your message touches someone's hip and with your words maybe someone's heart. Touched, they have your attention. Interaction or interruption?
When invited to give a business etiquette workshop, managers now request that I include a texting activity. We review the dos and don'ts of this casual mode of communication that can, quickly and permanently, tarnish a company's, or an employee's, reputation.
Here are 20 business "textiquette" guidelines to keep your interactions positive and interruption free.
1. Inquire about the other's texting capacity.
When involved in a new business relationship validate communication expectations, including: their ability to receive attachments and photos.
With a new contact or, when you are the first to initiate a texting conversation, originally state who you are.
3. When in the company of others, inform them of an important incoming text.
For example: if your teenager is on a trip to Europe and you are expecting a "Touchdown safely arrived" text, inform your colleague at the beginning of the meeting. Once received, turn your mobile device off.
Generally, a text is one or two sentences. Keep in mind; phone screen sizes are not universal. What fits on your screen may necessitate scrolling, on another phone. Some texting packages are based on the number of characters. If your text extends past a couple of sentences, pick up the phone or send an email.
5. Proofread your messages.
An intended text to your boss: "Getting a cook book" for your, totally foodie, client's birthday, could read: "Getting a coke book." Consider disabling your phone's autocorrect options. I have.
6. Give the benefit of time.
Patience. Because you have texted and maybe touched, it doesn't mean that the other is in a position or, location, to reply immediately.
7. Respect texting time zones.
8. When announcing a late arrival, include Expected Time of Arrival (ETA).
"Running late. ETA 12h15." This practice avoids wasting more time on subsequent texts. The ETA also gives, the other person, the opportunity to occupy their newly found time.
As with email, create groups. Not sure that you want all of your contacts, including your Montreal client, to be touched with: "GO SENS GO. HABS SU_ _."
11. Send thank you texts.
It is the new way of giving a pat on the back. Text and touch someone's ego. "Yeah, virtual high fives!"
12. Let the other know when it is a wrong number.
Wrong number phone etiquette also applies to texting. Simply text: "Sorry, wrong number."
13. End the conversation.
It doesn't have to be lengthy, a simple THX or TTYL are acceptable and won't keep the other waiting for more.
14. Don't drive and text.
Sticky situation: Your colleague texts and drives when you travel together.

Solution: Say something like: "I know that you are busy. So, I propose that I be the DD (Designated Driver). This way you can continue your work and I promise to take good care of your car."
15. Don't send sad, bad, private, embarrassing or confidential news.
Although you think your texting conversation is one-on-one, think again. The recipient can touch a couple of keys that will touch an exponential number of people. Touchdown to reality! Your text, can go viral.
Just like you would not break up a romantic relationship by texting; don't end a business relationship with a text.
16. Don't reply with sarcastic or rude remarks.
A text can quickly escalate; from funny and witty to hurtful and unprofessional.
17. No texting while walking.
It can be plain dangerous, not to mention embarrassing. Gentlemen, imagine showing up at a client meeting, with spilled coffee on your white shirt. Ladies, imagine showing up at the office, missing your left heel. ☹.
18. No texting while drinking.
Yes, I know that you know. It is worth repeating. Your vocabulary may be smoother or slicker after your first drink but, come the morning after, you may wish that you could have touched up or, tossed out, your text before touching send. Don't do it.
19. Don't text invitations.
Email, e-vite or a phone call are better options for business invitations. Changing meeting plans should also be done by phone, especially for last minute changes.
20. Don't send more than one attachment or link, per text.
If you need to send many, send an email.
In conclusion, text and touch thoughtfully. When touching your keys and before touching send, ask: "Could what I am about to send be a rude interruption or, is it a convenient communication?"
Have a Sticky Situation yourself, write to julie@etiquettejulie.com and Julie will reply promptly. You can also ask your questions on her Facebook page. Planning a conference? Julie travels coast to coast to give bilingual interactive conferences.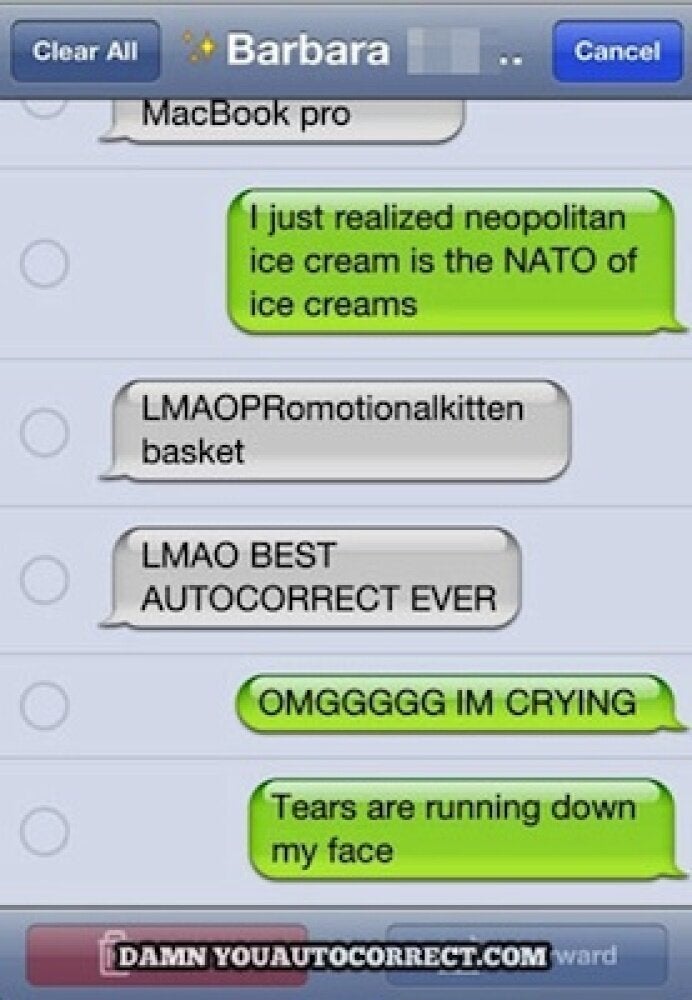 Damn You Auto Correct's 11 Funniest Texting Fails