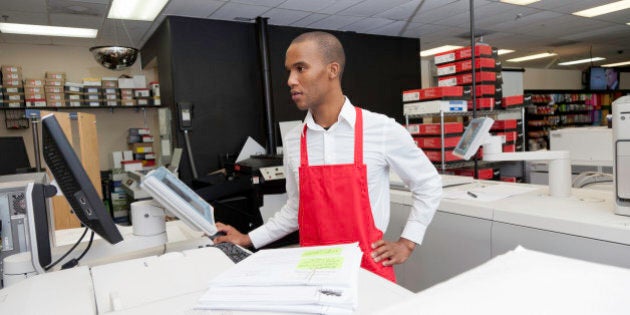 Video store clerk (this was a thing, trust me).
I've watched with delight while friends and colleagues post their #firstsevenjobs across social platforms lately. From celebrities to friends, it's amazing to see the varied paths people take in their careers -- with stops along the way that run the gamut from mundane to amusing to downright astonishing. ('Pig castrator' AND Governor General's Foot Guard!? Whoa. For the record, he's a talented architect now.)
I love the conversations it has sparked about how people got started in their careers, and it seems entirely apropos as we barrel into "back to school" season next month. What perfect timing to think about how you can set yourself up for success, even before you graduate.
So what were my first seven jobs?
4. Campus electoral officer
6. Statistics marketing and events coordinator
7. Broadcast communications officer
Looking back, while my first seven jobs are varied across different industries and skillsets - just watch me with a wicker basket, fancy ribbon and shrinkwrap cellophane, yo - there is one common and important theme that ties them together: nearly all of these early gigs came my way via my network and connections - even when I was a teenager!
That hasn't changed, no matter where my career has taken me. Building up a strong network enabled me to find career-relevant roles early on. What's more, I've landed the best jobs I've ever had when I wasn't even actively looking for a new role - all because of the contacts I made along the way.
The thing is, I'm not a natural-born networker. I cringe at the memory of those early, awkward attempts at networking in university and college. And a strong network doesn't replace the need to develop relevant skills, rock-solid professionalism and an unimpeachable work ethic. But building your professional contacts isn't as painful as it might first appear. Here are a few tips to help you make the most of your network to land those first jobs that will set you up for success:
1) Just do it, already. Networking can be intimidating, especially when you're still in school or in those early jobs. But the biggest thing is to just get started. Get a group of friends together to attend a networking event. Take someone whose career you admire out for coffee. And of course, set up a LinkedIn profile and start building and sustaining relevant connections.
2) Stay in the know. There are loads of resources out there to stay on top of relevant industry news. And you never know what important connection you might make in the process. Attend or volunteer at industry panels or other informative events, participate in relevant online groups and forums, and follow news, groups and Influencers on LinkedIn. Share and comment on articles and posts; you're growing your professional profile every time you do.
3) Know where to look. It's never been easier to find a career-relevant job when you're just starting out, but some of your best options are through your connections. Ask a professor or mentor, spread the word at the organizations where you volunteer, put feelers out with your friends and family, and get savvy in using online job boards that sync with your professional network, including LinkedIn Jobs and LinkedIn Student Jobs (including the new Student App).
4) Give them something to talk about. It might feel like you don't have much to offer when you're just starting out, but don't sell yourself short. Sharing your opinion on relevant topics or trends in the right forum can help you engage your connections and show them that you're passionate. Check out these tips to publishing posts.
5) Don't forget about your brand. Having a strong professional brand sets you up for success with potential connections and employers alike. Even just having a profile photo on LinkedIn will make you 36 times more likely to receive messages and nine times more likely to receive connection requests. Make sure that you have a complete LinkedIn profile and that your other social channels are showing you in the right light.
Our first seven jobs may not precisely reflect the direction our careers may eventually take, but if there's one thing I've learned, it's that the route to career success is rarely a straight line. What a great reminder that even big careers start small - and the steps we take along the way to build our contacts and confidence can pay off down the road.
How did you leverage your network to unlock new opportunities when you were just starting your career? I'd love to hear about your experiences in the comments.
Follow HuffPost Canada Blogs on Facebook