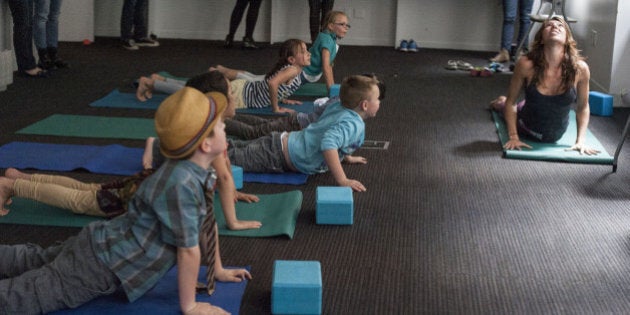 Think yoga is just for stressed-out adults? Think again. The benefits of yoga can be reaped by young children, and the practice is gaining popularity with the preschool set. Not just with typically developing kids, either.
In addition to helping improve balance, coordination, strength and focus, regular yoga practice also boosts confidence, cooperation, and self-regulation skills in kids.
When I was shopping around for extracurriculars for my six-year-old, I'll admit yoga wasn't the first thing that sprang to mind. He isn't the coordinated or socially-minded enough for most team sports, and he's too fearful to keep up with swimming lessons. And yet he continues to struggle with anxiety and motor planning issues.
I had been considering signing him up for a martial art when someone suggested I try Yoga4Kids. Yoga therapist Sherry LeBlanc is specially trained to teach children with differences -- be it Autism, Down's syndrome, or ADHD -- in private and group sessions.
After chatting on the phone, she suggested that by all means I should bring my little guy to try out one of her classes. I loved the idea of him participating in an integrated class. But I was skeptical. While typical kids his age were chauffeured and dropped off at various activities every night of the week, my guy came home from school exhausted and had to regroup.
He'd had never done a class independently. I couldn't imagine him sitting still and focusing for five minutes, let alone 45, without running amok and disturbing the class. Would yoga be a disaster waiting to happen?
Initially, it was edge of the seat stuff. My son was as easily distracted as I predicted. He had trouble "zipping his lip," listening and following LeBlanc's directives. But a few lessons in, he was hooked.
And my worries were soon put to rest. LeBlanc runs her small Toronto ship of five or so kids tightly. Somehow she manages to hold the kids' interest while striking the perfect balance between firm and nurturing. She redirected and redirected some more.
He started to listen more and speak less. He quickly memorized the salutation, along with a slew of fun animal poses. He practiced slow breathing, which I hope will come in handy outside of the studio walls, when he needs to calm himself.
As a parent, I can't tell you how gratifying it was to observe him from the sidelines. Seeing him sitting on his pink mat with the other kids, both with and without special needs, may have seemed totally banal to most moms, but to me it was a eureka moment. An achievement of colossal proportions.
And the kids were hilarious. As they bent and flapped their arms and legs, they took turns musing about where their imaginary "butterfly" would live (in the Bahamas, in the garbage!), what colour they would be if they were a flower, and which toppings they would put on their sandwich (bacon, tomato, and, er, peanut butter).
School is out for summer. But I plan to roll out the mat at home, where hopefully this pint-sized yogi can teach his mom a thing or two. I have so much to learn from him.
A version of this post originally appeared on YummyMummyClub.ca.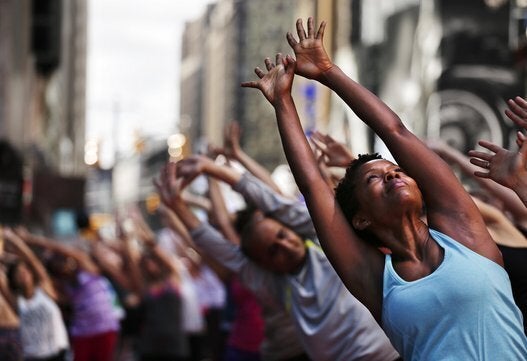 Here Are Photos From International Day Of Yoga