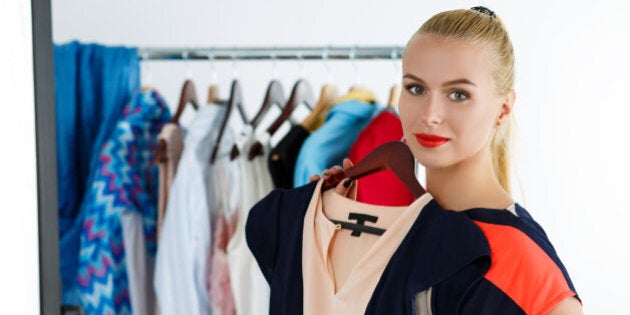 For some, New Year's resolutions are about living a healthier lifestyle (which in my case lasts until the first sign of summer). For others, this may mean paying off debt, finding the hypothetical work-life balance, soaking up some new skills like a new language, or actually learning how to use chopsticks (yes, I struggle at times).
But why not focus your resolution elsewhere and enter the Year of the Monkey with a different outlook on fashion? You'll be bidding adieu to the season of sequined holiday apparel, and my guess is you may feel a little bummed about it. You're not alone. So, to help showcase your best wardrobe in 2016, here are my top five recommendations for your fashion resolutions.
1. Wear the same pieces in new ways
We wear the same shit, the same way, all week, every week. No wonder women say, "I HAVE NOTHING TO WEAR!" on the daily. Don't get bored with your fashion repertoire, spice it up by mixing patterns or sporting your favourite blouse with different pieces. Tuck it into a pair of trousers one day, let it hang over a cute skirt the next week, then wear it over a dress to create the illusion that you have more items in your closet.
2. Find a seasonal statement piece that doesn't break the bank while investing in staple items
This is key -- invest in staple pieces. Statement pieces are daunting to invest in because you don't know how long they will be trending for. Put your pennies towards a classic item that you know you'll love and most importantly, wear. My recommendation for this year is a fitted leather jacket. You can channel your inner Gigi Hadid and wear it like a casual model heading to the grocery store or like the fashion queen you are on the red carpet like Sarah Jessica Parker.
3. Don't be afraid to push your limits
This could even go as far as wearing an article of clothing from the men's department. I've done it before and this is one of my top-complimented shirts. Besides, no one needs to know where you got it from and if you're embarrassed, say it's from an online store in the Netherlands. You'll be surprised at the confidence you gain from stepping a little outside the norm. Congratulations, you're trend-setting!
4. Try crushed velvet, but get out of the 70s headspace
If you've walked in or around Aritzia these days, you know that crushed velvet is trending. But if horrible outfit flashbacks of your adolescence are haunting you because it was the same fabric as your parents' couch, then stick to a staple item that's not so much of a statement piece, like a cute tank that can be layered. This won't draw all the attention to the fabric unless you keep petting yourself. I'm not judging, though.
Unless you are a purging-savvy fashionista, you have probably spoken to your clothes at one point or another and said you'll give them one more chance, "but the next time, they're gone!" (I know I'm not the only one with clothing relationship problems.) Cleaning your closet can be very good for your soul and your weekly wardrobe selections. You never know what you'll find! A lot of worthy inspiration can come from this and it seems like the right thing to do to start the New Year.
As the year comes to a close, relish in the remnants of your 2015 resolution and start mentally prepping for your fashion year ahead. Should auld acquaintance be forgot, and never brought to mind? Yes, when it comes to your old threads.