Super Bowl 51 is in the books, and if the incendiary halftime show proved one thing, it proved that Gaga got her groove back. Lady Gaga has reclaimed her brand, and it's about time.
The Lady Gaga we fell in love with 10-years-ago is back and better than ever. The icon who carved out an indelible brand persona has finally returned to her fans, her roots, her senses, and to her betrothed little monsters. She has reclaimed her trademark pedigree that made her the irrepressible image we all fell in love with.
Never mind that sales of Gaga's discography soared by over 1000 per cent according to Billboard or that Super Bowl 51 drew 172 million total viewers making it the most-watched program in U.S. television history. From the moment of her fate-tempting leap into Houston's NRG Stadium, Gaga was back baby! Back in epic style and unleashing her vocal ability to reaffirm her status as one of the greatest singer songwriters of our time.
Lady Gaga is a brand phenomenon once again, But for a while there, she had lost her "Gaga" touch.
Perhaps the most cringe-worthy moment of Lady Gaga's career was when she did her duet album Cheek to Cheek with Tony Bennett in 2014. In what should have been the height of her career in her mid-20s, she opted to take a step back to make a record with the legendary crooner. This is what artists do to reboot flagging careers or ease into the twilight years.
The use of soul-shaking theatre and gender-bending glam marks her as a successor to Ziggy Stardust. Gaga is in many respects the Bowie of our time -- she's a constant reinvention of brand, music, fashion and persona. Lady Gaga deserves much recognition and credit for her contribution to both popular music and pop culture. Her contemporaries pale in comparison.
I'm not a music expert, but I am an expert in defining and revitalizing brands. I've worked most of my entire adult life building and defining reputations - and an artist like Gaga needs the same kind of sophisticated marketing management that many global brands have. She never should have wavered from her inner core -- it's what made her connect and resonate with her fans from day one.
Brands must innovate, not alienate. Adidas, McDonald's, Coca-Cola and Apple, all stick to the core principals of their brand promise. Even when McDonald's experiments with a ghastly McRib or McLean Deluxe, at least they haven't changed the experience!
Gaga carved out a truly original brand when she burst onto the music scene less than 10 years ago. What's more, this woman can actually sing. Her flawless voice, poetry, talent and artistry was a "hallelujah" moment on popular radio shattering the auto-tune movement. Her poker face may well be the anthem for generations to come.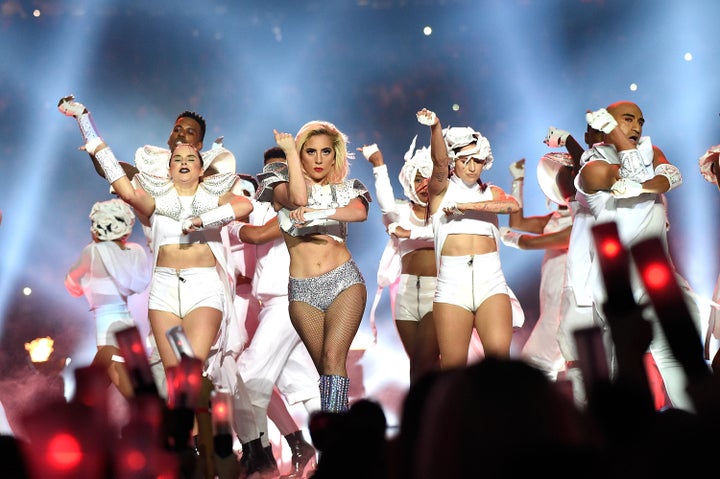 Then she lost her way for a few years in contrived mainstream initiatives which left her core fan base disillusioned and questioning her authenticity. A career analogue can be found in Bowie's release of his 1984 pop album Let's Dance. His loyal followers collectively said WTF? He's doing pop?
When Gaga performed a medley to the Sound of Music at the Oscars in 2015, it was proof to me that she was trying too hard to please a bunch of people who never bought her records. She tamed down her persona and abandoned the edgy brand promise she had sworn to hardcore fans years before.
But with her newest album Joanne already hitting the Billboard Hot 100, Gaga has proven without a doubt that she is the quintessential renaissance lady of rock 'n' roll. Or should I say country? Or perhaps funk? Pop? Frankly she does it all. Lady Gaga is a true maverick. You cannot put a label on this woman.
Thank you Stefani Joanne Angelina Germanotta -- you brought Gaga back with a spectacular show in front of the largest ever US television audience.
You rocked the place without Beyoncé, controversy, or Tony Bennett! Who needs them.
Follow HuffPost Canada Blogs on Facebook