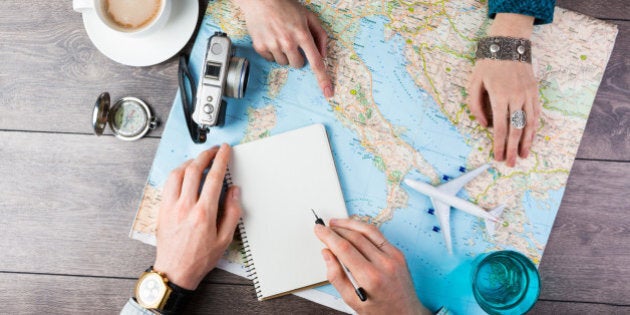 I just got back from a splendid 14-day European vacation with my family. We were on a 10-day cruise in the Mediterranean and spent four days on land in Barcelona and Rome.
I prepared for this trip months before, but not in the way I should have. With the recent bombings and terrorist activity in the countries I was about to visit, it seemed we couldn't go a month without an attack in Europe making headlines in Canada. This put me and my husband on high tourist safety alert.
As a result, we didn't do any online research the way we should have; like looking up the best beaches to visit in Nice or Antibes, or how to get into Gaudi's famed temple the Sagrada Familia (which we didn't get into by the way because we didn't buy a ticket online!) Instead, we became paranoid, neurotic, newbie travellers prepping for a trip. We researched ad nauseam how not to get pickpocketed, areas to avoid and how not to get ripped off in taxis.
Oh, it gets better. One week before our trip, I took out our wills. This is the first time I even looked at our will when we drafted them almost 15 years ago. I called our lawyer and told him we were changing executor status. Then called my mom to tell her where the wills would be placed; in a manila envelope, clearly marked, on our bedroom commode so she can easily find it. I left the phone number to our executors and lawyer so she would know exactly who to call in case we didn't make it back home.
My mom and I talked at length the day before our trip. Oddly, she wasn't wishing me a wonderful trip, but rather cautioning me of dangers abroad and how to stay out of trouble. We said goodbye on the phone as if it was the last time we would ever speak again.
All that research was a complete waste of time.
Next, my husband and I went on a shopping excursion to a number of luggage stores looking to buy concealed money pouches. Yup, we painstakingly tried on about 10 different variations of money belts and wallets. I felt like I was strapping on a system under my shirt to smuggle in hashish. We found smooth lined satchels that could easily fit gold bouillon without bulging from our belly. Clearly, a few euros and an American Express card would have no problem squeezing in nicely. I had the strangest urge to watch the movie Midnight Express when I got home. Strange?
Our last bit of insightful and totally useless preparation for our European extravaganza was conducting thorough YouTube searches on how professional swindlers in Europe scam tourists and their ingenious methods of pickpocketing. We spent two consecutive evenings watching videos of grainy footage of women with babies as props, taking wallets in crowded subways. We even allowed our 15-year-old daughter watch the videos so she could be prepared and she doesn't even own a wallet! And now she is frightened for life. Sorry darling. We made mental notes on what to watch out for and vowed never to take public transit abroad.
Well, what can I say. All that research was a complete waste of time. Absolutely nothing went wrong on our trip. No one swindled us, held us hostage, pickpocketed us nor did we find ourselves in a threatening situation. And I don't think we used those ridiculous money wallets once on our trip.
What we saw, felt and experienced in Europe was nothing short of sublime beauty, exceptional service and hospitality from hotels and restaurants, and a friendly welcome from all the locals in every city we visited. Our family walked in dark alleyways, took public transit, hailed down cabs late at night and I even left my purse dangling from my chair in an outdoor café. Shocking! There were no signs of any threats and we felt safe, secure and most of all, welcomed.
Sure we saw armed military guards clutching onto machine guns in subways, patrolling crowded tourist attractions and even perched outside cathedrals and basilicas, but their presence felt like a protective blanket. It was a good thing to see. We visited every major tourist attraction in Cannes, Rome and Nice, and not once did we fear impending doom. We created our own anxiety for nothing.
I researched our trip to Europe in all the wrong ways. I allowed splashy headlines and online fear mongers influence my planning and decision making. We should have better informed ourselves, rather than have made choices based on 'worst case' scenarios.
Planning a vacation to Europe soon? Take it from me, look up things to do and where to eat, not what to fear. You'll have a better time. Trust me.
Follow HuffPost Canada Blogs on Facebook