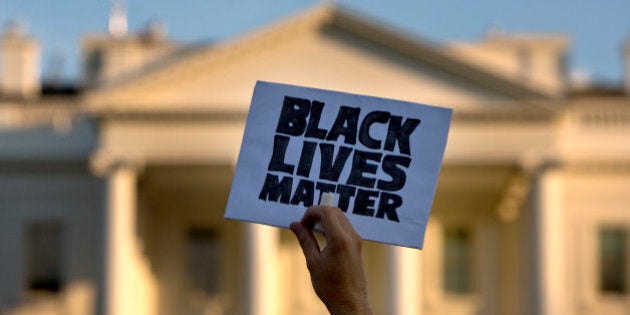 Recently, many Canadians marched for justice in Ottawa and other cities for a Somali Canadian, Abdirahman Abdi, who died following an arrest. In Edmonton, Bashir Mohamed was called the "N" word. He says that people have intimidated him, cursed him, thrown things and spat at him and that a "sheer number are downplaying it." He has poignantly mentioned:
"They boil me down into whatever they want to see me as, which by using that word they don't see me in a very positive way, it's very dehumanizing and I don't know where that comes from."
In the early 90s, my late grandma and I would watch Roots, which would play late night on Pakistan television. We learned about the horrors inflicted on the black people, mercilessly enslaved in Africa, and the inhumane challenges they faced in the United States. So when I observe the unconscionable treatment of black youth at the hands of the American police, it reminds me of that zulm (oppression), which continues to linger decades after abolition and civil rights.
Memories of Kunta Kinte getting whipped, his daughter Kizzy snatched away from him, of Chicken George holding his baby to the moon are all etched in my mind. As a young man, I tensely watched the whipping scene and was amazed by Kunta Kinte's defiance. I thought that the draconian white master would stop and that Kinte would win. But there was no end to the master's malice and there is only so much a human being can endure.
I continued watching Roots - The Next Generations and had memorized the names of all seven generations of Alex Haley. I watched the scene where a free old George was put down as a "boy" and ordered to fetch water. Such instances of micro-aggression continue to affect the lives of black people.
With every generation I thought it would get better, but one challenge was simply replaced by another. With abolition came discrimination, the ugliness of which has festered into the present times.
In retrospect, both Kunte Kinte and Chicken George did win through their defiant spirit. However, the scene where George's son Tom decides not to whip the tied up white master truly reflects the power of the black spirit. I was thinking Tom would unleash all the years of pent up rage against humiliation and degradation, but he retains his free spirit by refusing to stoop to the master's level.
Roots also holds special meaning because of Kunta Kinte's Muslim origins. Even in Islam, the Prophet spent time uprooting the deep-rooted racism against black people. He admonished Muslims to be careful for the people of Paradise include black persons including Negus, Bilaal and Luqman. The Prophet's last sermon also reflects that there is no superiority of a white person over a black person and vice versa, except through ethical consciousness and good deeds. However, just as the black Companion Bilaal faced discrimination, black Muslims continue to face discrimination in Muslim spaces.
Some point towards black gang violence associated with drugs, and these are problems that must be resolved. However, there are black elders and groups working in their respective communities against the problems faced by youth.
In Edmonton, some black community elders sit on the police liaison committee to pre-empt ugly incidents from flaring up in the city. Last year, these elders graciously hosted senior police officers and members of other liaison committees at their church. Offering hospitality through food and music, the black leadership reminded the officers and the attendees of how they work incessantly to affirm their youth.
There can be difference of opinion on strategies and tactics adopted by certain BLM activists. Harsh tactics are not easy for me, either. Yet, I am reminded of the Qur'anic verse 4:148, which reads, "Allah does not like harsh speech except by one who has been wronged." And in this case, centuries of wrong is at play.
In the spirit of speaking truth to power, a diverse array of leaders have come together through the following video to let the world know that "Black Lives Matter." This video is neither a substitute for the urgently needed institutional changes nor is it a panacea for structural discrimination. However, change begins from internal testimony against injustice and that's the least anyone can do.
*This is the 4th video in the Allah Loves Us All series.
Follow HuffPost Canada Blogs on Facebook