Recently, a gay colleague in the Edmonton interfaith circles reminisced on his experience with a young Muslim woman at the University of Alberta. She had told him about her respect for human rights, but also claimed that, under Islamic law, the punishment for homosexuality holds under stipulated conditions.
This opinion is more commonplace as young Muslims negotiate the space between modernity and tradition. A video showcasing Norwegian Muslims from 2013 shows how the entire room full of people raised their hands to affirm Islamic punishments on homosexuality. Under media scrutiny, Muslims who make such assertions often defend themselves by claiming that they were "misunderstood."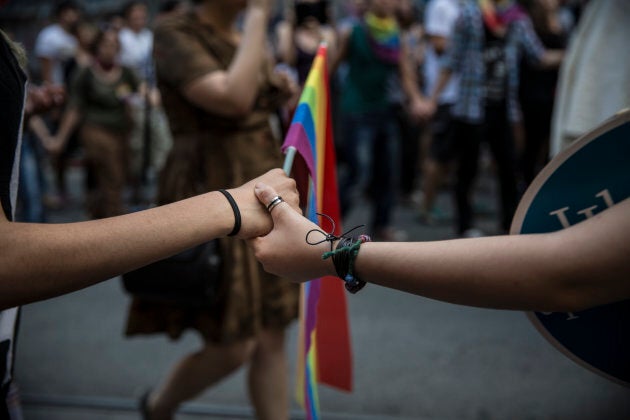 Such opinions amongst young, educated Muslims in the West do not leave a favourable impression of Islam. My gay colleague is now adamant that the Muslim position of supporting human rights in the West, while casually condoning harsh Islamic punishments in Muslim countries, is hypocritical.
Such dichotomous opinions amongst Muslims make the task of Muslims who affirm religiously plural, gender-equal and LGBTQ-affirming spaces quite difficult. This further emboldens Islamophobes to generalize all Muslims and ignore the good work done by groups like Muslims for Progressive Values, Universalist Muslims and their allied sister groups.
Orlando presented an opportunity for Muslims and LGBTQ communities to unite in the face of hate. Post -Orlando, Muslim leaders did come out condemning homophobia.
However, LGBTQ Muslims, the people most qualified to bring the two communities together, continue to be sidelined and at best patronized as dealing with a heavy burden.
A dialogue with mainstream Muslim community leaders and stakeholders is needed if we are to avoid the ghettoization of LGBTQ Muslims.
On their part, some LGBTQ Muslim activists tell their stories in the media hoping that such a powerful medium would melt hearts and effect change. Other LGBTQ Muslim activists shy away from a dialogue with mainstream Muslim community leaders perhaps because they do not feel qualified enough in Islamic discourse. Alternatively, perhaps knowing the dismal outcome, they fear that such efforts would only stoke more Islamophobia.
Yet, a dialogue with mainstream Muslim community leaders and stakeholders is needed if we are to avoid the ghettoization of LGBTQ Muslims, stuck between homophobes and Islamophobes.
Defensiveness must give way to reasonable discourse.
There are very few brave Muslim voices who put themselves out there to effect change. They are often ignored by Islamophobes who find that they break their putrid narrative. Some Muslims also ignore such voices that challenge the status quo. This leaves the courageous Muslims to stand on their own, doing a thankless job and at the risk of grave personal consequences.
One such courageous person is 75-year-old Frank Parmir, who heads Muslims for Progressive Values (MPV) in Columbus, Ohio. In June, he was expelled from the annual convention of the Islamic Society of North America (ISNA), an umbrella Muslim organization.
For the ISNA convention, Parmir's group MPV had partnered with Human Rights Campaign (HRC), an organization that openly campaigns for sexual minorities in the United States. Parmir had MPV brochures that include advocacy of female imams, inclusive prayer spaces for all including LGBTQ, freedom of expression and freedom of conscience.
Despite all their claims on inclusivity and human rights, ISNA officials told him to leave, as according to them "the convention was a religious, private and family oriented event."
His expulsion clearly confirms that the post-Orlando Muslim condemnation of homophobia was merely a PR campaign under media scrutiny, for such words have never been translated to efforts on supporting LGBTQ Muslims.
While Christian ministers and Jewish Rabbis increasingly affirm their LGBTQ co-religionists, such efforts are virtually absent in the Muslim world. This has allowed for Muslims without formal seminary training to assume honorific titles and call for reforms. Yet, such efforts are often seen as foreign and antithetical to Muslim values.
For meaningful change, efforts must emerge from within the mainstream Muslim community leaders and elders. On their part, influential straight Muslims like Mehdi Hasan, Haroon Moghul, Wajahat Ali and Linda Sarsour, along with a whole array of Muslim academics and Imams, must include groups like Muslims for Progressive Values and Universalist Muslims in their spaces and allow for a fertile cross-pollination of ideas. Likewise, LGBTQ Muslim activists should not be shy to meet them as equal partners in conversations, and at the very least stand by and support brave Muslims like Frank Parmir.
In conclusion, Muslims should recognize the double standard of accepting LGBTQ persons but rejecting LGBTQ Muslims.
Follow HuffPost Canada Blogs on Facebook