In April, the Edmonton Islamic Academy distanced itself from a visiting Imam's homophobic comments given to a group of junior high students. The Principal, allegedly, did not provide answers when asked to specify what school policies were in place to support gay Muslim youths.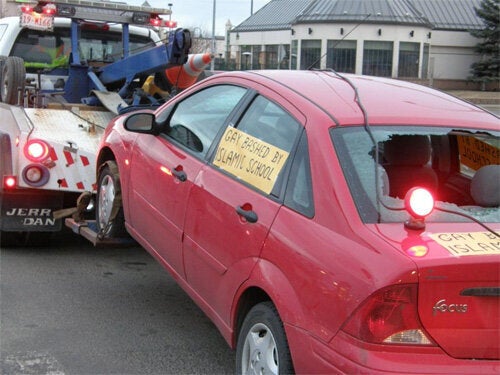 Photo used with permission. Credit: Don Laird
Not satisfied with the school measures, and concerned about the impact of the lecture on both straight and gay Muslim youth, human rights activist Rob Wells took his placards to protest alone outside the Academy. He got assaulted on two different occasions.
Wells reported that he was robbed of his signs that read 'School bigots bully gays' and 'Homophobia kills'. Old enough to be my father, he was constantly harangued, spat on, pushed to the ground, kicked, and given death threats. He asserted that his assailants lied to the police to get him arrested, which allowed them sufficient time to smash the windows of his car.
Conservative Muslims have the right to impart to their children Islamic teachings that include moral instructions against alcohol, pork and pre-marital sex.
But the visiting Imam preached un-Islamic values. He equated a gay person with someone having diabetes, cancer or AIDS. Associating any community with disease to suggest that it deserves scorn is a hallmark of hate.
In an email statement, however, he mentioned that he had tried to use humour to broach a difficult and sensitive topic. He also mentioned not discriminating against gays and lesbians as brothers and sisters in humanity. Yet, in his talk he expressed his discomfort in associating with gay people and visually demonstrated shunning them.
Conservative Muslims find themselves in a precarious position. In the aftermath of September 11, they remain wary of events that could trigger another backlash at their community.
Wells is driven by his own set of beliefs. He lives a simple life, wears modest clothes and shuns extravagance. He spends his time volunteering at a church, caring for his friends at an assisted living residence and facilitating community groups.
Inspired by Rt. Rev. John Shelby Spong, he is willing to take risks to counter the rhetoric of religious prejudice and to stand by those who are victimized by the world.
One of his chief concerns is the impact of religiously disguised homophobia on gay youth. He is not afraid to stand up for this cause even if it has meant standing as a lone protestor, persistently holding his sign 'Catholic Bigotry Drives Teens to Suicide' in below-freezing temperatures.
Wells has mentioned that there are many progressive voices in the Muslim community who will win out against prejudiced people. Indeed, as far back as 1992, Muslim Dr. Raffath Sayeed at Alberta's Human Rights Commission approved the investigation of discrimination complaints based on sexual orientation.
Wells mentioned that while picketing outside the Al Rashid Mosque, an elderly male pleasantly greeted him and offered him a homemade treat. A young mosque official shook hands with him and agreed that there were gay Muslims and inclusive mosques that accepted them.
On the other hand, Wells is concerned that the visiting Imam-styled teachings sow seeds of hatred, which might instigate violence by some Muslim youth. He is also concerned about the emotional and psychological abuse of gay Muslim youth.
Wells invokes his charter right to protest peacefully. He mentioned driving to a distant small town to protest the School Trustee who opposed a policy to protect gay students and suggested that they should just stay in the closet. He also mentioned picketing the Logos Christian programs for the homophobic content on its websites.
However, this is the first time he has been assaulted. While police investigations are underway, hope that Wells and the Academy would find common ground may lie in the little changes that are taking place in the Muslim world.
Recently, three high profile Lebanese medical associations denounced conversion therapy and affirmed that homosexuality is not a mental disorder. Writing for the onislam website, clinical psychologist Dr. Maryam Bachmeier affirmed the innate orientation of gay people.
Professor Hashim Kamali at the International Institute of Advanced Islamic Studies in Malaysia and Imam Muzammil Siddiqi, director of one of the largest mosques in the U.S., have both confirmed that contemporary Islamic jurisprudence also acknowledges the innate orientation of some people towards the same sex.
Nobel Laureates Professor Muhammad Yunus of Bangladesh and Dr. Shirin Ebadi of Iran have recently affirmed that traditional cultural values compel the global community to respect the inherent dignity and human rights of gay people.
U.S.-based Muslim Professor Omid Safi has stated that love and family come in different shapes and that his children are part of a gay-straight alliance at school. In Ottawa, Muslim MPP Yasir Naqvi has supported gay-straight alliance clubs in schools.
Islamic Law Professor Mohammad Fadel at the University of Toronto has even mentioned that Muslims can support the idea of same-sex marriage as a matter of civil law.
A devout Saudi father has referred to the Qur'anic verse which reads "Allah creates whatsoever He wills." He questions why do people not examine their own beliefs? How can we continue to love our children while disapproving of their seeking their own happiness?
Wells offers an opportunity to the Muslim community to have an honest conversation about a sensitive but crucial issue.
Some people may feel that they do not wish a westerner to influence their way of life. Others may believe that the issue is too controversial.
However, the issues of sexuality and the associated bullying, violence and suicide traverse religious boundaries.
There are Muslim youth whose lives are at stake, whether they are explicitly acknowledged as gay or not. There are devout parents who love their children immensely but are afraid of their living in sin.
Conservative Muslims who judge others need to reflect on the harm caused by marrying their precious daughters and sisters to closeted gay men and by morally pressuring closeted lesbian women to marry for family honour.
Wells respectfully stands alone with his signs. He is against fear mongering that exposes a vulnerable minority to hatred or contempt, be it Islamophobia or homophobia.
The Qur'an calls upon believers to reason with wisdom. Will the Academy look into the perpetrators of assault? Will Wells' assailants apologize and compensate for the damage of their vandalism?
Will the Academy set guidelines for the content of future guest lectures? Will resources be made available for Muslim youth struggling to balance their faith and sexuality?
Muslims, who follow the Prophet's teaching to love for humanity what one loves for oneself, should reach out to Rob Wells. In doing so, they will find that in their hour of need, there will be an activist like Rob Wells who will have the courage to also stand by them.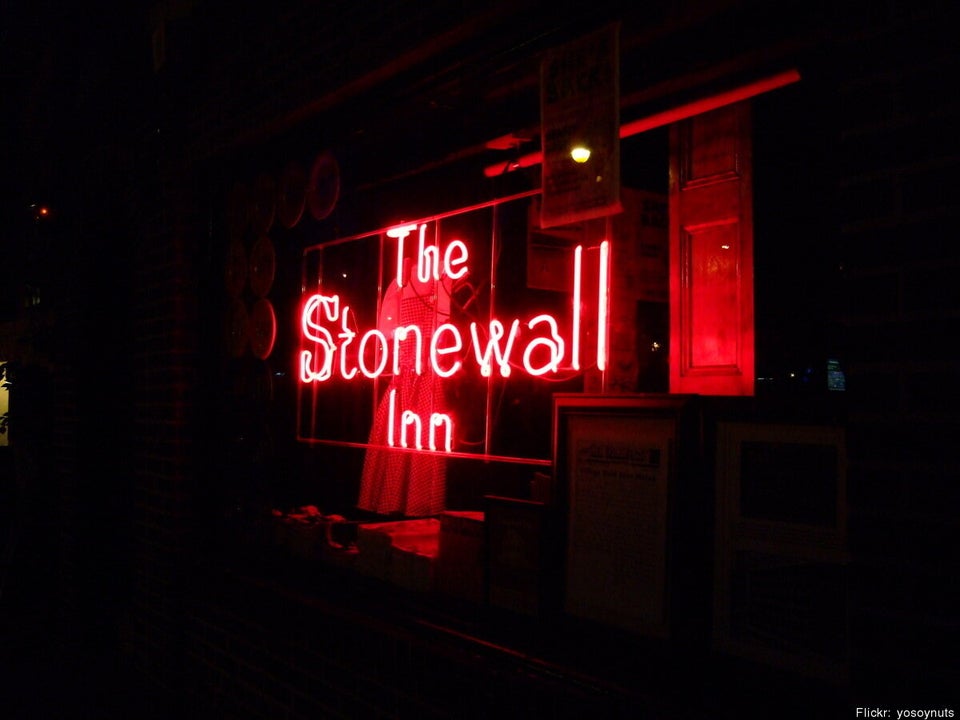 21 Facts About LGBT Pride You Probably Didn't Know