Antigua, GUATEMALA - "This is my house and this is my neighbour's house. This is my door and this is my neighbour's door," chant a cheerful group of indigenous women from the non-profit organization Abriendo Oportunidades ("Opening Opportunities" in Spanish) during a gathering in the colonial city of Antigua on March 28.
By comparing the different parts of their body, namely the mouth, the belly and the genital parts, to a house, these engaged Guatemalan women teach vulnerable Mayan girls across the Central American nation how to avoid sexual violence, adolescent pregnancy, child marriage and, ultimately, stay in school.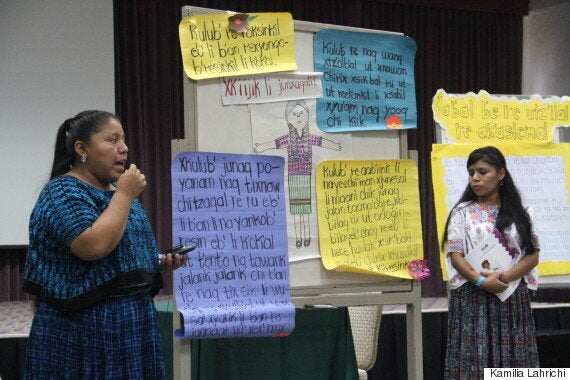 Since 2004, this participatory program trains young people on sexual and reproductive health in a country that has some of the youngest mothers in the world -- 5,100 girls under 15 became pregnant in 2015, according to the United Nations Population Fund (UNFPA). This international body's agency focuses on family planning as well as maternal and child health in over 150 countries.
Guatemala is also one of the most violent places on Earth for girls and women.
"Sexual violence among teens has become a very common and tolerated issue in Guatemala. Since 2012, one in every four children born in Guatemala are children of teenagers and 30 per cent of rapes are perpetrated by the girls' biological father," says Dr. Linda Valencia, Gynaecologist at the Planned Parenthood Federation in Guatemala.
"The Guatemalan state has failed women and especially girls," she adds during a meeting organized by the United Nations Foundation in Guatemala City on March 27.
Foreign aid is vital in this conservative Catholic nation. Yet, the future of many local organizations focused on reproductive health education is in the hands of policy-makers about 2,800 kilometers away, in Washington D.C.
On April 3, the Trump administration announced it defunded its contribution of US$69 million per year to UNFPA. The state department said UNFPA "supports, or participates in the management of, a program of coercive abortion or involuntary sterilization."
The decision follows President Donald Trump's reinstatement of the Mexico City Policy, also known as the Global Gag Rule, on his fourth day in office. It prohibits international NGOs that receive U.S. funds from providing, referring for, or giving advice on abortion.
UNFPA has worked in Guatemala since 1969 to ensure access to sexual and reproductive health rights and reduce the scourge of maternal mortality and teen pregnancy.
"UNFPA refutes this claim, as all of its work promotes the human rights of individuals and couples to make their own decisions, free of coercion or discrimination," reads the agency's statement.
United Nations Foundation President and CEO Kathy Calvin called "the action to cut vital U.S. support to UNFPA unacceptable and in stark contrast to American values."
"UNFPA is on the front lines in more than 150 countries, often in places where the U.S. can't be, providing critical services, such as voluntary family planning, midwife training, pre-natal care and safe delivery services, and working to end child marriage and female genital mutilation," she added in a statement.
Slashing this funding will significantly affect the world's most vulnerable girls and women because the U.S. is one of the largest contributors to UNFPA. It is also the biggest donor to family planning and women's health programs in the developing world.
UNFPA has worked in Guatemala since 1969 to ensure access to sexual and reproductive health rights and reduce the scourge of maternal mortality and teen pregnancy.
"In Guatemala, NGOs are the only ones implementing projects on reproductive health and doing the state's job. [...] Unfortunately, the Guatemalan government doesn't think about the interest of its people and does not invest enough in health and education," says Elisabe Vasquez, a mentor at Abriendo Oportunidades.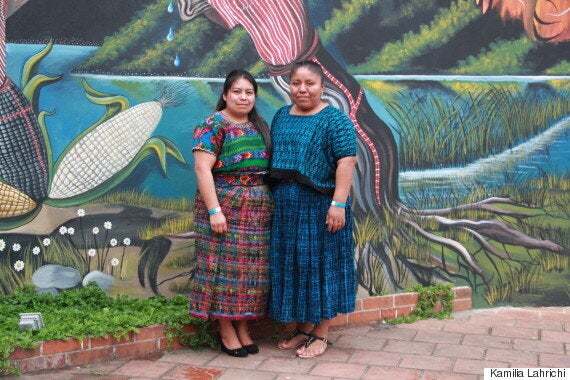 The program, supported by UNFPA, ended in March 2017 due to a lack of financial fund.
"If this [cutting UNFPA funds] becomes a reality, it will be devastating for Guatemala," says Dr. Helmouth Iderrera, Coordinator of the Guatemalan program on reproductive health at the Health Ministry, in a meeting before the official announcement.
"Most of our actions in this ministry, (...) like distributing contraceptive methods, are linked with cooperation with reproductive health partners. We insist that we do not have the sufficient budget to conduct these actions in our country," he added.
Doing "good to humankind"
The Trump administration's attitude toward reproductive health overseas will have an impact in places as remote as the Escuintla department of Guatemala, between the central highlands and the Pacific coastal plain.
There, Amelia Tutchane, a 51-year-old trained nurse, educates women and teenagers on reproductive health and family planning in her house. Her own daughter became pregnant when she was 16.
Although Amelia has faced men's resistance in her conservative community, countless women have knocked at her door to get three-month and one-month birth control shots as well as condoms for the past 13 years.
"Getting birth control methods is not a sin. Bringing to life a child who can be hungry and won't get any love is a sin," she says. She explains that she is doing "good to humankind."
Amelia is a promoter at WINGS Guatemala, an NGO providing reproductive health education to rural Guatemalan youth since 2001. They get their birth control methods from UNFPA.
Eleanor Unsworth, the organization's Program Director, says that nearly half of their budget comes from individual donors in the U.S. "The new U.S. administration has impacted our ability to fundraise," she says.
Kamilia Lahrichi was a Press fellow at the United Nations Foundation in Guatemala in March-April 2017.
Follow HuffPost Canada Blogs on Facebook