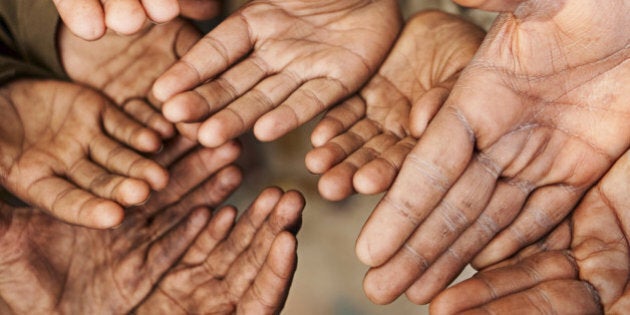 You have to recognize how much we have in this world, and the realization has got to make you want to give back. For me, my inspiration really came from my mom. She always fought for the people who had no voice -- she was an advocate. It was really ingrained in me from a really young age to use whatever voice you had to do good in this world. That's why I feel that it's so important for artists to give back. We've been gifted with a voice and a platform and I really feel that it's on us to do good. God gave me this voice not just to MC on the mic but to also change the way people think, and to understand the power they have as individuals to create positive change in the world.
It's for that reason that I've supported ONEXONE for many years -- so long that they've become like family to me. ONEXONE's mandate is to improve the lives of children in Canada, in the U.S., in Haiti and around the globe. They just want to help kids be kids by making sure they have enough to eat, that they can go to school and that they can play.
I have mad respect for ONEXONE's founder, Joey Alder -- she's an amazing business person, philanthropist and she really does what's in her heart and with ONEXONE that's been helping kids. I think you always want to be around and support the people who want to make the world a better place, because they improve your life too. That's why I've supported Joey and ONEXONE all these years and why I'm involved with the Million Meals Movement on May 23 in Toronto.
People sometimes don't hear the kinds of real problems that people face, even in Canada; hunger, poverty, a lack of clean drinking water affect a large number of people, even in our own backyard. Even when people know about the problems it's easy to get overwhelmed and not know what to do to improve their communities. That's why I take this role of ambassador so seriously; it's like shining the way so other people can find the way to help. It's also on us, especially as artists and musicians, to stand up and make giving back look cool -- because it really is cool.
As time goes by, I've been open to learning more about the world around me, which has pushed me to naturally become more of an advocate. I want to make the world a better place both for my children and for all children. I also want the chance to model this behaviour for my kids, just like my mother taught me, in the hopes that their impacts on the world will be even greater than my own.
I've learned that it doesn't really take much from each person, if everyone plays their part. Collectively, artists, students, bankers, etc., we can all make a better world. I know that together, our collective force and goodwill is unstoppable. To make a change though, you need to know where to start and who to find as allies. For me that means when I get involved with a charitable organization I want to find out for myself what the vision and mission of the charity is, who the faces of the charity are and what gets put back into the community, country and world.
That's why I'm so proud to participate in ONEXONE's Million Meals Movement. During the day, May 23, over 500 volunteers, talented Canadian artists and supporters of ONEXOE are packing meals that will be sent around the country to address the issue of child hunger in Canada. Did you know that 17 per cent of children in Canada live in poverty, and more than that don't get daily healthy and nutritious meals?
That's why myself, Simple Plan, Alyssa Reid and MAGIC! are coming together to try to do something about this problem. We want to get together and collectively send out some much needed food, and then really celebrate all the people who've volunteered to step up and help by rocking it at Sony Centre that night. I think that, as artists, sometimes the best way to give back is doing what we do best and offering entertainment and light to something we all need to do. I want everyone there that day to feel like they did something positive, something fun, and something really cool that's worth doing, not just on May 23, but always.