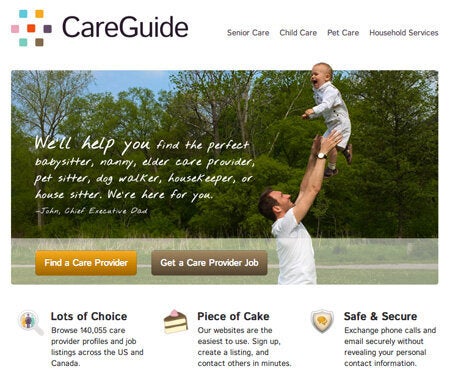 This week, I talked to serial entrepreneur, Angel investor, and founder of CareGuide, John Philip Green.
CareGuide is an online "matchmaking" service for people in need of care professionals, and need tailored, vetted recommendations.
Our modern world is one where we can no longer bank on our family members to provide care services to us, and we need vetted, personalised recommendation. This is the conundrum CareGuide is attempting to solve.
The goal of CareGuide is simple: make matches of families to professionals in a safe, low-barrier-to-entry way. Many of us are familiar with the upper-tier offline services which perform this function, and at the lower end, there are places like Craigslist, but no one has quite cracked making care matches a bit more like dating sites: safe, quick, easy, and on-demand.
Karen: This isn't your first start-up. Can you tell us briefly about your prior experience and what drew you to being a Founder?
John: My first venture was right out of university. My wife and I did a start-up in my parents' basement, which, after about a year and a half kind of went sideways. We were very successful in some regards, but not others. On the good side, we got covered by TechCrunch and Lifehacker and a lot of the seminal blogs of the era. We had lots of notoriety and sign ups, and a lot of usage, but we weren't very good at monetizing back then. This was 2005 and everything was just a lot harder. A lot of the infrastructure that we take for granted today wasn't there, like AWS -- Amazon Web Services -- or easy online payments.
I wouldn't say that first venture was successful because we got jobs after that. We worked in San Francisco for a couple of very successful start-ups. My wife and I joined forces at Affinity Labs, which ended up selling for $60M just 10 months after its inception. That was a great experience -- the quintessential valley startup thing.
On the strength of that experience, we were able to raise money for our first start-up together. That business is still doing well. The current headcount is over 50. My wife continues to operate that business.
Karen: We've talked to a lot of founders about how they were able to raise capital. Can you tell us how you did for your first company?
John: We raised money essentially off of a PowerPoint presentation. It wasn't the typical road show where you go around and meet with a bunch of investors. An investor found us and we worked out a deal together. Similarly, when we started CareGuide, I had been having conversations with my now-investor about possible businesses we could build. At that time, I was looking for something new. We spent the last year ironing out the business plan. He agreed to fund the whole thing.
Karen: How was the idea of CareGuide born?
John: I'm at the age now where we're having kids and both my wife and I work. We needed a nanny, and though other services exist, I saw the potential in making these introductions in a way which was more like matchmaking, but online.
Karen: This sounds like the type of business very suited to a concierge MVP (an early version of a product which the company actually walks clients through the product, or physically carry out the job their software or site is meant to do.) Was that intentional?
John: When we started CareGuide, I did exactly that. I was in the park talking to nannies, and I was looking through the postings on our site actually matching and introducing families to caregivers. Those are the things you have to do to prove your business model and to get a deep view into what people want.
The hurdle early on is the limited amount of "inventory." We need more matches to make the service better. We recently placed a good friend of mine with a great nanny, and their family is thrilled. It took about two weeks from start to finish.
Karen: Have there been other hurdles to getting started?
John: One of the things that is really important to us is the safety aspect, both for the family, and for the potential caregiver. It has the potential to be scary for some people, so we had to put in place a method of running the necessary background checks and security procedures, and implementing best practices from the dating industry. We have a two-way obfuscation of phone numbers which helps when facilitating the initial matching process.
Karen: How have you been courting new customers?
John: We own several very high quality domain names, ones which have natural traffic flow built in. Also, every listing added to our service contributes to our SEO score, so every day we're more and more likely to show up in search results. We're also very sophisticated when it comes to our online tracking. We pay very close attention to what people are searching for and optimize around that. We use some internal tools for funnel optimisation. We haven't really moved much into paid promotion yet, but it's the next step for us.
Karen: What's the biggest lesson you've learnt so far?
John: Don't start something if you can already see a hurdle as to why it might fail. If there is something you need to explain away or is contingent upon something, it might not be the best thing to start. Ideas which get funded or are successful today aren't always the sexy ideas. CareGuide is a very "web 1.0" company, but because it enables a service people naturally need, it's poised for success.
Karen: What's next for CareGuide?
John: Hiring (currently there are two full time staffers), scaling the business, and product improvements. We want to make the product the absolute best it can be and keeping on it is very important.
When more people use CareGuide, we'll see how we can optimize the funnel and make the experience easy and high value.