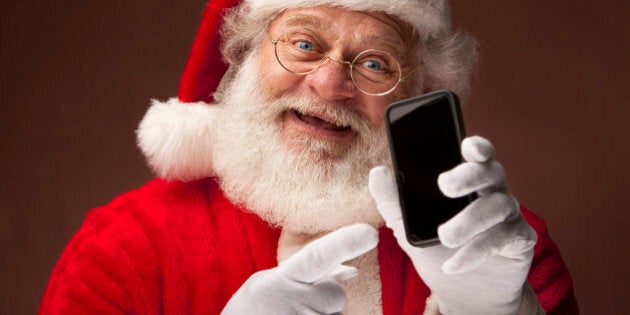 The holiday season is upon us, which means keeping track of far more than usual. If you're anything like me, that means juggling everything from shopping lists and holiday party schedules, to budgets and gift wrapping on top of what I've already got going on at both work and home.
In fact, my career at Salesforce has me traveling so frequently that I've come to master the ability to run my business function from my phone with our own mobile app and many other business-related apps from our AppExchange. I plan to make this truly the most wonderful time of the year by running the rest of my life from my phone, too, with these go-to apps.
This cloud-based task manager will help you keep your cookie exchanges, Nutcracker tickets and skating parties in check regardless of what device you're on -- including your Apple Watch. Tag your to-dos to keep your family events from conflicting with your work events and stay on top of everything that needs to get done.
If you've got a big family or a complicated gift exchange system, this is the app for you. GiftPlanner helps you organize and sort gift ideas, stores, sizes, prices, wish lists and more in one app. It also allows you to keep track of budgets for gift buying, both for individual people and events. And don't think you need to delete the app after January hits -- it's useful for birthdays and other gift-giving occasions.
Ever wish you had an assistant to stand beside you at parties and whisper pertinent information about other attendees, like names, mutual friends, and how and when you'd ever met these people before? Wish no more -- Humin is a contextual contact app, that lets you enter notes about each of your contacts in a way that's quickly searchable. It's a must for work parties or other corporate events.
Designed as an app to "collect your thoughts," Vesper is perfect for those strokes of brilliance that come in the middle of the night, during a conference call or over a holiday cocktail. Instead of reaching for a napkin to sketch out your great idea, use Vesper to record your thoughts and then swipe it into its archive until you need it again. You can tag, categorize and organize your thoughts -- from a great gift hint your mother in law drops to a brilliant opening sentence of a presentation you need to give.
Whether you're spending your days power shopping or frantically finishing up your work before taking some vacation time, chances are you've increased your coffee consumption over the holiday season. This app helps you manage your caffeine intake to ensure that you're still able to get a good night's sleep. Enter the time you'd like to fall asleep and then track your beverages throughout the day, and the app will tell you when enough is enough to keep you going without keeping you up all night.
Cut the stress in the grocery aisles while shopping for holiday ingredients. This app collects recipes, provides recipe recommendations and helps you organize your shopping lists, saving you those frustrating trips back to the store when you realize you forgot one item.
Whether you're choosing a wine to serve with your turkey feast or selecting a hostess gift, this app will help you find the perfect bottle. Snap a photo of the wine label and this app will instantly pop up ratings and descriptions. And once you do find a new favourite, the app lets you keep track of favourites. Not a wine fan? The app works for beer and spirits, too.
It's happened to the best of us -- forgetting to pack something important on a trip. Whether you're taking the family to Disney World for a week or a road trip to grandma's for the holidays, this app will help make sure you bring everything you need -- and then take it all back home again. Packing Pro lets you create and customize your lists for every type of trip to keep you organized.
While you might not have a workshop full of elves to take care of you, a mobile device full of apps is the next best thing to help you actually enjoy the most wonderful time of the year.