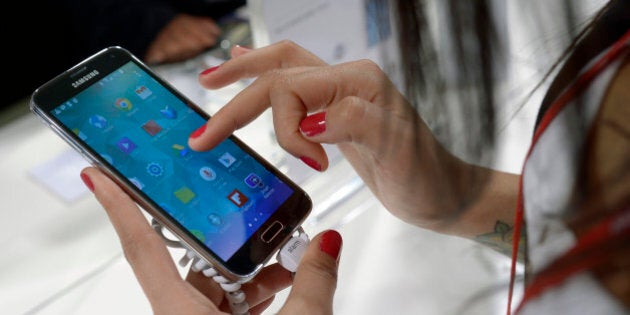 The busy holiday season is quickly approaching, and along with the festivities can come a lot of stress. From finding gifts for everyone on your list to meal planning and hosting friends and family, the mounting expenses that come with this time of year can be a great cause for stress. It's easy for budgets to be blown -- quickly -- if you're not keeping a close eye on them.
Luckily, managing the family purse strings has never been easier and smarter, not just over the holidays, but all year long. With apps, including financial apps, taking up 86 per cent of the time Canadians spend on mobile devices, today's shoppers have a number of tools at their fingertips to help keep the holiday season festive and fun, rather than financially frustrating.
A recent survey from Salesforce revealed how technology is empowering Canadians to take the reins of their household finances, with more than one in five (22 per cent) preferring to use a mobile device (smartphone or tablet) for accessing and managing their finances. The survey also revealed that women are more likely than men to use mobile devices for accessing and managing their finances (49 per cent versus 38 per cent), and 66 per cent of women who use apps are also more likely to have used an app to access/manage their finances in the past year.
With the cloud, social and mobile fundamentally changing the way people are able to manage their finances, there are a number of tools available for use. Here are a just a handful of tech tools to help you manage your money so you can stay on top of your budget like a pro this holiday season:
Make your list and check it twice. Your spending is much more likely to go off the rails if you don't have a plan. Before ever stepping into a mall or adding anything to an online shopping cart, draft a list of what you need to by and for whom. Give yourself limits and stick with them. But since we all know this is often easier said than done, consider the Christmas List App which not only helps you stay organized as you shop and track your budget from your phone, it also provides countless curated gift ideas for everyone on your list.
Mind your budget. Be realistic in terms of what you want to buy and what you can afford. To help strike this balance, check in on your finances frequently using Mint, which gives you all the tools you need to manage your earnings, spending, saving and budgeting by syncing up all your accounts. Another great budgeting app to check out is Goodbudget, which helps you create a budget based on cash flow. Since many of us are already using technology to manage our finances -- it's a habit that's worth continuing during the holiday season.
Be realistic about deals. Giant bright signs touting sales can quickly lure even the most restrained shopper into a buying frenzy, but before you lay down your credit card, make sure you have a good sense of what you're buying. Before you go shopping, arm yourself with an app like Discount Calculator which does all the number crunching for you. Simply enter the discount and current price, and the app will show you the price after the discount, including how much you'll save.
Make your money work for you. During the holiday season it's important to not only be strategic about how much you spend, but how you spend. If your credit card allows you to earn cash back or reward points, you may want to prioritize it as your primary spending tool. And if you've got a wallet full of loyalty cards, make sure you don't forget to use them when you're shopping. Points and rewards earned over the holiday season could add up quickly, saving you money later on.
Instead of carrying all your plastic cards in your physical wallet, consider storing them on the Stocard app, which acts like a "mobile wallet", so next time you're out shopping all you have to do is present your smartphone at the register and you'll never miss getting extra points and discounts again.
Do your (online) homework. If you're planning to do most of your holiday shopping online, make sure to take advantage of price comparison tools to get a competitive edge. Discount shopping apps like RetailMeNot collect product information from retailers, including pricing, and then display the collective information on a single page so shoppers can determine the best price, shipping options, and value.
With the right mobile tech tools (and a single swipe of a finger) there's no reason you can't master your holiday budget this year. Just don't forget to charge your mobile device before you start shopping.
Follow HuffPost Canada Blogs on Facebook