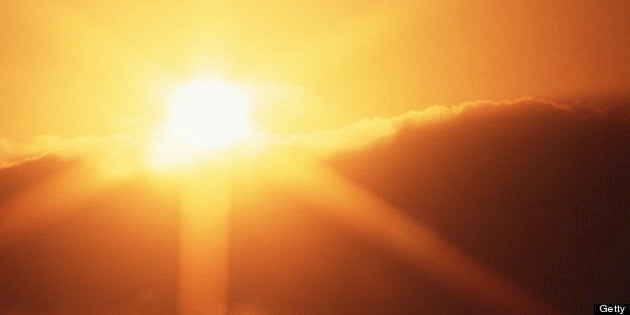 I am a know-it-all in many green regions from Dubai all the way to Toronto: I can point out really cool green tech companies from Israel and the Middle East; I can help volunteers find a local NGO to save the turtles, or show you where to buy a head-turning up-cycled purse.
Even though I can write about business opportunities I am no expert in investing. Talk with me about bull and bear markets or a Japanese candlestick theory and my eyes will glaze over the same way they do when I look at tax returns. Hey, I think a 5 per cent interest on my savings in the bank is a good deal.
Like many of the people my age pushing 40, and two generations below us, we consider a lot of what we do as "feel good" emotional decisions. So when I tell you to invest in the Middle East sun, it's not because I am basing it on a candlestick pattern I saw in some market chart. It's because I think that investing in the Middle East sun is the right thing to do, especially for those who are not risk averse, and who want to leave this world a better place.
If you are in the green investing business, then you've probably heard of the Climate Investment Funds. This past May the organization, founded to help developing countries overcome renewable energy hurdles to reduce greenhouse gases, promised sweeping changes for the Middle East and North Africa by launching a new call for funding for solar in the Middle East.
Unlike the much hyped about but potentially flailing desertec, a pan-African and pan-Middle East renewable energy grid to link to Europe, the CIF initiative might actually get solar energy off the ground faster in some of the world's sunniest, and "oily" conflict-ridden countries.
Investing in green technologies for the Middle East can help democratize or at least stabilize the Middle East.
As we've learned over the last couple of years with the Arab Spring, and lately protests in Turkey, the Middle East is changing. It's young are rising up and wanting a better future for their children.
Meanwhile, regimes and hegemonies of the Middle East are becoming more permissive based on the very fact that they are letting more environmental issues seep into the daily news. Locals want new opportunities, but oil-fuelled leaderships can change only if it's profitable or good PR. Consider that Saudi Arabia is going solar, and it plans to pump billions into the industry.
The Saudi Arabia of renewable energy, could very well be Saudi Arabia one day.
Middle East or North Africa countries without oil don't change because the people are too busy on survival mode. But solar energy could be the leap forward for countries like Jordan, Lebanon, Syria (when it survives the current crisis), Libya, Morocco, Oman, Yemen, and Egypt.
Those at the Climate Energy Funds (CIF) think so too. And the updated plan of raising funds - $7.6 billion US - to solarize the Middle Eastern and North African countries Algeria, Egypt, Jordan, Libya, Morocco and Tunisia may reverse a worrying trend.
We don't want natural gas- and sun-soaked countries like Egypt building new coal power plants, as they plan to do. We want them to shift to solar and renewables, because a prosperous and healthy society in Egypt is good for Egypt and the planet too.
The CIF plan is to create 1,120 megawatts (MW) of energy from Concentrated Solar Power for North Africa and the Middle East. The CIF is offering $600 million, while billions more will be sought out from donors and private financiers.
According to the CIF, the plan which was first endorsed by them in 2009, has undergone post-Arab Spring changes. Now each country in the running for funds will be able to modify their needs based on political and economic conditions and learn from the the Ouarzazate I 160 MW solar plant now being built in Morocco.
President Mustapha Bakkoury of the Moroccan Agency for Solar Energy said, "We are looking forward to seeing more involvement by this kind of financing in the coming years, and hope it will help continue the dynamism of the solar power sector and its competitiveness with wind and other energy sources, including fossil fuels."
So you see, I don't know anything about bulls, and bears, candlesticks or hanging men, but as a resident of the Middle East I can testify that green technologies make nations and communities proud to be part of them. Green technologies make places better.
Solar projects change people too: they bring jobs, and sweep away pollution. They give security to people without energy security.
If you are keen on getting off the armchair, and have the means, do something for the Middle East by helping finance green solar projects that could make all the difference for the future of our planet.