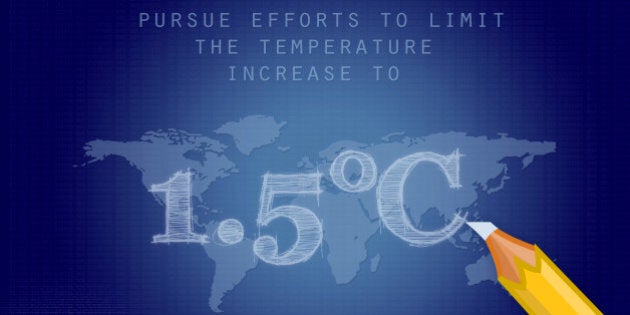 During the fall election, the federal Liberals committed to meet with the provinces within 90 days of COP21 negotiations in Paris to "develop a carbon pricing policy." This highly anticipated First Ministers' Meeting took place last week in Vancouver.
Much like the Paris Agreement itself, the Vancouver Declaration may have been the best consensus we could have reasonably hoped for. But also like Paris, it doesn't go nearly far enough.
At COP21 climate change talks, Environment and Climate Change Minister, Catherine McKenna expressed support for global efforts to limit warming to 1.5°C above pre-industrial levels. She also made a strong push for human rights language - especially Indigenous rights - in the body of the Paris text, and clearly stated that the Harper government's greenhouse gas (GHG) emissions reduction target (30% of 2005 levels by 2030) would serve as a "floor."
As for how Canada's plan would be operationalized, McKenna emphasized the importance of having all hands on deck, including the provinces, business, Indigenous peoples, civil society, as well as citizens. Details were still lacking, but the Minister clearly stated "that we are going to put a price on carbon."
Unfortunately, rather than a clear and comprehensive plan of action to address climate change, the First Ministers' Vancouver Meeting produced an agreement to study and then meet again in six months. They say they'll have a plan at that next meeting. But that's what they said that about this one.
Before the March 3 meeting even began, it was clear that the main point of contention would be carbon pricing. While several Canadian provinces have - or will soon have - carbon taxes or cap-and-trade programs already in place, others are adamantly opposed to implementing a carbon tax.
The climate crisis should be reason enough to act. We cannot ignore the devastating impact of climate change on ecologies, economies, and societies the world over. At the same time, addressing climate change and shifting to renewable energy, if done well, offers tremendous economic opportunities in the short term and well into the future.
Add to this the fact that 80% of the Canadian population is already covered by a carbon price, and the federal government has repeatedly committed to set a common base price across the country. It is stunning that so little was done.
A harmonized carbon pricing system, consistent across jurisdictions, is important as it removes the risk that high-emitting business will go where they are allowed to pollute most heavily. And to effectively deter the consumption of fossil fuels, the price must rise steadily and predictably over time.
Canada needs a clear baseline price in order to move towards the goal of limiting global warming to 1.5°C. The absence of such a baseline - or even one set too low - would require firm regulations on Canada's major emitters. Either way, the federal government can and must offer leadership.
In order to achieve consensus, Prime Minister Trudeau has decided to navigate this current impasse through public consultation.
The government wants to know that they have license to implement the measures necessary to reduce Canada's GHG emissions and decarbonize the Canadian economy.
It is essential that we, as citizens, speak our message clearly: we want action now!
Canada can no longer lag behind the global community, continuing to pursue fossil fuel-based development on the backs of the world's most marginalized. Canada cannot transition to a renewable economy at the expense of energy sector workers, or with regressive impacts to northern and low-income communities. Nor can the federal government cede all responsibility to the provinces and territories. The development of Canada's climate action plan requires collaboration and mutual respect among everyone involved; and it requires leadership commensurate to the challenge at hand.
As citizens and consumers, Canadians have a responsibility to be part of the conversation over the next six months: to share concerns and aspirations with others, to participate in public consultations, and to contact our political representatives to urge them to do better.
The Paris Agreement opens for signatures on April 22. Canada will sign, but won't yet have an ambitious GHG emissions reduction target. Setting a target consistent with limiting warming to 1.5°C is a key piece of the work needed to develop a Canadian framework climate change over the coming months. The plan that is developed must clearly establish the federal leadership role and define expectations for federal, provincial, and territorial action. And, it is imperative that our federal government take immediate action to eliminate subsidies and tax breaks to the fossil fuel industry while making strong investments in developing a green economy.
The Vancouver Declaration may have offered just enough of a foothold to reach for more.
Though we don't yet know what will be done here in Canada to address climate change, one thing is abundantly clear: the Prime Minister will not act without the provinces and the Canadian public behind him.
Let's let him know that we want bold, ambitious, and just climate action.
Follow HuffPost Canada Blogs on Facebook