Everyone loves gifts, and companies especially like sharing their products with celebrities and other influencers, hoping to associate their brands with A-listers, and get some all-important media attention.
There are so many brands competing for attention in their respective, highly saturated markets, and they all want to stand out. That's why the Toronto International Film Festival has its fair share of gift lounges to pamper and gift the "right" crowd.
So why do the people who have everything attend? Often there's a charitable angle. For example, at NKPR's IT Lounge, a donation is made on behalf of every celebrity that has their portrait taken to help raise funds for Artists for Peace and Justice, which helps promote and fund youth education, health and dignity initiatives in Haiti.
For the past three years (this one excluded), I ran the Canadian Film Lounge for First Weekend Club, a non-profit dedicated to raising awareness for Canadian film and talent. In that case, our attendees helped raise awareness for the organization (thanks to media coverage), and in turn, supported Canadian film.
Other times it just comes down to the personal connections of the organizers of these lounges. Having friends in high places never hurts.
But at the end of the day, who doesn't like random gifts?
Sure, some are extremely expensive, but many items gifted at the lounges I've visited during my time at TIFF are surprisingly affordable, so it becomes a great introduction to products one might not be already aware of.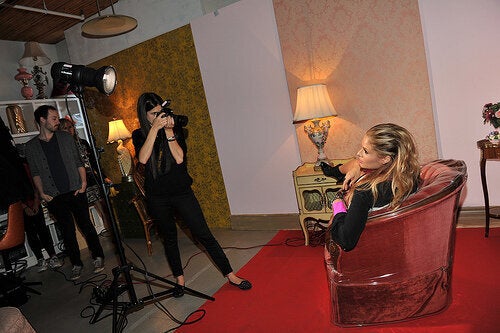 At the IT Lounge there was an interesting mix of products including delicious treats such as LOL Candy, PS by Pretty Sweet, Cold Stone Creamery, and DavidsTea (which featured a special, delicious 'Movie Night' brew). Tweezerman provided touch-ups and travel-sized tweezers, Roots was showcasing their lines which has evolved a bit over the years and now offers more than just comfort (though it still offers that too). I enjoyed Yosox's cute little designs as the company's reps explained how they plan to make socks a fashion item, but at an affordable price. Even Colgate was there with their new toothpaste. These are hardly things even the average Joe cannot afford, but a few of the products I wouldn't have known of if I hadn't seen them there.
The IT Lounge also offers portrait sessions with Caitlin Cronenberg, a young firecracker of a photographer, at least as far as first impressions are concerned. She snapped up photos of Colin Firth, Daniel Radcliffe, Ralph Fiennes, Adrien Brody, Elizabeth Olsen, Felicity Jones, Maria Bello, Michael C. Hall, Olivia Wilde, Mila Kunis, and others.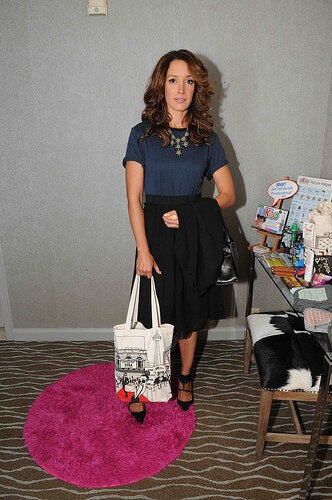 The Tastemakers Lounge is a bit smaller, located in a suite at the Inter-Continental Hotel and dates back to 2005, making it the first lounge on the TIFF scene. Some visitors this year include Daniel Radcliffe, Wes Bentley, Anton Yelchin, Colin Mochrie, and Jennifer Beals. This year's theme is "need it now," with the idea that the products provide a home away from home feel.
Some of those products include Wendell Honey (their creamed honey really is delicious!) and AWAKE Chocolates that provide a much-needed caffeine kick during TIFF. The Bobble water bottles are intriguing too, since they are a water bottle and filter all at once. There's also handcrafted wood iphone covers by Alto Collective, an educational kids reading game called uKloo, Pluck Tea (the Spadina blend is definitely worth a try!), and even dish soap from Seventh Generation.
Proceeds from this year's lounge this year went to SickKids Hospital.