"If you build it, they will come."
This line often gets thrown around, serving as an inspiration, or promise of sorts - for brave or foolish dreamers alike.
But regardless of the outcome, dream we must.
That's why I got involved with bringing to life a new event series called STAGE to SCREEN, alongside my collaborator-in-crime, Aaron Craven who runs the wonderfully creative theatre company, Mitch & Murray Productions.
The series blends the magical world of theatre with that of cinema by bringing some of North America's top talent to Vancouver for an intimate one-of-a-kind experience that includes film screenings, live theatre, and dialogue.
Our first guest, on Saturday, April 26, is someone whose work I've admired for some time, and someone who is particularly well-known to actors -- since pages from his Pulitzer/Tony-winning play prove to be very popular amongst acting teachers.
I'm talking about New York-based playwright, director, and screenwriter, David Auburn, best known for his play "Proof" which was later adapted into a movie starring the likes of Anthony Hopkins, Gwyneth Paltrow, and Jake Gyllenhaal. More recently, his play, "The Columnist," had a great run on Broadway with John Lithgow in the titular role.
What makes Auburn's story particularly interesting to us is that he has made a very deliberate leap from the stage to the screen -- and can now tell his tale. At the event we will present a screening of Auburn's directorial debut, "The Girl in the Park" (Sigourney Weaver, Kate Bosworth, Keri Russell), which he also wrote, followed by a Q&A.
Audiences will also be treated to a live stage reading of Auburn's play "Proof", featuring some of Vancouver's top actors, and afterwards get to learn about Auburn's experiences in the theatre, writing technique and approaches, influences, the road to writing a Pulitzer-award winning play, and much more, in an intimate moderated In Conversation.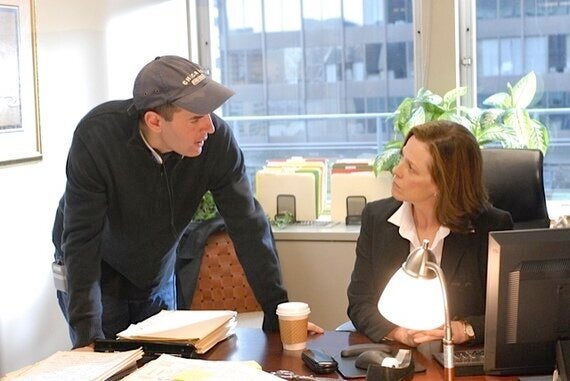 With this event, we not only want to showcase and celebrate Auburn's terrific body of work, but to also start a dialogue and inspire Vancouver's own creative community. I think that inspiration often comes from being surrounded by greatness -- that's why over the years so many great minds would find their way to cities like New York, perhaps living in near-poverty, but also blissfully creating works of art, finding inspiration around them, growing together.
I've loved movies and theatre for as long as I could remember. There's nothing that quite compares with the ability of a great film to transport you, or the intoxicating quality of seeing a tremendous performance on stage, filled with words that may change you forever.
I've been fortunate enough to press my face against the window, having seen some brilliant productions, and having written about both film and theatre extensively -- interviewing Oscar, Pulitzer, and Tony winners alike.
Now, I have the chance to share this experience with others through STAGE to SCREEN. We've built it, Vancouver. We hope you come.