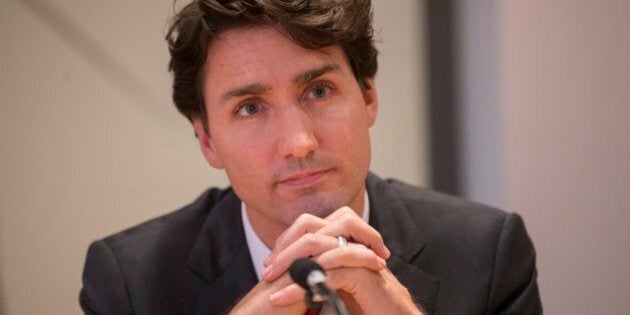 It's true that 100 per cent consensus on any issue is never possible. If you are looking to convince people of your point of view, however, providing clear information when you are asked a direct question would be a stellar place to start.
For instance, you have been asked repeatedly about Canada's ability to meet our 2030 Paris GHG reduction commitment despite recent fossil fuel development project approvals. It is worth mentioning that our Paris commitment was cast last December as a floor. Then, in September of this year Canadians heard that the commitment might in fact be a ceiling. I'm sure you will agree, then, that it is understandable for people to ask if we will still meet our goal.
During the press conference announcing your government's pipeline approvals, you dodged questions on whether Canada will still meet its 2030 GHG reduction targets by emphasizing your trust in the Alberta government's ability to cap emissions from the oil sands.
You noted that the pipelines are included in the Alberta oil sands emissions cap, and so are an integral part of your plan to respect the Paris agreement, a plan to be discussed with provincial premiers the following week. You also stated that oil sands production will increase one way or another, and that we need new pipelines because they are safer, less costly and produce fewer GHG's than shipping bitumen by rail. And yet, the long standing past argument had been that oil sands production was dependent on pipeline expansion.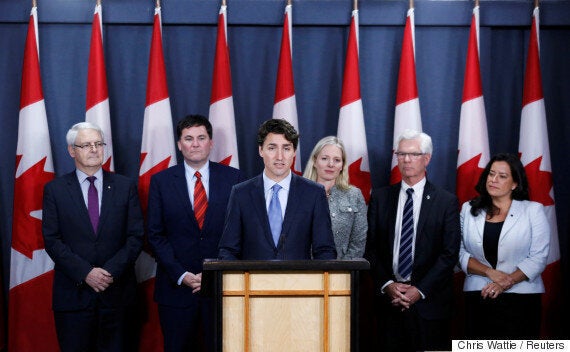 Prime Minister Justin Trudeau is seen speaking during a news conference with Transport Minister Marc Garneau, Fisheries Minister Dominic LeBlanc, Environment Minister Catherine McKenna, Natural Resources Minister Jim Carr and Justice Minister Jody Wilson-Raybould in Ottawa, Ontario, Canada, November 29, 2016.
On December 9th came the announcement of the Pan-Canadian Framework on Clean Growth and Climate Change. The Communique states: "The actions taken under the Framework will contribute to meeting or exceeding Canada's 2030 climate change target of a 30 percent reduction below 2005 greenhouse gas levels." Fantastic!
Unfortunately, though, neither the Communique nor the more detailed Framework document acknowledge the emission increases that will flow from the increased oil sands production made possible by the pipeline approvals. There is also no information on the emissions increases expected from the recently approved B.C. Pacific NorthWest LNG project.
While there are myriad references to the GHG reductions that will result from other decisions that have been announced recently (eg. coal phase-out), these estimates are of limited use if there is no new overall baseline that factors in the emissions increases that have been approved as a byproduct of the recent choices to expand our fossil fuel development.
Given your responses to questions during the previous week's pipeline approvals news conference, it is disappointing to find no acknowledgment in the government's climate action plan of the impact of these new projects on Canada's overall GHG emissions.
Then, during a subsequent interview with The Guardian, Canadians heard you say that a fundamental responsibility of any prime minister is to get our resources to market in responsible and sustainable ways.
You made this statement in the context of the Keystone XL pipeline, saying you look forward to hearing what U.S. president-elect Trump has to say. Again you stated that pipelines are needed because they are safer, less costly and emit fewer GHG's than shipping bitumen by rail. What was left unsaid is that the new pipelines will not simply replace today's transport methods, but will permit expansion of Canada's oil sands -- a move that will increase our GHG emissions.
During this recent Vancouver Sun interview, you were again asked how new pipelines fit with the commitments you made last December in Paris.
You responded by highlighting the Pan-Canadian Framework, the national price on carbon, and Alberta's plan to put an absolute cap on oil sands emissions. Again, you asserted that there would be increased production in the oil sands, whether there are new pipelines or not. Sadly, still no sign of the basic information that many Canadians would like to get from their Government ... estimates of the emissions spike impact of these new fossil fuel projects on our overall emissions.
When will Canadians get to see what the spike in GHG emissions from recent fossil fuel project approvals will be, and how Canada's overall emissions will be affected by this spike?
Respectfully, while you have missed numerous opportunities to share this information with Canadians, this does not mean that analyses of what fossil fuel expansion plans may mean are not available. Here are but two examples among many, featured recently in the Globe and Mail and Huffington Post.
Yes, you are now re-asserting that the existing Paris reduction targets are a floor and not a ceiling and, yes, you would like Canadians to wait until 2019 to judge your Government on the success of your Climate Plan. The difficulty that a large number of Canadians have is that many of the recently approved fossil fuel development projects will not come on stream until after 2019 which, of course, means that the bulk of their GHG impact will not be apparent until after the next election.
As you yourself have said, the government's responsibility is to the whole electorate. When addressing Canadians on the question of electoral reform, in fact, you also like to highlight the Liberal party's oft stated declaration that it is a "big tent" party that embraces a diversity of views within the party. With this in mind, do you suppose that it would be easier to encourage more people to come into your tent on this if you were to respond openly, transparently and honestly to questions you are posed?
Your government's commitment to safeguarding and improving Canada's democratic institutions and to science and fact based decision making are also qualities you like to highlight often, so the problem surely can't be that the answers aren't available.
So I'll ask this question again: When will Canadians get to see what the spike in GHG emissions from recent fossil fuel project approvals will be, and how Canada's overall emissions will be affected by this spike? Without this information, it is difficult for Canadians to engage meaningfully in our democracy as we have no way of objectively assessing the extent to which our governments are, in fact, protecting the environment while at the same time growing the economy in sustainable and responsible ways.
Follow HuffPost Canada Blogs on Facebook