Twitter
At the close of 2011, KikkiPlanet.com published a list of those we found to be the "Most Fascinating #yeg Tweeps" of the year. The post was a huge hit, and following its publication we were contacted by several tweeps who had been included on the list thanking us for not only the mention, but for the instant increase in followers as a result of their inclusion.
When 2012 came to an end, we thought about reprising the list, however in light of the upcoming #yeggies, we chose not to. Too much of a good thing is not always a good thing and with the #yeggies making their mark on the Twitterverse, Vue Weekly now including Tweeps in their yearly "Best of Edmonton" round up, and the premier report on all things #yeg Twittery, Mack Male's "State of the Twitterverse", our list was done away with.
Then, the requests came pouring in. It seemed many of you truly enjoyed our 2011 list and expressed disappointment we hadn't followed up with a 2012 version. Based on that demand (because we really weren't going to do this again - it's too much damn work), we relented and put out a call for nominations as well as put our heads together with some of our more devoted readers to come up with a Top Ten list.
We're doing this just a bit differently this year, giving our top ten with runners up just as we did for 2011 but our overall "Most Fascinating Twitter Account of 2012" is a stand alone honor. Here are our top ten:
READ AFTER THE GALLERY HOW AND WHY THESE TWEEPS MADE THE CUT..
Fascinating #YEG Twitter Accounts
#10. The Comeback Kid - Jamey Hopkins
I am followed by a suspicious number of cats.

— Jamey M. (@JameyMPhoto) January 10, 2013
Back in 2010, Jamey was on Twitter as "HeyItsJam" but took a hiatus and shut
down his first account while focusing on his photography business. He came
on strong in 2012, gaining 2000 followers over the course of the year with his
profile "JameyMPhoto". Tweeting about everything from his love for Paris to his
daily calendar, Hopkins has earned the top spot in this category.
Runner Up - Jerry Aulenbach
Checking out some houses with clients from BC. But first, they must taste @vsandwiches.

— Jerry Aulenbach (@ZoomJer) January 10, 2013
Yes, I know - did he ever leave? The truth of the matter is that the man best
known for his bacon fixation took a bit of a hiatus and lost interest in Twitter.
Inconceivable! Give the guy a break, cut him some slack. With four very young
children, his career as a realtor and his constant involvement in the Edmonton
Twitter community, exhaustion had to set in at some point. But Zoomjer has
battled back to almost full strength - and is smearing his greazy pork fat self all over
the stream again. We missed you, Jerry. Never leave us again.
Update: I've been advised that Jerry actually has FIVE kids. Really, Jerry?

Are you going for a full pound of bacon strips here?
#9. The Wild Card - Josh Bazin
Gawd, I hate entitled gamer bullshit.

— Josh Bazin (@joshbazin) January 9, 2013
You will never know what to expect from this Tweep. When you think he's
flattering you, he's actually cutting your inflated ego to the quick. When you think
he's insulting you, he's likely expressing his adoration in a way only he gets.
Often hilarious, more often than not biting, and seldom anything less than
entertaining, how he doesn't have more followers we don't know. But we're
willing to bet that changes in the very near future.
Runners Up - Wildsau & Tanis Miller
Ah yes, the good old #yeg evening news - where they start it with "Good evening" and then proceed to tell you why it isn't.

— Tom Sedens (@Wildsau) January 11, 2013
There isn't much to say about Wildsau that he himself hasn't already said,
and likely said it in a snarky, sarcastic, smart ass tweet. Fair warning -
he likes to creep on you when you least expect it and hit you with a response
that will leave you gobsmacked. And all meat references will be met with "you
said 'meat'. Hehehehehe". Take our word on that.
I just would like to know how (most) of you find the energy to do stuff like shower and put on pants. Because I can't do it all, people.

— Tanis Miller (@redneckmommy) January 10, 2013
One can't refer to The Redneck Mommy's popularity as "a cult following" -
this powerhouse of a woman is a bonafide celebrity. Tanis Miller was nominated in no
less than three different categories for our 2012 list. This category was not one of
them. So why put her here? Because Miller is far more than what you see on the surface.
Yes, she's a survivor. Yes, she's an inspiration. But more than that, Miller is a sassy,
smart mouthed realist with a wicked sense of humor and a "take no prisoners" attitude
we worship. Plus, she cut off all her hair way before Miley did it, bleached it blonde
and rocked that shit like nobody's business (she will love that we used "rock that shit"
to describe her transformation). For showing that "surviving" isn't all there is to life
and definitely not all there is to motherhood, Tanis Miller is our runner up.
And an honorable mention in this category:
All right, confession time. How many of you on my frigging timeline are high on cold medication right now. How many? #imwaiting

— Mr. Yegpie (@yegmagpie) January 10, 2013
We'd be remiss if we didn't give an honorable mention to @yegmagpie in this
category. Anonymous Twitter accounts have been verboten on our Top 10 list, but
this account has amassed a huge following. Delightful humor that any citizen of
Edmonton will immediately relate to forces us to acknowledge Edmonton's
favorite pesky critter as a true twitter contender.
#8. The Charity Case - Jennifer Banks
NEW JUSTIN TIMBERLAKE TODAY!! Sorry, excited.

— Jennifer Banks (@JenBanksYEG) January 10, 2013
As the driving force behind "Make Jen's Day", Banks wowed us all with both her
capacity to give and her ability to inspire. Her pay it forward spirit landed her on
Breakfast Television and resulted in a Fierce Woman of the Year nomination. But
her real claim to fame? Giving out absolutely ridiculous + K on Klout. Wondering
why you are "influential in small rodent hunting"? Chances are Jen is to blame.
Runner Up - Jessie Radies and Nadine Riopel
My cats are harassing my husband. #bossyFelines

— Jessie Radies (@jessieradies) January 8, 2013
Trying to research the ethics of offshoring - is it ethical to have some work done more cheaply overseas? Why or why not? Anyone?

— Nadine Riopel (@philanthusiast) January 7, 2013
Both these tweeps made their mark in the past year. Radies as a very vocal
advocate for sustainable food sources in our area and Riopel for her critically
acclaimed (by me) series on Edmonton's new, young breed of do-gooders and how they are affecting positive change in the community. More of this on our
Twitter feeds, please! People who inspire us with their involvement is always a
very good thing.
#7. The Politicians - Danielle Smith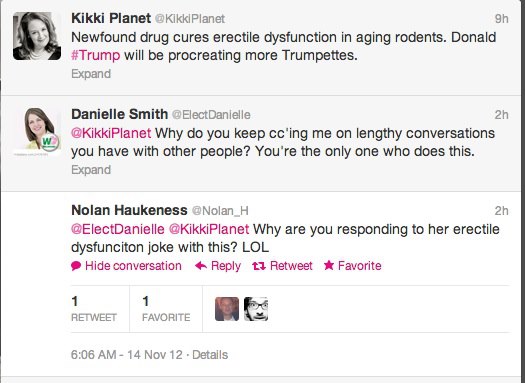 No other politician in Alberta uses Twitter as effectively as Smith. Yes, Calgary's
Mayor Nenshi beats out Smith in terms of popularity, but Smith's use of Twitter
during the election was heads and tails above anyone else's. Redford may have
won the Premier's office, but Smith kicked proverbial ass on Twitter. Plus, she
mistakenly responded to a tweet about "erectile dysfunction" and was willing to
laugh at herself for doing so. Unfortunately, Smith has the writer blocked. So all
you get is a link to her Twitter profile, not a tasty tweet. The irony of her
blocking the writer when the writer is touting Smith's willingness to engage is not
lost on us. No idea why she blocked us. None at all
Runner Up - Thomas Lukaszuk
Another proof that Santa is Polish. Northpolish:-) RT"@amandaash: I just ate a dill pickle candy cane."

— Thomas Lukaszuk (@LukaszukMLA) January 8, 2013
The Deputy Premier didn't shy away from the trolls, the sock accounts and the
online political bullies before or after the election, was always willing to say
exactly what he meant and.... oh.... that unicorn like mane of golden hair in his
Twitter profile pic! Strong willed, strong minded and the man who brought the
insult "bottom feeder" back into popularity, how could we not include him here?
Plus, he's a snazzy dresser. Like, REALLY snazzy.
#6. The LGBTQ Rights Game Changer - Blake Robert
Catching up on #ableg. Gotta side with the WRP on a cheap, unnecessary shot at Anderson's faith from a press secretary. Deserves an apology.

— Blake Robert (@BRinYEG) January 5, 2013
Better known for his secret identity "Adam York", Blake Robert changed the
recent Alberta election when he tweeted a link to Allan Hunsperger's now
infamous "Lake of Fire" blog post. Up to that point there had only been
accusations and suspicions when it came to social conservatism in the Wildrose
Party. With that single link and two tweets total from the Adam York account,
Blake put a face on homophobia and gave Alberta voters a reference point on
how the WRP's conscience rights policy was about far more than they were
willing to admit. He's also to blame for every "Lake of Fire" t-shirt you saw at
Pride 2012 simply for letting us know the Lake of Fire existed. Jury is still out on
where this flaming water source is, although rumor has it it's located under the
ice rink at West Edmonton Mall. For being a major player in the election, Blake
Robert is the top winner in this category. By the way, he's not gay. Not that
there's anything wrong with that
Runners Up - Kristopher Wells & Adam Rozenhart, and I Dig Your Girlfriend
Here's the link to #nohomophobes on @cbcasithappens- We're under section 3 near the end. cbc.ca/asithappens/ep...

— Dr. Kristopher Wells (@KristopherWells) January 11, 2013
It was such a simple idea: develop a website that tracked homophobic slurs in
real time as a statement on exactly how discriminatory we are in our daily
language. Simple and powerful. The No-Homophobes website garnered international
attention (it even made CNN) and the man behind that, Kristopher Wells deserves huge
credit and accolades for his effort to help us understand ourselves and each other,
and change the language we use on a daily basis. Adam Rozenhart, a longtime favorite
with #yeg tweeps was a major player in getting the website up and operational. To
not include him here would be a sin!
Having a great hair-day = One of the perks of having your awesome femme girlfriend do your hair in the morning.

— IDigYourGirlfriend (@IDigYourGF) January 10, 2013
It was the podcast heard 'round the country! Terah and Janelle of the website
"I Dig Your Girlfriend" managed to get an exclusive interview with Danielle Smith,
leader of the Wildrose Party. Not only that, but they managed to get her on tape
saying that she would not delist gender reassignment surgery in this province.
BAM! Not only did their scoop make national news, it was the start of the party's
internal power struggle between social conservative Rob Anderson and libertarian leader
Danielle Smith (although they still deny any power struggle at all). Even better was
their "gay agenda", laid out for the first time for all of the public to see.
#5. The Survivor - Sheena Millar
Don't think I'm funny and then request my friendship on Facebook. It's not going to help our relationship. Trust me.

— Sheena Millar (@Arbitral) January 11, 2013
It would be impossible for us to share anything about Sheena she hasn't already
shared about herself, including the time she spent this past summer at the bedside
of the love of her life, @poprocketcomics, and the final moments of his life when she was
forced to make a very difficult decision. Through all of that, Sheena emerged as a
sarcastic Phoenix with what one of her recent dates called a solid case of "Twitter
Tourette's Syndrome". A member of our staff spoke with that date, known only as "Minion"
to protect his identity, and he's still not quite "over it".
For sharing her vulnerability, her #widowtweets, her sarcasm.... but most of all for being
the only woman in Edmonton to win a real live human being as a "door prize" at a fundraiser,
@Arbitral is the top survivor on #yeg's Twitter Island.
The Runners Up in this category are all of Greg's online friends and surviving family,
who number too many to mention individually. Greg, you are remembered, you are loved.
And you live on in those who love you.
#4. The Poli Spice Girl - Sheila Gunn Reid
Just saw one of my tweets stolen word for word. Some one is going to make a great Director Of Education for the Toronto Public School Board.

— Sheila Gunn Reid (@SheilaGunnReid) January 10, 2013
Any Twitter feed with a political hashtag is in danger of becoming a self-
congratulatory monstrosity, but the #WRP feed turned "echo chamber" into an
online art form - before, during and after the election. There were a few stand
outs in that feed, but Gunn-Reid was heads, tails, and "natural boobies" above
them all. Smart with a biting wit, Sheila was never led astray by any of the red
herrings thrown her way by political foes. She's savvy as hell, she knows her
politics, and her favorite past time is throwing back a Sour Monkey shooter each
time someone calls her a "racist" (which she isn't, people). If 2012 was "the year
of the politically minded woman" in Alberta, Gunn-Reid is the conservative voice
that deserves your attention. I plan on drinking with her some day. Drinking a lot.
Fair warning: #TwitterGulag changes people. Sheila plays everything by prison rules
now.
Runner up - Mimi Williams
Some asshats just can't resist their asshattishness even when politely asked. Thus, for my 1st non-spambot block ever, drum roll, please ...

— Mimi Williams (@willmimi) January 10, 2013
If Gunn-Reid is the ballsy broad on the right, Mimi is her lefty counterpart.
Unwilling to shy away from anything, and just as unwilling to kiss the butt of
anyone on either side of the political spectrum, Mimi left a huge mark on #yeg
Tweeps in 2011. And if that mark hurt your myopic understanding of what is
happening in this country, she's happy there was a little pain to go along with the
bruise. And seriously, who doesn't love a broad who hands out "Daryl Katz, Oligarch"
posters as hostess gifts? By the way, Mimi - that poster now hangs in the offices of
KikkiPlanet.com and we thank you again for your generosity.
#3. The Local Hero - Constable Brendan Power of Edmonton Police Services
Happy 2013 folks. Health, happiness and hopes some egg head doesn't try to calculate a planetary orbit discrepancy for the Mayan calendar

— Cst. Brendan Power (@CstPower) January 1, 2013
It was one moment with an iPhone and a gun that resulted in what was possibly
the most poorly done CTV report of the year. During a standoff in Edmonton,
Constable Power - who was quite a distance from the actual site of the standoff
and knew the suspect was already in custody - took a picture looking down the
barrel of his gun and tweeted with a caption about the real life of an EPS member.
Then, some overly enthusiastic television reporter decided to turn that tweet into
a story that suggested dereliction of duty. The public outcry in defense of Power
filled the Twitter feed for no less than 48 hours and when the good Constable stated
he would be scaling back on his tweets, the outcry reached epic proportions. He stuck
around, thankfully. For serving, protecting, interacting and doing it all with no regrets,
we're pinning our Local Hero medal to the chest of EPS Constable Brendan Power.
Runner Up - Luke Fevin
Plane crash survivor Thanks God & says "He is Good". The familes of 3 others dead not so sure #atheistrollcall#atheismbit.ly/VGhDkh

— Luke Fevin (@According2Luke) January 6, 2013
Take on an entire school board? Why the hell not! When Fevin found out his kid
was being subjected to prayer in a non-religious public school, he bit back hard
and refused to back down. Taking on The Education Act and the Alberta Government,
Fevin continues to fight for the right of all students in the province to an education
free of religious influence. Atheists and Free Thinkers everywhere thank him and applaud
his courage and his immovable stand on this issue. Even the faithful pray for him - much
to his dismay. He also bears a striking resemblance to Daniel Craig (thus the nickname
"Double OH Fevin!") and has a delicious British accent. Not that this matters on Twitter,
but it still matters.
#2. The Wit - Marty Chan
Alex Jones' CNN meltdown was so bad I'll bet even Chris Crocker was embarrassed for him.

— Marty Chan (@Marty_Chan) January 8, 2013
If you don't think a children's author can't appeal to adults, you need to be following
Marty Chan - or as we "in the know" call him, "Chan the Man". Every tweet from this
amazing wit is a treasure, a delight, a laugh out loud observation on life in Edmonton
and current events. Chan manages to have that effect without venturing into the Twitter
gutter that far too many tweeps seem to dwell in. His clean, intelligent innuendos are
funnier than any toilet humor you'll find on Twitter. We received more than 30 nominations
for Chan the Man. He deserved everyone of them. Also, ask him who his muse is. He loves
that stuff.
Runner Up - Omar Moaullem
There's something beautiful about #AlexJones's Bieber rant. Especially where he actually screams "Ahhhh!" youtube.com/watch?v=_t3POf...

— Omar Mouallem (@omar_aok) January 9, 2013
With one tweet about "Truck Nuts" and their relation to "Dani Dollars" during the
Alberta election, Omar managed to win over fans and almost go viral. And thanks
to him people around the world think the official flower of Alberta is "truck nuts".
Wait - that actually kinda makes sense. If you like your wit dry, biting and sarcastic,
we highly recommend this tweep.
#1. The Reporter - Vassy Kapelos
If you're counting - that's now 5 of 8 members of the Premier's comms staff that have left in the last month. #ableg

— Vassy Kapelos (@VassyKapelos) January 10, 2013
Vassy came into her own this year both as a Global reporter and as a Twitter
personality. She live tweeted the election, the PCAA AGM (from the foyer because
reporters were not allowed into the actual AGM, the re-election of Barack Obama and
everything in between. She kept us abreast of what was happening in our city and
in our communities, and did it all with grace while still interacting with those
who tweeted in response. Vassy was the local face of Alberta Election Coverage and
has become an influential member of the #yeg Twitter community. Heir apparent to the
throne of the reigning Monarch of Edmonton mainstream media, Paula Simons? That
coronation is a LONG ways off. But this political broad held her own.
Runner Up - Josh Wingrove
Re: that Slate tweet, I remember writing about Apophis in university. Got a B. Prof didn't like my lede. She was wrong, obvs.

— Josh Wingrove (@josh_wingrove) January 10, 2013
As the Edmonton corespondent for The Globe and Mail, Wingrove has
impressed with his involvement in the #WRP and #ableg feeds, garnering a solid
following along the way. He's sarcastic. He's opinionated. He's funny as hell.
He's been accused of being biased (by me) but he takes it all in stride. It's
possible he was even called an "unethical asshat" at one point (by me) but that
has no bearing on how influential he's become on Twitter. Keep up the good work,
Wingrove. Asshat. ;-)
Our Most Fascinating Twitter Account of 2012 should come as no surprise to anyone who is an armchair politico or a regular #yeg Twitter participant.
Dave Cournoyer
New Post: Three investigations kick-off 2013 in Alberta politics. bit.ly/VQIJoW#ableg#pcaa#wrp#cdnpoli

— Dave Cournoyer (@davecournoyer) January 10, 2013
When a local blogger becomes not only the voice of an election but one of the most influential political voices in the province, people should take note. And that is exactly what happened to this Daveberta blogger in 2012. If there was one word that defined Cournoyer and his feed during the past year, that word was "influence". Dave has been deservedly compared to American blogger Nate Silver, and he welcomes that comparison. Alberta Social Media see Dave as the voice of politics on a municipal and provincial level. Considering this isn't what he does for a living, it's all the more impressive that Cournoyer has as much influence as he does, and that mainstream media are now competing with him, as opposed to the other way around - and he's earned their respect as a peer. He's raised the bar on political blogging. He's factual. He's timely. If you follow only one person on our list, make Cournoyer "that person". You'll be better informed as a result.
On a personal note (and I don't get personal very often, so listen up people!) Dave is just a really nice guy, a damn fine human being and, to quote Judge Judy, "smarter on his dumbest day than you will ever be." I had the pleasure of meeting Dave in April 2012 on the set of Breakfast Television. There aren't many people I get nervous at the thought of meeting - I'm pretty much jaded and cynical and stuff, but meeting Dave was a personal thrill and an honor and I got a little "bumbly" in his presence. He does what he does from a place of true passion for politics and he does it with respect and intelligence. His top place on our list is well deserved.
As we did last year, we welcome your input on both our Top Ten list and any additions you'd like to make to it. Be sure to comment below and include YOUR favorite tweeps so that our readers can follow them, as well. Happy Tweeting, #yeg people. And be sure to get your nominations in for the 2012 #yeggies! I know the organizers are counting on your support for their debut awards!