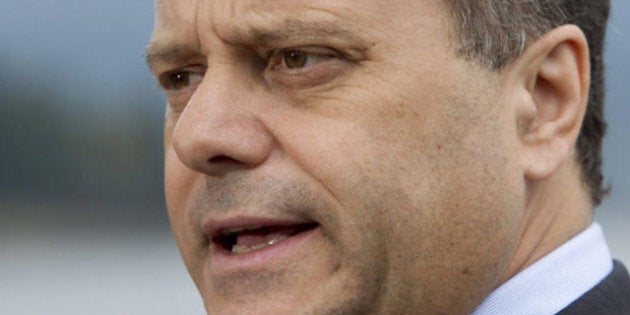 Whether or not you're an NDP supporter, the party can be pretty proud of its history of standing up for progressive ideas. It's been a powerful voice for unionized workers across Canada, and around the world. The NDP has stood strong for gender equality and Aboriginal rights; a commitment to worldwide human rights has been a key pillar of the NDP's character since its very beginning.
So, why does NDP leadership candidate Brian Topp want to toss all of that proud party history aside in his blind crusade against the oil sands?
In his Globe and Mail column earlier this week, Topp attacked the federal government for defending Canada's oil exports as ethical. We've heard environmental extremists dismiss the ethics of oil before, arguing that the only ethical approach to oil is not to use it at all -- a utopian ideal that ignores the fact that we don't have any workable alternatives to oil, which is why it's critical that we differentiate our oil based on whether it promotes peace and human rights or not.
Those arguments are just naive. But Topp's attack on the oil sands is outright nasty and offensive. It has to be read to be believed:
"In addition to being a global salesman for carbon, Peter Kent can take on a new ethical sales job: Let's get into ethical landmines. Consistent with their vision, the Harper team can next withdraw from the Convention on the Prohibition of the Use, Stockpiling, Production and Transfer of Anti-Personnel Mines and on their Destruction, also known as the Ottawa Treaty.

After all, if the world's despots and paramilitaries can't buy ethical landmines from Canada, they'll have to buy them from countries like Iran, Burma, and China. To the Harper government's mind, it's not ethical for a child to be killed by a landmine produced by prison labour, or in a country where women are not allowed to vote. Not when they could be killed by a landmine produced ethically right here in Mr. Harper's Canada."
Topp is mouthing the language of peace and human rights, but he doesn't actually believe it. If he did, he wouldn't be arguing against oil sands exports and ultimately working to ensure that Americans continue to bankroll OPEC countries that persecute ethnic and sexual minorities, subjugate women, and lack any reasonable standard of workers' rights. Thwarting Canadian oil sands development means protecting the worldwide oil dominance of misogynist, gay-murdering, terror-sponsoring regimes in Iran and Saudi Arabia. If we want to stand against war and death and destruction, including the use of land mines, supporting ethical oil over the conflict oil of violent tyrants is exactly the place to start.
But worse than his disingenuous claims to care about peace and security, Topp goes further: he actually insults the thousands of Canadian working families who proudly earn their living from the oil sands. If only Topp had the nerve to go to Fort McMurray and stand before a roomful of union workers from the oil sands -- well-paid men and women who take pride in their work -- and tell them to their face that he considers them the merchants of death and destruction. The oil sands industry also employs more Aboriginals than any other industry in the country. Topp wants to take those jobs away from them.
In a 450 word column, Brian Topp shows his disdain for the rights of women, minorities, and workers worldwide while slandering an entire industry of unionized workers.