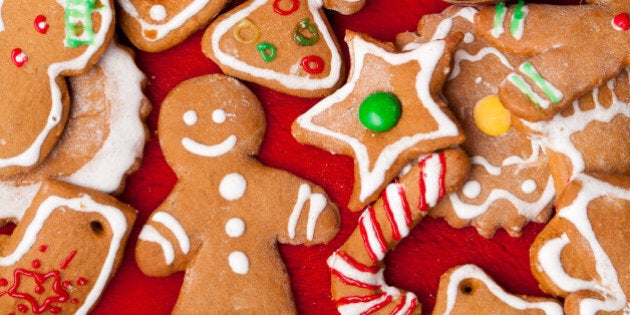 As if preparing a family meal isn't hard enough during a regular week -- which typically consists of 40 hours of work, 16 hours of driving, up to ten scheduled sporting or after-school events, three visits to some sort of medical practitioner, 17 trips to the grocery store, sports equipment depot and/or suburban mall, and a disturbing incident with a teacher of some kind -- every few months we have to whip ourselves up into a feeding and entertaining frenzy known, ironically, as "the holidays."
Or, as I like to call them, "Extreme Family Bonding Events." Year after year, for some unknown reason, we convince ourselves that this will be the "best one" ever -- best Christmas, birthday, Halloween, Groundhog Day, whatever. And year after year we are somehow surprised to discover that with all of the extra hype, activity, and lack of sleep, our family bonding moments have become more stressed than ever.
And the food? Well, can we talk about the food? Of course we have to. The food at most holiday tables is a crazy assortment of traditional family recipes, a new experimental and trendy twist (remember when everyone was putting live flowers on their salads -- why, people, why?), something dried out and something overcooked. Sort of a something old, something new, something borrowed and, if you choose meat like I do, something blue kind of approach. The result? One twisted family meal.
The holidays themselves have gotten blown out of proportion in recent years. You can now buy Halloween lights, Easter eggs to hang from trees to make Easter trees (an ancient Christian practice, I'm sure), and turkey hats, tablecloths and napkins for Thanksgiving. I'm waiting for the first mom to turn up at the school with freaking Groundhog-themed cupcakes before I really lose it.
Despite the entry of these new "faux" holiday into the pantheon of events for which we all must prepare, and shop, and suffer, one occasion still reigns supreme -- the king of the holiday jungle, if you will. Oh, yeah. You know what I'm talking about. Christmas.
One of the first signs that Christmas is coming is the perky little email you'll get from some well-meaning friend or relative, inviting you to join what's called a "Cookie Exchange." This is a very frightening ritual where women throw down their briefcases, stethoscopes, even smartphones, to immerse themselves in the baking of special little treats -- about 140 of them, at last count. The idea is that you share the results with like-minded women, allowing you all to have some "Christmas baking" in the house. Gird your loins, ladies (not, by the way, quite as easy or sexy as it sounds).
The real purpose behind having Christmas baking in the house is not clear, as most women will spend the balance of the year complaining about the size of their own thighs and the expanding girth of their husband. (Note to editor: Didn't think I could fit "gird" and "girth" into a two-paragraph space, did ya? Impressive--ed.). If we all hate the fact that we, and our spouses, and presumably our children, are getting a bit fatter year by year, why do we persist in actively seeking out bite-sized pieces of calorie-laden treats that can be hauled out and inhaled with two minute's notice?
I'll also admit to finding something strange about actually wanting to make 140 little macaroons or confetti squares. Don't you people have a better way to spend your afternoon? Like filing your nails? Regrouting the bathroom tile? Watching paint dry? And let's face it, because of the above-mentioned weight gain worries, you know most of those treats are going straight into your husband's mouth...and ladies, aren't we now finally past the stage of caring whether we get to his stressed heart through his overextended stomach?
I say stick to the holiday drinking and let the nice lady down the street drop off some after she realizes that no one else has joined in the madness, and she's already baked a million little macaroons.
To be fair, this urge to bake simply cannot be suppressed in some people: Use it to your advantage. These are, after all, the same women who routinely send you emails about joining a Recipe Exchange. I usually just send them a note inviting them to find out about this wonderful new thing called the Internet, where you can look up any recipe you want anytime you want.
Excerpted from Kathy Buckworth's "Shut Up & Eat: Tales of Chicken, Children, and Chardonnay", Key Porter Books. Available everywhere.