It seems like every day of the year there is an official day of "something." But International Day of the Girl is different than celebrating a donut or coffee; it matters. Established in 2011 by the United Nations, its mission is "to help galvanize worldwide enthusiasm for goals to better girls' lives, providing an opportunity for them to show leadership and reach their full potential."
So how does that translate into the lives of Canadian girls? The Canadian Women's Foundations' Girls' Fund will help one thousand Canadian girls reach their potential, from age nine to 13 via 22 organizations in 44 communities across Canada. One such organization is the Boys and Girls Club of Hamilton, where 17-year-old Nikki met Hailey, who would become her mentor and change the trajectory of her athletic life.
"Growing up I didn't have anyone I could relate to. I never saw a six-foot-tall girl playing basketball, so I wasn't really sure I could do it. All the attention in my house was on my brothers and hockey." says Hailey, during our phone call.
"I was always second guessing what I could accomplish" she says, even when she went to college in the U.S. on a basketball scholarship. Then, a torn ACL made her rethink what she was doing and she admittedly hit a very low place in her life. Returning home, she was encouraged to join the Boys and Girls Club of Hamilton, and it was there that she realized what she could do to help other young girls who were struggling with continuing to be an athlete.
She met then shy Nikki, who is also a basketball player and who losing some of her self-confidence. Nikki enthuses "The program helped me to open up more and get engaged. It made me feel more comfortable with who I am."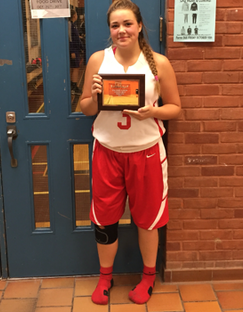 A recent survey revealed that 56 per cent of girls lose confidence during puberty, resulting in many of them dropping out of sports and athletic programs. "Girls at a certain age have a certain state of mind," says Nikki. "Their confidence drops, and they don't have a lot of people around them encouraging them."
What would Nikki say to other girls her age who are having a hard time with self-confidence? "I'd encourage them to stay active and have a healthy lifestyle. My younger sister is involved in sports and very active but my youngest sister not so much. I encouraged her to try out for the grade nine field hockey team and now she's really enjoying it. That made me feel good."
Hailey agrees. "If you can see it, you can be it." She's a huge advocate for bringing our Canadian female athletes out front and centre and bringing those faces forward, no matter what the body shape, body type. "You don't need to be 6'5" to be a successful basketball player," she insists. "We need stories we can all relate to. There's not just Olympic athletes. There are intramural athletes, people who just like to go for a run. We need to celebrate all of this."
During our call, Hailey revealed to Nikki that directly afterwards they would be headed to McMaster University in Hamilton to meet with coaches, watch a game and talk about what she needs to be a physical therapist, which is her career goal. "The Canadian Women's Foundation has an emphasis on classroom achievements as well," says Hailey "It's not always about being the best female athlete, it's just about being an athlete."
On a personal note, I have a 17-year-old athletic daughter as well, involved in rep level hockey, and a school rugby team. I asked if they would have any advice for her, not just in sports, but in life overall. Not surprisingly, they had a lot. "You need to believe in yourself, even if other people disagree with you. It doesn't mean you're wrong. You need to hold yourself accountable. Find a mentor, get the support." advised Hailey.
"If I can do it, you can do it. Keep pushing." Seventeen-year-old Nikki added. Today, of all days, that's an important message to all girls.
For parents, coaches, teachers and mentors who want to help girls in their lives be confident about playing sports, there are a number of resources available at Always.com, including helpful tips from renowned sports psychologist Dr. Jen Welter
Follow HuffPost Canada Blogs on Facebook