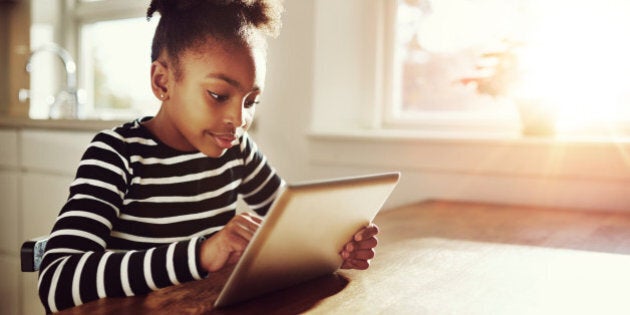 From the minute you find out you're pregnant, you start to worry about keeping your kids safe. As the years go by, and you survive the early infancy days, get past the troublesome toddler years and launch the kids into their school days, you might start to think you're past the toughest part. As the mother of four children, aged 14-25, I am often asked to let friends know when it "gets easy." I tell them, when I get there, I'll let them know.
When I was growing up in the 70s, it seemed like the biggest risk our parents faced was whether we would get back home before the streetlights came on, and whether or not we had been smoking out by the schoolyard. I'm simplifying a simpler time, but the fact is that cyber security and Internet safety was not an issue that our parents faced, or that we learned about as children ourselves.
Navigating safe online behaviour has become a huge concern for parents of kids today, as they try to find the balance between allowing their children to access online information for fun and for educational reasons, while protecting them from being taken advantage of by sexual predators and other online risks, from a very early age.
While there are many online tools and software you can install on to your children's computers, and locks you can put in place on their phones, children are still being targeted by predators in increasing and new ways.
What are some of the warning signs parents can look out for?
So what do you do when you discover your child has been sexually exploited online? First of all, you should report it to Cybertip.ca, which is Canada's tip line. They currently receive more than 3,000 reports per month. Operated by the Canadian Centre for Child Protection, they examined almost 152,000 reports, with over 43,000 images and videos classed as child pornography, of which 80 per cent targeted children under 12 years old.
The Canadian Centre works with experts worldwide to develop recommendations to help victims of child pornography. "We cannot keep tackling the growing problem of online child sexual abuse imagery with outdated approaches," says Lianna McDonald, Executive Director of the Canadian Centre. "That's why our agency is investing in innovative solutions to address the issue of online child sexual abuse imagery."
In operation since 2002, there have been over 500 individuals arrested as a direct result of Cybertip.ca. The organization is part of the Government of Canada's National Strategy for the Protection of Children from Sexual Exploitation on the Internet. They also provide educational and awareness materials by distributing over 12 million resources, at no charge to schools, law enforcement, child welfare, and other agencies.
What are some of the warning signs parents can look out for? Amber Mac, co-author of the new Amazon.ca book, Outsmarting Your Kids Online, has this advice:
"Many parents are concerned about when they'll know their child's online habits have gone too far," she says. "The warning signs at all age levels most often include a change in behaviour. Let's take a preschooler, for example. If your 10-year-old son used to love going to the park, but is now glued to his iPad every waking second fighting zombies in Minecraft, it's time to intervene. The same red flags apply to pre-teens and teens (i.e. a general loss in interest of things they used to love)."
Alyson Schafer, Family Therapist and author of "Honey, I Wrecked The Kids' agrees we have a responsibility before the exploitation happens. "Parents have to take an active role in keeping their children safe online." she says. "That means education for both parent and child is key. So too, is appropriate supervision or monitoring."
Keeping the lines of communication open, while monitoring the open online world our kids live in, gives our kids the best chance of being kept safe. Reporting incidents to Cybertip.ca not only addresses the particular situation that your child is in, but it helps to build a defense against similar future events that other children might face.
Follow HuffPost Canada Blogs on Facebook