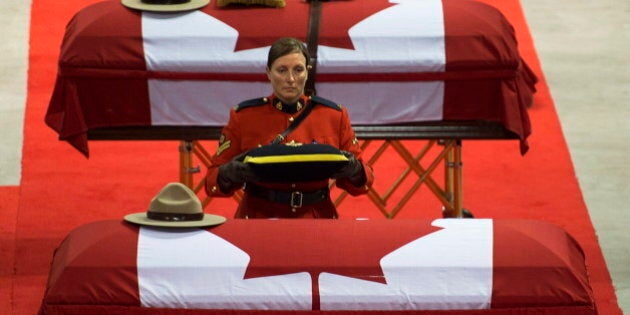 The families left behind -- that's what is hitting me the hardest in the wake of last week's tragedy in Moncton that saw three RCMP officers -- three fathers -- gunned down.
This weekend is Father's Day -- the first in a series of terrible 'firsts' that these will families have to face without husbands and fathers. One officer had three little girls, close in age to my daughters. Another had a little son and a baby on the way. The other had a stepdaughter.
I don't know any of these families, yet my heart is heavy thinking about the bravery of those officers and of their families left to go on without them. A childhood friend of mine and her husband were two of the RCMP officers who took part in the manhunt. In the midst of the search, during a break between shifts, my friend wrote this message on her Facebook page: "Please pray for all the police officers that are out on the street right now searching for the suspect and keeping the public safe. Remember, when everyone else is running away, we are the ones that are running in! God bless everyone."
God bless all of our police officers, indeed.
When I left last week for a four-day conference out of town, I felt that familiar tug at my heart as I said goodbye to my girls. Parents know what tug I mean. That slight twinge of fear that you'll never see your kids again. I suppressed it as I usually do because, really, what choice do parents have? They can't physically strap themselves to their kids for their entire lives.
I can't imagine what it's like for RCMP officers to leave for work every day. Like my friend and her husband, many of them are moms and dads who leave the house knowing they will be running toward danger each and every day.
My heart is breaking for the mothers and children of these heroes who are embarking on a long, hard road toward healing. I'm sure many mothers, upon hearing this tragic news, automatically put themselves in these mothers' shoes. What would I do? How would I go on?
I don't know. I just don't know.
I do believe, though, that mothers possess an undeniable strength to endure. As I watched the D-Day anniversary celebrations, I thought about mothers who have lost husbands to war. I thought about mothers who have survived miscarriages, illness, poverty, violence and abuse. I thought about my own grandmother who gave birth to my mother while she was completely alone in a farmhouse; I thought about a mother I know who had an emergency C-section without anesthesia to save her premature daughters; I even thought about Jackie Kennedy.
My jumbled and swirling thoughts kept coming back to two words: strength and hope. To the police officers and soldiers who run toward danger to keep my community and my country safe, please accept my humble but heartfelt thank you.
To the families who are embarking on an unimaginable journey of grief and healing, I wish for you to find strength, comfort and hope from the love of your families, the kindness of friends, the support of your communities and the heartfelt prayers of strangers like me.
"What happens if a person dies and you are holding on to them? Do you go with them?" asks The Youngest, age 7.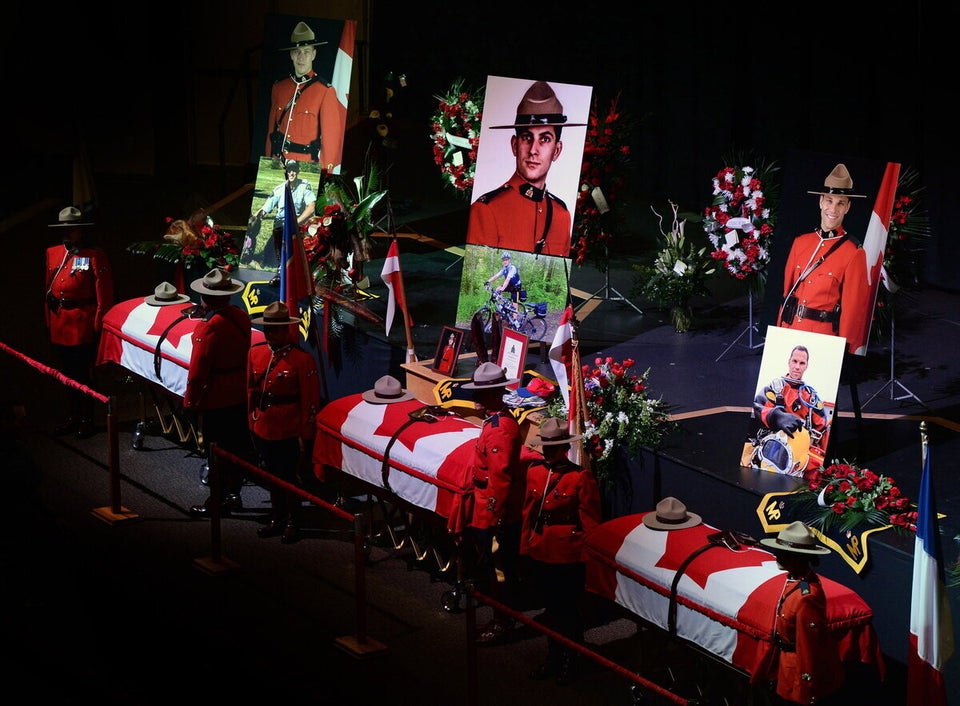 Moncton Remembers The Fallen