gregory_lee via Getty Images
One thing I LOVE about this time of year is the bounty of beautiful red local strawberries. They are so incredibly delicious, nutritious, and their gorgeous red hue is so à propos for the Canada Day long weekend! There's nothing better than feasting on freshly picked local berries, is there?
Did you know that strawberries are a member of the rose family, and the only fruit with seeds on the outside. On average each berry has 200 seeds! How cool is that?
Strawberries aren't only delicious, they are also very high in vitamin C. Vitamin C is an important vitamin to boost your immune system and help your body to handle stress. A one half cup serving of strawberries contains 51.5 mg of vitamin C which is about half of your daily requirement. Vitamin C is one antioxidant that can help with cancer prevention.
A phytochemical called ellagic acid, which is also found in strawberries, is another. It has been shown to yield anti-cancer properties like suppressing cancer cell growth, and is also known to help to prevent our skin from sagging as we age! They are filled with biotin, which helps to build strong hair, skin and nails.
Strawberries also contain antioxidants lutein and zeathancins. Antioxidants neutralize the potentially negative effect that free radicals can have on our cells. The antioxidants and phytochemicals found in strawberries may also help to reduce inflammation of the joints.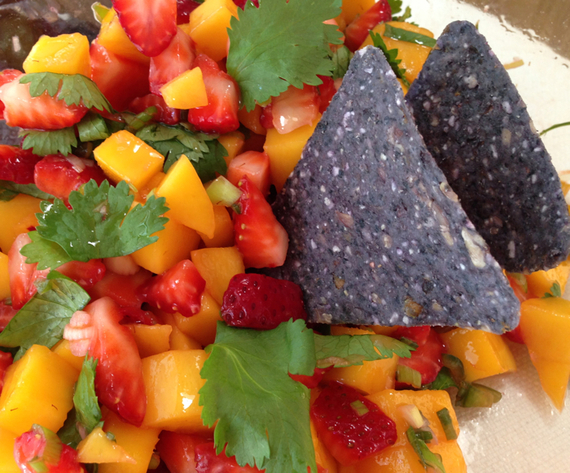 Because there is nothing sadder than a container of strawberries that has gone bad, here are my top FOUR tips for storing these beauties:
Wash as you go. Wash strawberries only before eating them. They are like sponges, so once wet, they soak up moisture, making them more likely to get mushy and spoil faster.
Leave the stems on. Keeping the stems on until you're about to eat them will prolong strawberries' edible life.
Remove the bad berries. Remove moldy berries from the container immediately. Mold spreads easily, so it's best to remove them before they ruin the rest!
Freeze them. If you don't have immediate plans to eat your berries, rinse, stem and freeze them within a few days. Perfect for smoothies!
We all know that strawberries are completely delicious on their own, perhaps served with some coconut whipped cream. But they are also a winner in fresh, easy summer recipes too! You can add them into all kinds of things, really!
Five of my favourite ways to use strawberries are:
Sweet and Spicy Strawberry Mango Salsa - a new twist on our old tomato-based favourite! Check out my recipe for it here.
Add them to smoothies, fresh or frozen! If you missed the boat on eating your fresh strawberries when it was optimal, you may already have some waiting in your freezer!
Add them to your salad! This is especially delicious when you serve the salad with a sweeter dressing like mango poppy seed, or olive oil and balsamic.
In your pies and pastries! Nothing says summer like a strawberry pie and whipped cream. Strawberries are so naturally sweet you don't even need to add that much sugar.
My 1 minute No Sugar Strawberry- Rhubarb Jam recipe! This recipe couples strawberries and rhubarb with chia seeds - with dynamite results!
Follow HuffPost Canada Blogs on Facebook