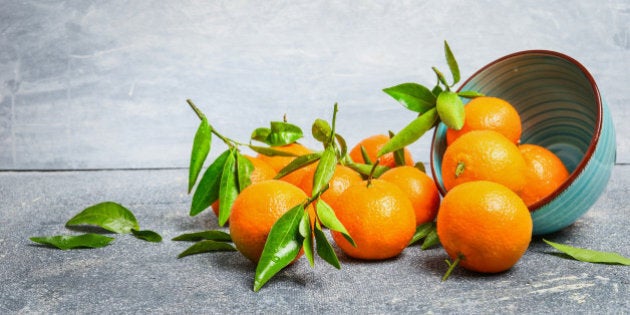 I just love citrus fruits, because they remind me of sunshine. And who couldn't use a bit of sunshine right now, after more than three solid months of winter, and spring just within our grasp!
Well-known for their vitamin C content, fruits such as lemons, limes, grapefruit, oranges, tangerines and clementines provide energy, fibre, folate and potassium. They are also good sources of disease-fighting antioxidants called flavonoids. They -- oranges in particular -- are even beneficial for many digestive processes, keeping you hydrated, improving nutrient absorption and improving regularity.
Citrus fruits have long been valued as part of a nutritious and tasty diet. The flavours provided by citrus are among the world's favourites, and not only does it taste good, but it's also good for us! Citrus and citrus products are a rich source of vitamins, minerals and dietary fibre, which are essential for normal growth and development and overall nutritional well-being.
For ladies, eating citrus fruits may protect you against stroke! In a 2012 article published in Stroke, researchers looked at data on almost 70,000 women from the Nurses' Health Study, and concluded that flavonoids in citrus fruits may reduce the risk of stroke in women. Flavonoids in citrus may halt cancer cell growth and slow down tumor progression; they may also reduce plaque formation in your arteries and improve blood circulation.
Citrus fruits contain an impressive list of other essential nutrients, including both glycaemic and non-glycaemic carbohydrate (sugars and fibre), potassium, folate, calcium, thiamin, niacin, vitamin B6, phosphorus, magnesium, copper, riboflavin, pantothenic acid and a variety of phytochemicals. In addition, citrus fruits are low calorie, contain no fat or sodium, and, being a plant food, no cholesterol.
Aside from all those flavonoids and that big dose of vitamin C, studies have also shown that these fiber-rich foods (especially grapefruit) might even control appetite and aid in weight loss. All citrus fruits contain fiber, which helps you feel full longer, so it's always a good idea to eat your citrus whole, rather than juiced. The fibre present when we eat whole fruit slows down the sugar in fruit from being absorbed into the bloodstream, which is why it's better to eat the fruit itself (an orange, for example) rather than just drink fruit juice. Oranges have the most fibre of all citrus fruits: one medium orange contains three grams.
In addition to eating citrus fruits whole, here are my four favourite ways to add a bit of sunshine to your diet:
1. In your water. Cut up lemons and oranges and put them in your water jug. Lemon water is so good for you! Not only that, if you're not a big water drinker the added flavour encourages you to chug just a little bit more -- keeping you well-hydrated!
2. On your salad. Forego commercial salad dressings and create simple olive oil and lemon juice vinaigrette. It's packed with flavour and avoids added preservatives and fillers.
3. Splash some citrus juice onto virtually anything you eat! Add some to your smoothie, your soup, or into your curry. It enhances the flavour and adds a nutritional boost!
4. A perfect parfait. In clear glasses, layer fruit salad made with grapefruit, clementines and blood oranges with probiotic-rich Greek-style yogurt and your favourite granola. Top with chopped nuts.
What is your favourite way to eat citrus fruit?
Follow HuffPost Canada Blogs on Facebook