On average, people will consume an extra 250 calories on a meal that they eat out. 250 extra calories per day adds up.
In one month that is more than 5,000 extra calories and over the course of a year that works out to be more than 18 pounds of potential weight gain!
I have a SMART solution for you! Meals in a jar! They're the new fast food.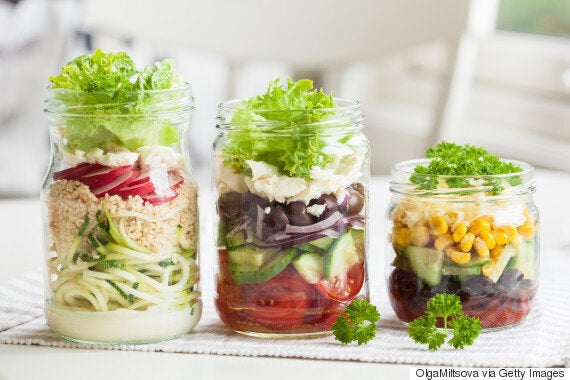 Meals in mason jars are quick and easy to prepare, and they look beautiful. Try these healthy, tasty meals in mason jars for whatever meal you need quickly.
I know that it can be difficult to resist the siren song of take out, but these meals really help to make it easier to stay on track and make the smart choice... at least most of the time.
Maple Cinnamon Crunch Overnight Oats
1/2 cup vanilla Greek yogurt (you can also purchase coconut milk yogurt alternative at your health food store!)
1/2 cup old fashioned, pure oats
1 tablespoon chia seeds
3 tablespoons pecan halves and sliced fresh strawberries
1 tablespoon pure maple syrup
1/2 teaspoon cinnamon
1. Layer all ingredients in a 500 ml or 1-litre mason jar (in order of ingredients listed above) and let sit overnight.
2. Top with fresh strawberries for décor or top with a dollop of Greek yogurt, a strawberry with green stem, whole pecan and drizzle with maple syrup.
1 tablespoon olive oil
1 tablespoon balsamic vinegar
1/4 cup chopped chicken (or substitute half a cup of cooked chickpeas for a meatless alternative!)
1/4 cup shredded carrots
1/4 cup shredded kale
1/4 cup purple cabbage
1 cup mixed baby spinach and arugula
2 tablespoons dried cranberries
2 tablespoons diced almonds
1. Layer all ingredients in a 1-litre mason jar (in order of ingredients listed above) and seal until lunch.
2. At lunchtime, empty salad onto your plate.
DINNER: Mexican Siesta Supper
1/4 cup fresh salsa
1/2 cup chopped, cooked chicken (or substitute cooked black or pinto beans for a meatless option!)
1/4 cup chopped cilantro
1/4 cup corn
1/4 cup shredded cheddar cheese
1/4 cup red peppers
1/4 cup orange peppers
1/4 cup green peppers
Top with 1/2 cup sliced avocados and crushed blue corn chips
1. Layer all ingredients (in order of ingredients above) in a 1-litre mason jar and seal until supper.
2. Empty out on a plate and serve with a dollop of sour cream.
You can make these up in 15 minutes, and have an entire week's worth of meals! The salads will typically last five days in the fridge
There is no set ingredients list - use what you have on hand, and be creative!
1. Start with your salad dressing at the bottom so your greens don't become soggy.
2. Add your hard veggies like carrots, cucumbers, red and green peppers.
3. Add your cheese, beans and grains here. I like to add goat cheese, black beans and cooked quinoa.
4. Add your greens and then top off with fruit, avocados, dried fruits and final topping of nuts or seeds.
5. Screw on the cap. When it's time to eat, SHAKE SHAKE SHAKE and then dump into a bowl.
Want to learn more about living SMART? Learn to see food not as the enemy in your health journey, but as a friend, with Kathy Smart's five-week Live the Smart Way Program.
Follow HuffPost Canada Blogs on Facebook