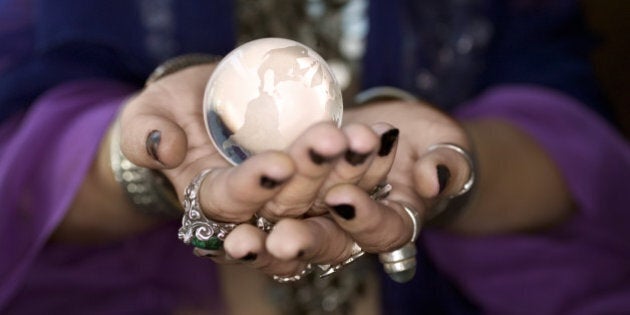 "What's Lily Dale?" my husband asked.
I remember the couch I was lying on. I remember the pale pink nightgown I was wearing, the disgust in his voice. I remember almost all the particulars of the conversation that caused my divorce.
"Lily Dale is a spiritualist community in upstate New York. Seriously, everyone who lives there is a psychic," I said. "People have been going forever to talk to the dead. I really want to go."
"Who would you want to talk to?" His voice was tin-like over the phone.
"Patrick," I said, like it should be obvious. Patrick was my brother-in-law, and he'd died four years earlier. Back then, I would still cry about him if I was drunk enough.
"I can't let you go to a town like that," he sighed. He'd been sighing at me like that for a while. My husband was a born-again Christian and that meant he didn't want his wife speaking to the dead. So, he divorced me and I became obsessed with psychics. I like to think it's out of rebellion -- if my husband left me over my belief in them, then I had no choice but to stay loyal to them forever.
A week ago, almost nine years to the anniversary of Patrick's death and haunted by the clumsy ghost of who I used to be, I found myself in a car headed West to Lily Dale, N.Y.
The person driving the car is my friend, a tiny actress named Ana. Her long hair whips around the car, "So what do you want to know about when we get there?" she asks.
But as we stop in a Tim Horton's for my third coffee of that day, I think about how my recent psychic visits haven't centered around the future but the past. So much has happened in the five years since my divorce. I want to bury all the ghost lives I almost had.
Twenty minutes after arriving, I walk to the first psychic reading I've booked. The reader's last name is Forget, which seems almost ironic.
"Do you have a grandmother who passed before you were born?" she asks as soon as I sit down on her couch. "A C-name?"
I nod. I have goose bumps. My father's mother's name was Catherine.
"Well, she wants to congratulate you. Have you had a big career breakthrough lately?"
I nod again. Right now all I do is work and there have been big breakthroughs.
"You grandmother wants to ask, what are you so worried about right now?"
"She also says you father didn't like it very much when you got married."
Then I can't laugh; my father hated it when I got married.
"Are you writing a book?" she asks. "One that has a really long dedication, like you don't want to leave anyone out?"
"You'll finish it. Hmm," she pauses. "Good luck in romance is coming your way. I see him now he's smiling at you. He's different than the ones before. You won't have to worry about what he's doing when you're not around."
An hour later, Ana comes and meets me outside the psychic's house. She just saw a woman who draws auras. Her drawing is filled with comforting pastel colours. In the middle, there's a big cross.
"Katie, it was fucked. Apparently I'm moving in with a guy in October. I asked her if you could see her tonight but she says she's busy. Call her and make an appointment for tomorrow."
Motivated by who knows what, I do call her.
That night, with small Ana sleeping in a small bed next to me, I dream that I am holding my seven-year-old nephew, Jesse, my sister's son by another man. The next morning, I step on the aura reader's porch. She has so many lines in her face. When she speaks I watch the lines move, how they dance together, how her skin is sewn and pocked by the life she lived.
"Oh, I was expecting you," she says.
I sit in her sunroom. She takes out a brown pastel. I'm worried that's the first colour of my aura she sees.
She starts drawing a small animal.
"Why am I drawing a squirrel? I never draw squirrels. Who did you know that had long eyelashes?" she asks.
"No one," I answered. Why was my aura a squirrel?
"No one? He's mad you're saying that. He passed in a coma. Oh, he was mad he passed; he still wants to be here. P-name. He didn't want to die."
Every organ took a sharp inhale and stopped moving.
"Patrick?" I asked. She nodded but she didn't look at me. She kept drawing. He was fucking squirrelly, I almost say out loud. He had the worst road rage I'd ever experienced. He couldn't sit still. The last thing he wanted to do was die.
"Oh, he's here with you. He was a builder. In your career, you're building something new. Squirrelly Patrick is helping you. He's crazy, though. Oh you're going to have a lot of fun together. He's going to make sure it's fun."
When she talks about Patrick, I think about how I never do anymore. It's true that people die two deaths. Once, when their heart stops beating and again when you stop speaking their name.
An hour later, with my squirrel aura drawing safely in the back seat, Ana and I pile into her car and drive home and I am settled with a strange feeling.
"I think I'm done with psychics," I tell her.
When I get home, I visit my sister and I help her put my nephew to bed. I wonder if she looks at Jesse, whose middle name is Patrick, and wonders, how did all this happen?
I make us tea and we sit on her porch. I tell her about Lily Dale.
"Apparently Patrick came through in one of my readings."
I look at her. She isn't saying anything. I continue, speaking more quickly than I should, "The psychic, well, she was an aura reader, she said he was mad for a long time that he died because he wanted to be here with you. Apparently, he's with me sometimes. But, he's at peace because you're OK now, because you have Jesse."
When I say Jesse, she laughs. Her face shifts, slightly, a small change behind her eyes and I see that she's crying. And then, so am I.
In that moment, as my sister cries and smiles, as my nephew sleeps upstairs, I think that I can see it all. I can see the future, the past and the dreadful wonder of this world.