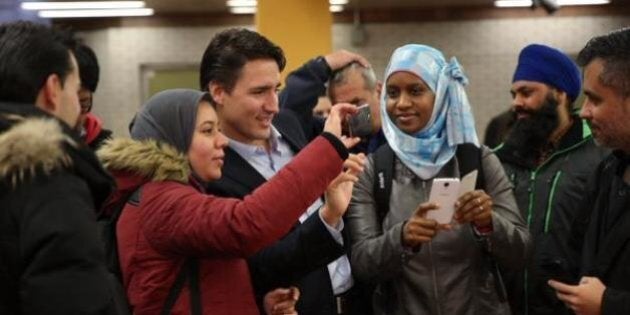 When the Liberal majority was announced, there were 827 tweets launched into the Twitterverse every minute. Trudeau's official Twitter account captured 60 per cent of all online mentions, with 152,276 people tweeting about the new prime minister. Meanwhile, Facebook profile photos and Instagram posts across the country were updated to selfies with the new elect.
Though it could be attributed to his vision, familial nostalgia, or the country's disdain for Harper, it's not just 184 seats that the Liberal Party won Monday night. When it comes to social media, no one did it better than Justin Trudeau.
Through consistent messaging, creative content, and an authentic voice, our incoming prime minister has one thing in the bag, and that's his social media presence. Here are five ways he was able to set his campaign apart:
Though all of the candidates capitalized on posting videos to Twitter, Trudeau trumped in creativity and messaging. From speeches to cartoons, he catered his videos to each platform, running from a 6-second glimpse to a 30-second piece. Best of all, he made them short and his messaging to the point, prompting quick shares and retweets.
Through hashtags like #GenerationTrudeau and #RealChange, Trudeau made audiences feel like they were apart of something, like we are leading the charge together.
He recognized well before these final few months of campaigning that to reach Canadians, he had to get online and connect with them on a deeper level than just press releases and political jargon. That's why in addition to policy posts, the majority of tweets played on the emotional aspect rather than just straight up facts by honing the power of imagery.
Trudeau brought people behind the scenes to offer personal and intimate posts by giving audiences a glimpse into his family life. From tweets commemorating his late father's birthday to celebrating his son's eighth, he routed back to that emotional play and positioned himself as caring father, husband, and son.
Trudeau's moderators were quick to respond and engage with online audiences, showing they weren't just merely posting, but also listening. The team also posted in both French and English.
While the other candidates primarily focused on personal appearances rather than upping their social media presence, Trudeau mastered both. Perhaps one of the greatest advantages was that he started early.
Over the past three years, he mimicked his social media to that of his campaigning, reaching out and engaging with Canadians on Twitter, Facebook, and Instagram. And it paid off. His 66.3K Instagram followers trumps Stephen Harper's 11.2K and Tom Mulcair's 7,534.
When a party sells branded selfie sticks, you know that the leader is going to bring it on social media. But Trudeau's campaign wasn't just about voting for him, but voting in general. And as a result, turnout was of 68.5 per cent, the highest since 1993.
With reminders like this, it's no wonder the Canadians were out in full force. And thanks to his ability to engage and mobilize voters on every online platform while showing the public a relatable candidate, it translated to his new role as prime mininster. Kudos to you, Trudeau.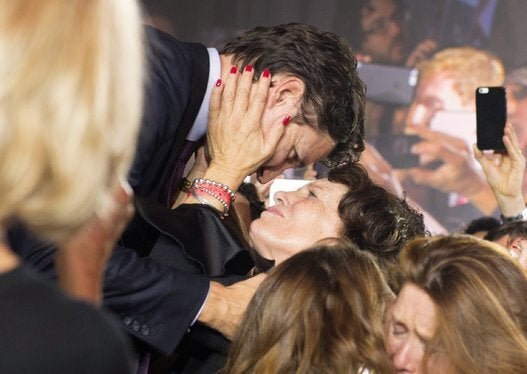 Canada Election Night 2015