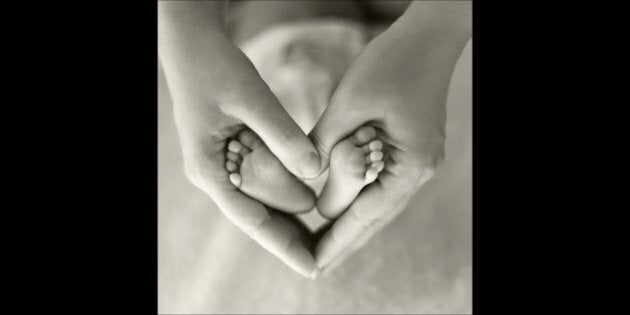 The first time I met Tara Teng was in Vancouver, B.C. for the 2013 Miss World Canada pageant. I was one of the candidates for that year's roster and Tara was the 2012 reigning queen. I had been following her journey as Miss World Canada before the 2013 pageant and it was largely because of her incredible achievements that I decided to apply for the pageant in the first place. Tara is accomplished in every sense of the word. She is a TV host, human rights activist, World Vision ambassador and a recipient of the Queen's Diamond Jubilee medal in recognition of her work combatting gender-based violence and human trafficking. I didn't think it was possible for Tara to become any more of a role model for girls and women. And then, she became a mother.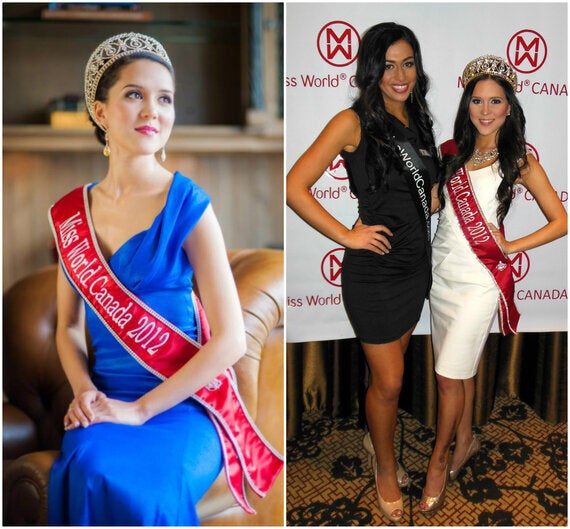 (Left) Photo: Kuna Photography. (Right) Author, Katie Zeppieri, with Tara Teng in 2013.
In July 2014, Tara and her husband, Chris, announced that they were expecting a baby. Over the next five months I had the privilege of watching Tara confidently assume the role of motherhood. Tara began sharing intimate stories of her life as a pregnant woman on her social media pages. These weren't just all happy go-lucky pictures, but real, honest shares of life as a soon-to-be mom. Tara shared some of the challenges she faced with people commenting on her petite size and even one coworker who refused to accept that Tara was pregnant for six months simply because she didn't believe Tara's stomach was large enough. "We need to be kind with the words that we speak to pregnant women," Tara wrote on her blog. "Comparing women's body sizes is never ever acceptable."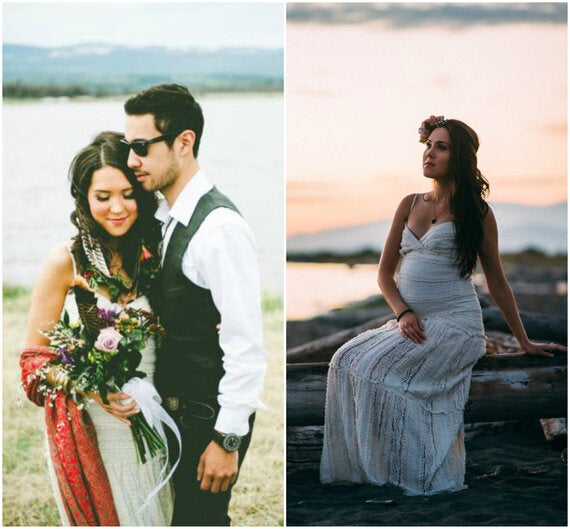 (Left) Photo: Tina Francis. (Right) Photo: Ryan Schroeder | MUA: Belle & Rebel Beauty
Tara never shied away from capturing her growing stomach in many gorgeous photographs. At seven months pregnant she took a photo of her in her wedding dress as a sentimental gesture to show just how beautifully her life has changed. She captioned the photo with: "One day I will miss this precious season of pregnancy where tenderness and strength mix."
Tara also started blogging about some of her favourite products -- all organic and clean I might add -- that were of great use to her during her pregnancy. She was honest about all of the aches and pains she faced and continued to give her best advice and tips for expectant mothers right up until the day she gave birth.
On Dec. 6, 2014, Tara and her husband welcomed Chayton Texas into the world. It was an at-home birth with aide from midwives and a doula. It was an experience that Tara describes as "100 per cent organic baby goodness!" The photo that Tara chose to post to showcase and summarize the birth of her child was one of the most captivating and haunting photographs I have ever seen. The picture shows Tara in pure, unabashed pain leaning over the birthing tub with her loving husband leaning in to comfort her.
On the experience of giving birth, Tara wrote: "I've never felt so strong, so vulnerable, so powerful, so focused, so intense, so primal, so instinctual or so feminine as when I was birthing my baby boy into the world." She ended her caption so beautifully with the hashtag: #thisisbirth.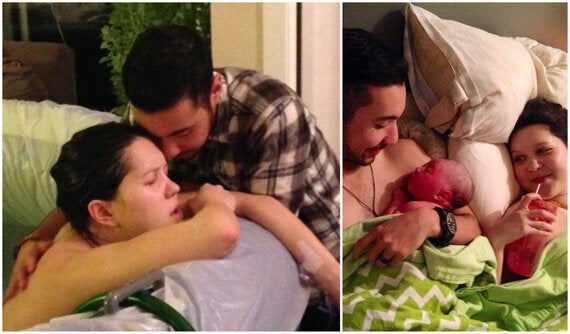 Photos: Meaghan Esmeijer. (Right) Chris holds Chayton & Tara sips a placenta smoothie.
There was something so raw, intimate and soul-bearing about Tara's post on the birth of her son that greatly resonated with me long after Dec. 6. And this was just the beginning of Tara's unparalleled account of motherhood. She soon began taking snapshots of herself breastfeeding her son and sharing the importance of normalizing breastfeeding. "I think in our over sexualized and pornified culture we're pretty out of touch with the reality of women's bodies," she says. "Feeding my son is not a sexual or immodest act, I'm simply nourishing and sustaining my baby, comforting him, boosting his immune system and giving him the best possible nutrients for the best possible start in life...I'm never going to be ashamed of doing what is best for my child."
But breastfeeding wasn't always easy. Tara has chosen to bravely share some of her personal struggles during the early stages of breastfeeding Chayton. Not only did she have an initially low milk supply and suffer from multiple bouts of mastitis, but Chayton was also born with a tongue tie that caused so much damage to Tara's breast that for a while she couldn't nurse on one side. Over time Tara has continued to share how getting Chayton's tongue tie fixed along with faith and prayer has led her to a joyous breastfeeding relationship with her son.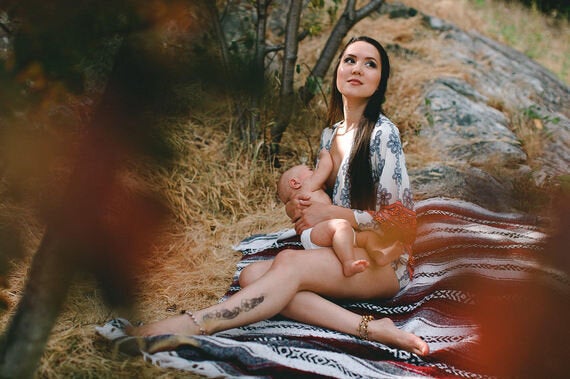 Photo: Madison Paige of M&Him. Styling: Chervelle Camille Atelier.
Tara is, in my opinion, an outstanding and authentic motherhood role model for all women. In a society that is more obsessed with how quickly Hollywood celebs can shed their baby weight than the actual health and wellbeing of the mom and baby, Tara is a refreshing beacon of light. Her accounts of motherhood continue to inspire many as she tells all of the honest, behind the scenes moments that so often get left out of the motherhood story.
Watching Tara's journey has tugged on my heart strings and made me feel drawn to motherhood in more ways than ever before. I look forward to the day that I am hopefully blessed to become a mother and I look up to women like Tara who provide such honest details of motherhood that make me feel like I too can embrace the beautiful experience of becoming a mother in all of its many forms.
To all new and expecting mothers Tara encourages you to: "Get connected. Just as it takes a village to raise a child, it takes a village to carry a mother so don't be afraid to reach out to someone walking the same journey. We can walk together because our children need us to be the best mothers that we can possibly be. You can do this, sister. I got you." And so she does.