PhotoAlto/Ale Ventura via Getty Images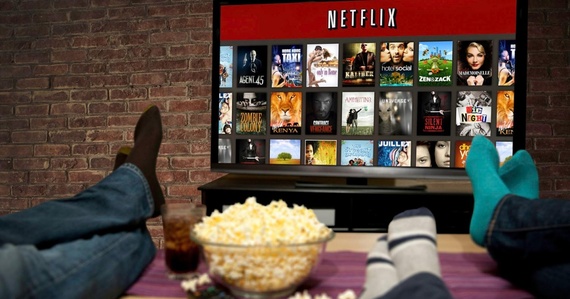 Disclaimer: Call your Internet Service Provider now to up your bandwidth because you will go over your monthly data limit after reading this post.
Here's a secret nobody tells you about having a baby: There's a lot of downtime. And by downtime, I don't mean relaxing, care-free afternoons. Ha, no. I'm talking physical downtime, as in you will physically be lying down a lot.
During the early days, weeks or even months of your maternity leave, you'll be confined to your bed or couch -- unable to move while you're baby sleeps upwards of 18 hours a day or while you nurse him every two hours for 30-40 minutes at a time.
A lot of time is spent staring at your baby. Trust me, I've been there...twice. It's nice to break up the monotony of those long, lonely days with some great TV shows.
I'm sharing some of my favourites TV shows with you in my list of the 9 best Netflix shows to bingewatch during maternity leave.
1. The Good Wife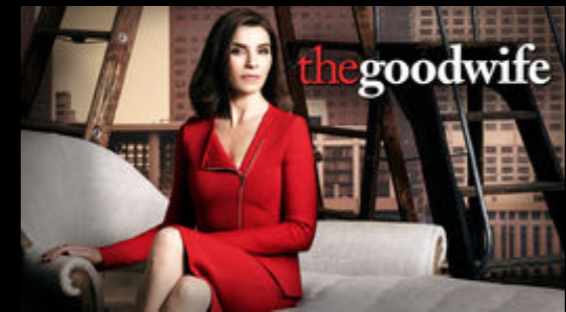 (Photo credit: Netflix.com)
This was one of my favourite Netflix shows to bingewatch during my first maternity leave. I had never seen a single episode before, but I was hooked after one show. The Good Wife features betrayed wife, Alicia Florrick (Julianna Margulies), at the centre of her husband's (Chris Noth) political-corruption and sex scandal. When her spouse is sent to jail, Alicia has to support her two teenage kids and return to work as a defence lawyer after 15 years as stay-at-home mom.
What I like about this legal drama is that Margulies believably portrays how mothers have to keep it together even when everything is crumbling down around them. She plays a smart and strong female character, who you totally relate to as a hardworking mother. This show has one of the most suspenseful love affairs I've seen on TV with major shockers throughout the series. With six seasons currently on Netflix, you may be able to get through them all by the time the final seventh season is added.
2. Unbreakable Kimmy Schmidt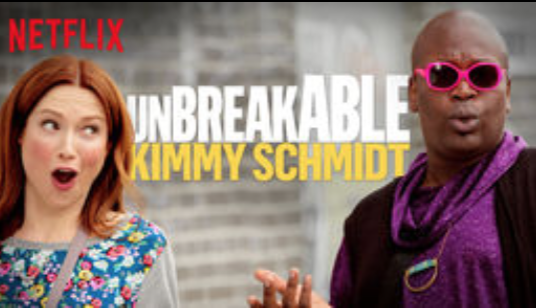 (Photo credit: Netflix.com)
You may be feeling overwhelmed by life as a new mom, but at least you haven't been trapped by a cult leader in an underground bunker for 15 years. That's what happened to the Unbreakable Kimmy Schmidt (Elie Kempner), and she's taking it as an opportunity to live out her dreams in New York City. In this Netflix original comedy series by co-creator, Tina Fey, Kimmy's optimism and enthusiasm for everything not found in a bunker is hilarious. Her lack of understanding of current pop culture will make you laugh and reminisce about your 90s adolescence.
Most importantly, while researching this blog post, I noticed a "KIMMY-FY" button on the UKS page which switches the entire Netflix site to a pink and purple background, and your cursor to a stream of sparkly stars. I am permanently keeping this option and not telling my husband how to turn it off.
3. Broadchurch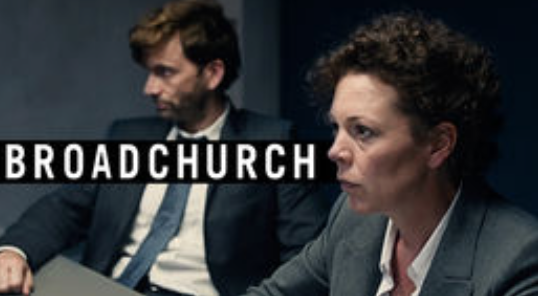 (Photo credit: Netflix.com)
Switching gears a bit, Broadchurch is a British crime drama about the murder of a young boy in a very small, English coastal town. Although the death of a little boy made the post-partum side of me cry uncontrollably and cling tightly to my newborn son, Broadchurch is one of the most thrilling detective series I've ever seen. You will literally not see the ending coming. Broadchurch is one of those shows that will have you maniacally clicking "Next Episode" to get to the end and find out who murdered little Danny Latimer.
4. Star Wars: The Clone Wars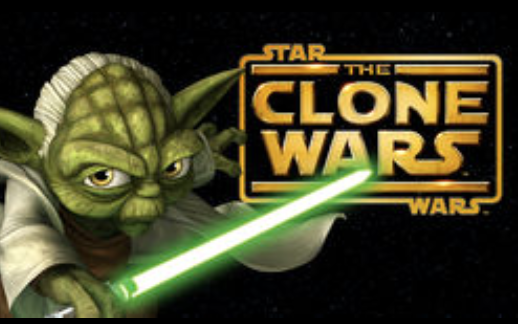 (Photo credit: Netflix.com)
This one is for the dads. Having grown up with a self-proclaimed nerdy dad and brother, I watched a lot of sci-fi series as a kid. My husband is a huge Stars Wars fan, and we discovered the animated series, Star Wars: The Clone Wars, during my first maternity leave. If you're a fan of the Star Wars franchise, you'll enjoy the continuation of Anakin Skywalker's (Darth Vader) story and the circumstances that led him to the dark side.
With six seasons and 121 22-minute episodes of Star Wars: The Clone Wars on Netflix, this is a fun-to-watch saga that will keep your husband entertained too. Bonus: There's also a Star Wars: The Clone Wars movie on Netflix.
5. Homeland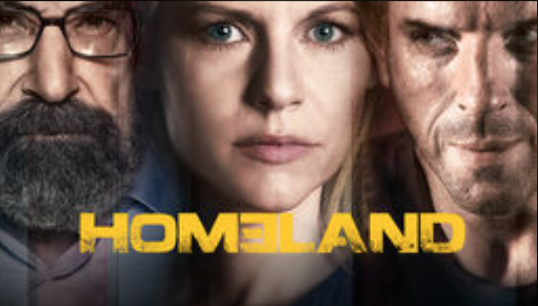 (Photo credit: Netflix.com)
Homeland may be one of those shows you've heard a lot about, but have yet to watch. Well new mama, here's your chance. Homeland follows the life of CIA agent, Carrie Mathieson (Claire Danes). Carrie is brilliant, suspicious and bipolar. She's trying to fight terrorism and filter fact from fiction in the complicated world of intelligence. This show is superbly well written and very relevant in today's world. You've probably never seen a character on TV like Carrie Mathieson. Claire Danes does a fantastic job of portraying this complicated character.
I'll be honest, season one was amazing, seasons two and three weren't great, but season four was un-frickin-believable. I vividly remember watching a majorly intense scene in season four, and I legit thought my heart was going to beat out of my chest. Season five of Homeland was also really good and will hopefully be added to Netflix soon.
6. Million Dollar Intern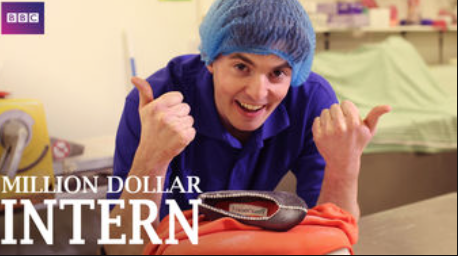 (Photo credit: Netflix.com)
Million Dollar Intern is a BBC reality TV show that sends brilliant, young entrepreneurs to pose as interns to help revive failing businesses in Britain. After getting a first-hand look at the problems besieging these companies, the interns reveal themselves as the uber-successful entrepreneurs they are and offer to help turn things around.
This show tells the inspiring stories of how these exceptional young entrepreneurs created multimillion-dollar businesses as teenagers. The innovative thinking they apply to save these companies is pretty impressive. But it's really interesting to see whether or not the business owners are flexible enough to change and willing to take the interns' advice in order to preserve their livelihood.
If you're an entrepreneur, you'll want to watch the show just for the invaluable, free business advice.
7. The Walking Dead
(Photo credit: Netflix.com)
Now I have two favourite television shows: RuPaul's Drag Race (a competition-style reality show for drag queens that is a mix between America's Next Top Model and American Idol); and The Walking Dead. Full disclosure: this show might be a tad too gruesome for new moms....but it's sooo good.
The Walking Dead is set in post-apocalyptic Georgia, U.S.A., after a virus infects the population turning the dead into blood-thirsty zombies. Rick Grimes (Andrew Lincoln) awakes from a coma--unaware of what has been going on around him for weeks--and attempts to reunite with his family while battling the living and the dead. There are currently five seasons of The Walking Dead on Netflix. And here's a fun fact: "The global hit zombie show's 2012 season premiere became the most-watched basic cable episode ever." I got that little gem from Netflix.
8. The Mindy Project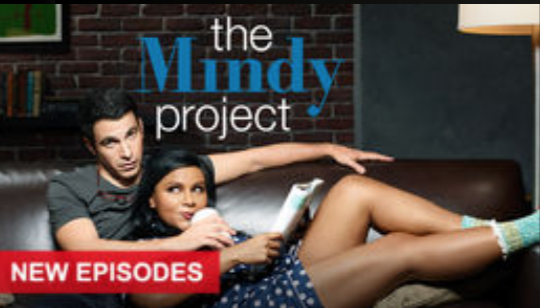 (Photo credit: Netflix.com)
Yes, yes, yes. That is what I have to say about The Mindy Project. Mindy Kaling plays Mindy Lahiri, a young Ob/Gyn doctor living in New York City. Mindy is the girl in all of us that says what we're all thinking. Her colourful, print-on-print wardrobe and constant pop culture references (Beyoncé Pad Thai, anyone?) make this show relatable to millennials. It's the type of show where the jokes are so quick, funny and intelligent that you'll be rewinding (is this the right word anymore?) it to make sure you've caught everything.
The Mindy Project is literally one of the funniest comedy series on TV and Netflix is showing the first four seasons.
9. Magic City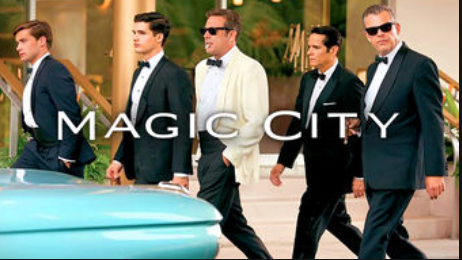 (Photo credit: Netflix.com)
Magic City is a cool, stylish drama set in Miami Beach in the 1950s. The show features hotelier, Ike Evans (Jeffrey Dean Morgan), as he attempts to run his luxury, ocean-front hotel while dealing with his family and the Miami mob. It has a great storyline and score that you will want to play at your next dinner party. The vibe is cool and sexy. And speaking of sex, there's a lot in this series. But you just had a baby...kind of what got you into this predicament in the first place.
If you were a fan of Mad Men, you'll enjoy both seasons of Magic City on Netflix.
Which is your favourite TV show to bingewatch on Netflix? Leave me a comment below.
For more chic living tips for busy moms, visit www.ouicestchic.com.
Follow HuffPost Canada Blogs on Facebook