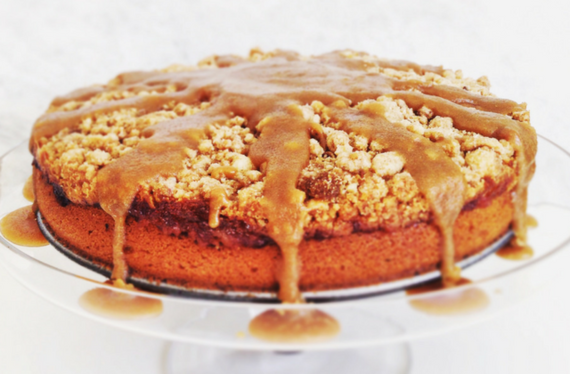 It's Canadian Thanksgiving this weekend and, I don't know about you, but I have far too many apples to use up from apple picking with my kids this fall.
Fear not, I have an easy dessert recipe to help you use up those healthy, fresh-picked apples and be the Thanksgiving Day hero.
Try my Salted Caramel Apple Pie Cake recipe.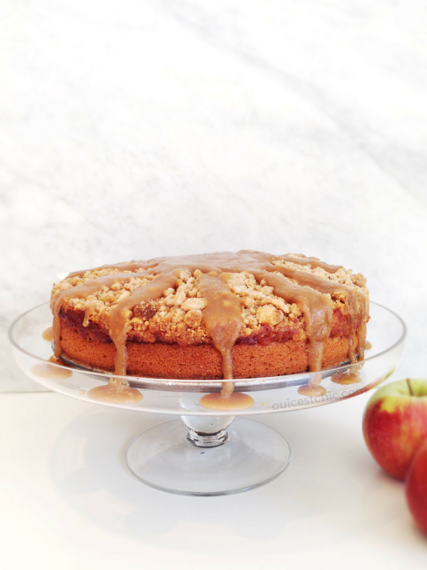 2 tablespoons butter
3 medium apples, peeled and chopped in a food processor (I used Macintosh apples)
Caramel Sauce:
1 cup brown sugar, packed
1/2 cup butter
1/4 cup whipping cream
1/4 cup real maple syrup
Streusel Topping:
1 1/2 cups all-purpose flour
1/2 cup brown sugar, packed
1/4 cup granulated sugar
1 1/2 teaspoons cinnamon
1/4 teaspoon salt
1/2 cup melted butter
Cake:
1/2 cup butter, softened
1 cup granulated sugar
2 eggs
2 teaspoons vanilla
2 cups all-purpose flour
2 teaspoons baking powder
1/2 teaspoon salt
2/3 cup whipping cream (or milk)
Warm a large skillet over a medium-high heat. Add the butter to melt then add the apples and sautée until softened - about 5 minutes. Set aside and let cool for 30 minutes.
Combine all the ingredients for the caramel sauce in a medium sauce pan over medium-high heat. Stir constantly. Bring to a boil for 2 minutes, keep stirring. Remove from heat and let cool.
Combine all streusel topping ingredients. Leave for 30 minutes until mixture can crumble into small pieces.
Preheat oven to 350° F and grease a 9-inch round spring form pan.
Mix butter with an electric mixer at medium speedy until creamy. Slowly add sugar and vanilla. Add eggs, one at a time, making sure ingredients are thoroughly mixed.
In a separate bowl, combine flour, baking powder, and salt. Alternate adding flour mixture and whipping cream to the wet ingredients, and fulling mixing every time. Once complete, pour batter into pan. Top with the cooked apple sauce, drizzle half of the caramel sauce on top, and top with streusel.
Loosely cover with foil and bake for 45 minutes. Remove foil and bake for another 15-20 minutes to set. Test the centre with a toothpick, it should come out clean.
Let cake cool for 30 minutes. Remove spring form pan and place on a plate or cake dish. Drizzle the remaining caramel sauce on top and enjoy!
This was one the apple picking recipes that I really enjoyed making. It had a huge WOW factor and it was utterly delicious. It's the perfect dessert to enjoy on a cool fall afternoon or at Thanksgiving dinner.
Follow HuffPost Canada Blogs on Facebook