WOW! We've just hit the one hundred day countdown to the 2014 Olympics! When did that happen?!
I wanted to share with you a little bit of insight into the workings of the mind of an almost-Olympic-athlete. I say almost because I guess until I walk into the opening ceremonies in Russia, I'm not technically yet an Olympic athlete, but I'm as close as I can be with a pre-qualification to compete in my sport in just a little over three months from now.
Although slopestyle skiing was not included in the Games until about two years ago, I think many of us in the sport who are preparing to compete in a few months time have had an Olympic dream since we were wee little toddlers. I know I did. First, I had dreams of competing as an Olympic halfpipe snowboarder. Then I found aggressive inline rollerblading and later transitioned to freestyle skiing. My Olympic dream was then put aside as there were no opportunities to take part in the Games in those sports. I could have never imagined that, fifteen years later, I would be part of a team of skiers who would be marking history as we represent the sport of slopestyle skiing making it's debut in the Olympics.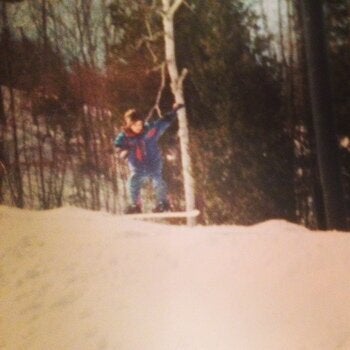 People always ask "Are you nervous?", or exclaim "You must be so excited!" Yes to both.
As we stand at the start gate in Sochi, ready to drop in, we will have trained endless hours to bring out the two best runs that we possibly can. It's a weird feeling to think that something you've been preparing for, for as long as you can remember, is almost in a double-digit-day countdown. Personally, I've been working on creating a balanced perspective between reminding me that now, more than ever, it's time to pull it all together, and not making it into what might feel like the biggest deal in the world.
Being part of a team and competition circuit in which I spend most of my time with other skiers and snowboarders who are striving for the same goals, I've witnessed this sort of growing tension as time flies by. Two years out, everyone had space to breathe and focus on other projects and events like the X-Games. One year out and everyone still had one full year to train... mellow. Three months out, and now I can sense the excitement and anxiety in the air. It's an "exhilerating, remind-you-to-keep-your sh*t-together, go-time" kind of feeling, where butterflies are fluttering all over the place.
So, am I nervous? Sure. How can I not be? Like in anything else significant in life, I think that if I don't feel a little bit of nerves then I don't care enough.
Excited? Hell yea! Once an athlete's made it to the start gate on the world stage, they will be competing against the best of the best in the world... and I will hopefully have my place there. That, in itself, is an exhilarating feeling. It's almost surreal to think about, actually.
A little story to leave you with:
This past January, I was entering my eighth consecutive X-Games event. I had had success in the past and was coming in strong. To say the least, the expectations were there - first and foremost from myself, but also from the viewers and my sponsors. I was dropping as the last athlete of the event and had completely messed up my first two runs which had me in seventh place - out of seven. Ouch. There's a first for everything I guess.
There had already been one pretty serious accident on the course that day and so the energy was a bit off. Just as I was clicking in for my last run -- the one during which I was hoping I would pull it all together -- there was a course hold. One of my best friends, Ashley Battersby, was down from injury and I had no idea why. So I waited, and waited, and waited some more, pacing back and forth, not knowing what was going on at the bottom. I watched as the shade crept up onto the course, eventually completely consuming it in darkness. Not the ideal, to say the least. I was worried sick and nervous at the same time, and my sense of the course had become elusive to me as critical knowledge of speed into features changes in shade. My mind was scattered.
A very long forty five minutes passed, and then something really amazing happened. I found out that Ashley had been carted off and that she was going to be okay, which was a huge relief. A sort of calm came over me as I realized it wasn't going to be a lonely descent. Everyone that was rooting for me not only at that particular event but who had done so throughout my career wasn't going anywhere; regardless of the outcome. All of a sudden, what seemed like the most important and stressful thing in the world became this cool opportunity to give it my best shot, and it was as simple as that. I felt the love and energy from everyone and I felt an indescribable sense of peace.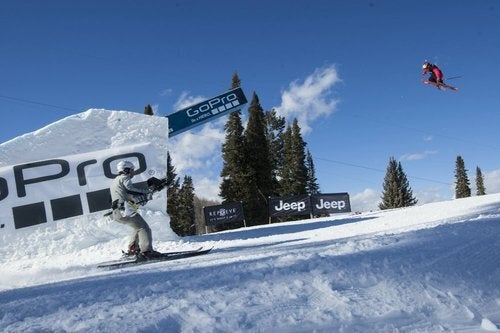 Although I didn't get to do the run I had originally planned, given the circumstances, it was one of the best in my life. During the wait, I had probably asked my coach, Toben, about five times what I should do about the speed. He shrugged, "You'll just have to feel this one, Kaya." Well, I felt it. The flow was there. I wasn't competing for anything or anyone but myself and instead of having the weight of the world on my shoulders, I was carrying everyone along for the ride.
The end was a blur. I skied down to the bottom and my heart was filled when I saw that everyone had waited in the bitter late-afternoon cold for my last run. I remember distinctly the faces and reactions of all of my friends in the first row who were all excited and thrilled to see me make it down.
Though I am happy and proud to have reached the podium with a silver medal, the real win was the connection I'd discovered within myself and every single person who was out there, cheering me on. To this day, it was one of the coolest experiences in my ski career.
The point is, although we may seem like we're on this solo mission to get to the Olympics and compete as individuals in our sport, it's way more than that. We're not in this alone. The truth is, I couldn't have gotten to where I am without the love and encouragement from not only my immediate surrounding of friends, family, coaches and trainers, but the entire support network from around the world. As athletes, we feel your energy, and we appreciate it. It warms my heart to get messages or tweets from supporters who are eager to share their stories with me.
In ninety nine days, as us athletes walk into the opening ceremonies, we will be representing all of you who have contributed a great deal in our success. When we drop in, we'll probably all experience that same oh-my-God deep breath, then we'll collectively go on a really cool ride down the mountain. And then it's magic from there.
See you in Sochi! And thank you all!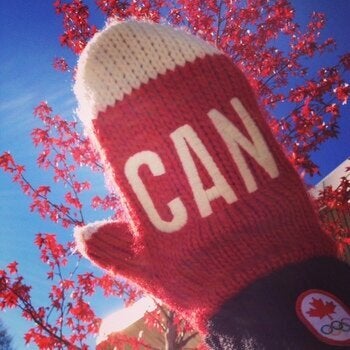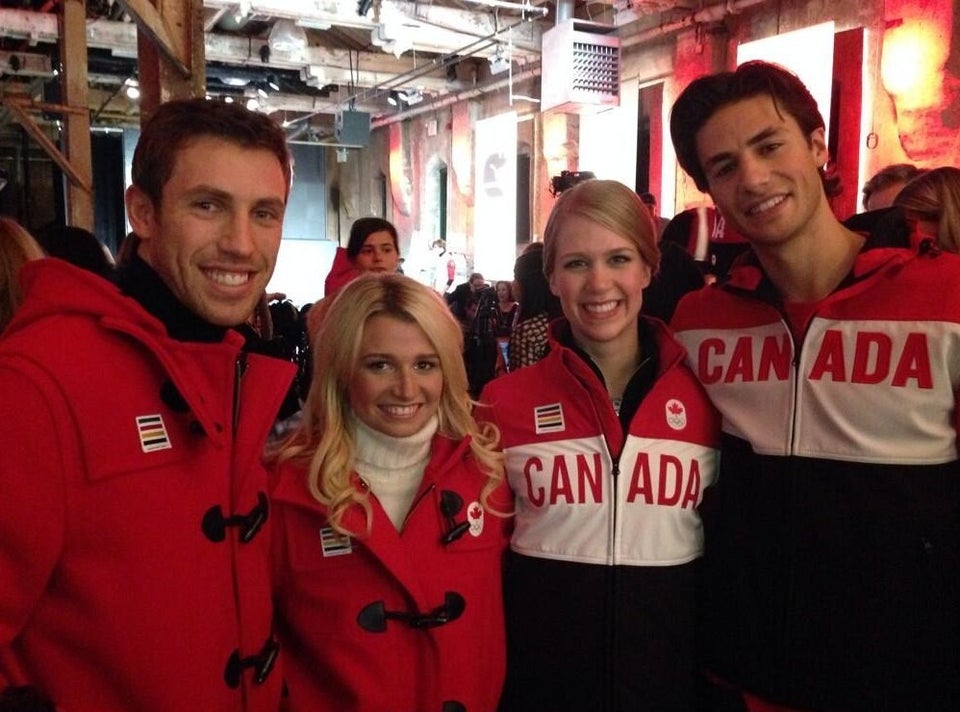 Team Canada Olympic Uniforms