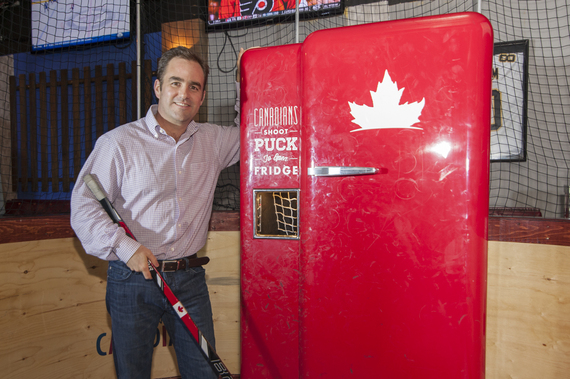 A few years back, I got the opportunity of a lifetime that ended up shaping how I feel about employee recognition. One day, my boss asked if I would represent Molson on the television show called Undercover Boss, a show where executives disguise themselves as an average person in order to join their own workforce and better understand how their company operates from the bottom up. The show was coming to Canada and they wanted an iconic Canadian company for their first season.
At first, I thought "No way!" I was worried that I would do something to embarrass myself, my family or my company. Then the producers told us that their vision for the show was to recognize employees who were the unsung heroes of their organizations. That got me interested.
So I spent the next several weeks filming the show. I went to different breweries and followed our employees around for the day. My only mission: get to know everything about them during our short time together. Not a problem for a curious gal like me! At the end of the show, I got to reveal my true self to them and recognize the great work they do. Seeing the emotion on their faces at being recognized, was simply amazing.
On the night the show aired, I stayed home to watch it with my husband. He is a pretty observant fellow - and afterward he said "You know, people don't cry when they win the lottery. Those employees were crying not because of the rewards they were given, but because they were recognized." His words struck a chord with me. While monetary rewards are nice, what employees are really seeking is to know that they have been seen and that their work matters. I like to call this the "I See You and What You Do Is Good" principle.
How can business leaders use this principle to better recognize their employees? For me, it's about: connecting, communicating, and showing how you feel.
For those of you who read my blog about heart and head leadership, you'll recall my advice about getting really curious about your people and connecting with them. Ask them questions, listen to them and get to know what makes them tick. Make time for them even when you are busy. Never be too busy for your people.
Our chairman, Geoff Molson, taught me a lesson about the power of connecting a few years back. We were opening a new can line in our Montreal brewery. Geoff was up on stage with the dignitaries who were cutting ribbons and making speeches. I was watching from the back of the room with our brewery employees. Many of them were awe-struck to see Geoff up there - he is a bit of a legend around here - so I got an idea. I called him over and he immediately started to chat with our employees. He shook hands, posed for pictures, asked questions and listened to them. When I thanked him afterwards, he looked at me kind of funny and said "I love talking to our employees!" - no thanks was required.
In addition to connecting with your people, tell them when you think they have done something good. I don't mean the ubiquitous "Great job!" pat on the back - that really doesn't mean anything. Slow down, look them in the eye, and describe what they did and the impact it had. Sometimes it's an added bonus when you can do this within earshot of other people.
Lastly, don't be afraid to show your people how you feel about them. I can thank my highly empathetic father for this trait, but I have definitely been known to get teary eyed when speaking about my team. It's ok to show how you feel, in fact, it's encouraged. Sometimes it's the most authentic way of saying "I see you and what you do is good".
Kelly Brown is Chief Legal and Corporate Affairs Officer at Molson Coors Canada.
Follow HuffPost Canada Blogs on Facebook